And so, to Madonna on the cover of US Cosmopolitan's 50th anniversary issue. To mark this occasion, the 56-year-old Queen of Pop has delved into her fashion archive and gone for Desperately Seeking Susan with added face jewellery. I love the fact that Madonna has been around for as long as I have and is still going strong. I admire her success, her stamina, her four-decade career, but to be honest, I haven't always admired her wardrobe. As someone who prefers Boyfriend Chic to Matador Bondage, I have to admit I find the Rebel Heart singer's erotic stage persona a bit of a challenge.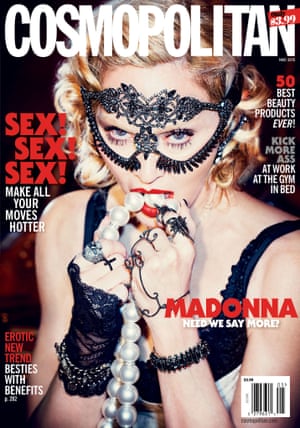 Don't get me wrong, she is an amazing role model, and a cultural icon, and I love that Madonna is totally in control of her life. I just don't love all the look-at-me lingerie. I'd be more impressed if she was wearing a simple white vest and showing off her amazing physique (as on the 25th anniversary Cosmo cover) instead.
Having said that, over the years, Madonna has taught me a thing or two about style:
Embrace necklace layering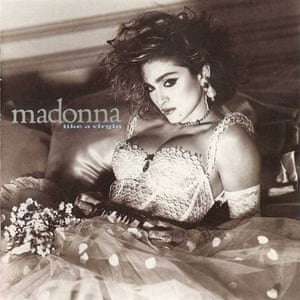 I was 20 in 1984, when Like A Virgin was released. I was a student in Manchester, rocking a moody northern industrial vibe, when up popped Madonna – a thrown-together jumble of crucifixes, cropped tops and feisty New York attitude. It wasn't long before I was shuffling about at the Haçienda to Get into the Groove, in a biker jacket, skirt-over-leggings combo and Doc Martens. As the Wild Child Pop Star Costume is now available on Ebay for £19.99 – I would recommend just sticking with perennially chic necklace layering to perk up a plain outfit.
Wardrobe essentials never go out of style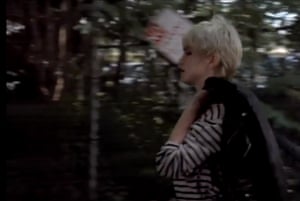 The Breton top and Levi's in the Papa Don't Preach video, the biker jacket and ball gown for a night out with Sean Penn … I'd argue that 1986 was Madonna's finest fashion year. For grownup wardrobe essentials, see also, the Ralph Lauren tuxedo chosen by her son David for the 56th Annual Grammy Awards in 2014 (maybe she should employ him as a permanent wardrobe assistant?). The leopardprint top, fine-knit black cardigan and tweed pencil skirt in the 2015 Dolce & Gabbana "mamma" ads are quite lovely too. Though I can't help thinking of Cheryl whispering to her Kubelko Bondy babies in Miranda July's The First Bad Man: "Don't worry little fella, I'll sing you a lullaby." Yikes.
It's worth investing in a decent silk blouse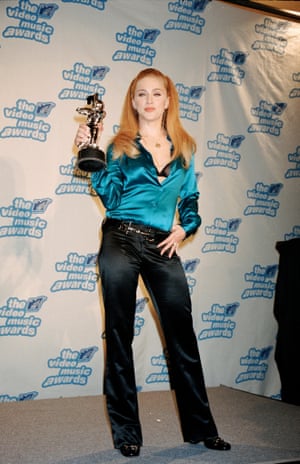 The disco-tastic Tom Ford at Gucci unbuttoned silk shirt, black velvet trousers and Belle du Jour hair worn at the MTV awards in 1995, is one of my favourite Madonna looks. And one I recreated, at the time, with a cheap slinky shirt and a pair of black needle-cord bootcut trousers. But now I'm a little older I've realised the error of my ways; the luxurious silk blouse is a grownup essential that is worth splashing out on. For work events or disco nights it's guaranteed to dress things up in a decadent fashion.
Fifty is the new 25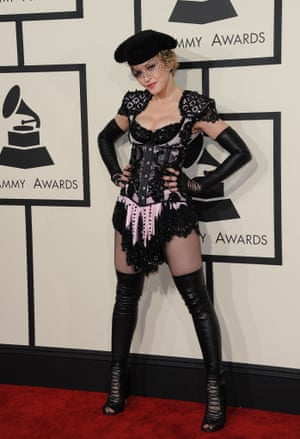 And finally, to this year's Grammy's, where Madonna went full matador this being her favourite look at the moment. There is the argument that midlife has been completely reinvented by women like Madge, and this is what a fiftysomething performer looks like, today. And yet, and yet … part of me can't help thinking how brilliant it would've been if Madonna had embraced the wrinkles (with those cheekbones she would look fantastic anyway) and been an age-positive pioneer. If anyone could stick two fingers up at the corporate music establishment, Madonna could, right? That's easy for me to say, I'm not living in her Material World, I'm not under intense facial scrutiny. As Madonna points out in Cosmopolitan" "Don't be fooled, not much has changed – certainly not for women. We still live in a very sexist society that wants to limit people … For me, the fight has never ended."
To maintain her career and carry on performing in a sexist, ageist industry, Madonna has had to stay forever young. I'm not the Botox police, I understand that. I might not like the outfit, on myself or anyone, but Madonna is fifty-frickin-six and Cosmopolitan, a magazine aimed at women in their 20s and 30s, wants her on the cover. Now, to me, that is bloody brilliant.