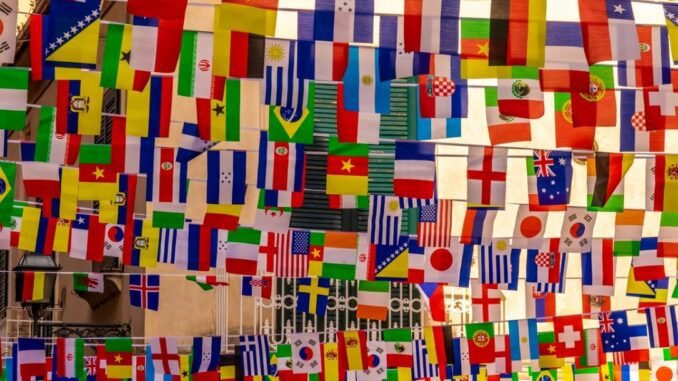 https://unsplash.com/photos/BAZejJdZ57w
When you think of a flag, you probably imagine an emblem that symbolizes national pride—something that one pays homage to and folds with precision in a solemn ceremony. However, people can also use flags for fun. People can go to printful.com/custom-flags to make flags featuring everything from their family crest to reunion pictures or images of favorite pets. There are a few flags that have, for better or worse, worked their way into pop culture.
The British Flag
The Union Jack is one of the most recognizable flags in the world. No matter how many recording artists come along, no one will ever have the same impact as the Beatles. As everyone's favorite Beatle, John Lennon started a trend when he famously posed in front of a British flag.
Although America may have won its freedom from the Brits a long time ago, their flag is still popular with Yanks. The colorful red and white crosses of St. Andrew and St. Patrick intersect over a blue background, which looks great with most color schemes. There are a lot of Anglophiles in the states, and a British flag is a simple way to pay tribute to Old Blighty.
The Confederate Flag
Unfortunately, many people still fly the Confederate Flag. Despite being soundly beaten by the United States in the Civil War, some people think the flag of the losing side is a symbol of Southern pride and independence.
If you tour the southern part of the United States, you will find Confederate flags in every gift shop. As you travel down the highways and byways of the United States, you're likely to see trucks flying the flag as they roll along. There are communities all over the country that have outlawed the banner. However, this has made it more popular with some people.
The Canadian Flag
Canada is a big country with a diverse culture. Americans, Brits, and the French all think of Canada as a place that is just like their own country. Their flag is a simple image of a maple leaf in bold red set against a white background. It looks great in almost any room because it is two solid colors.
Advertising Flags
Companies frequently use flags to advertise products. Most countries will not allow you to use their flag to advertise anything. However, you can create your own flag.
In the 1980s, Taco Bell dressed their spokesdog Gidget as communist leader Che Guevera and put the image on flags as a promotion. You will often see street flags advertising sales.
You can make a flag advertising your product through an on-demand printing website. Simply upload the image that you want onto the site, pick out a flag, and have it delivered to you.
Flags are a fun and easy way to decorate. Putting a flag or two in your home is a way to complement the color scheme of the room, pledge allegiance to your favorite country, or show off a photo or art project.