Join us for an extraordinary evening of folk music as we present the Unforgettable Folk Experience featuring Severin Browne with special guest Steve Key at June 2023 First Friday! This highly-anticipated event is set to deliver an unforgettable experience for folk music enthusiasts and anyone who appreciates soul-stirring melodies.
For in-person attendees, admission is $20, and seating is limited! Secure your seat by RSVPing soonest through Facebook messenger at https://www.facebook.com/severin.browne.
Doors open at 3:30 PM, and we invite you to join us for a delightful potluck at 4:00 PM before the show starts at 5:00 PM.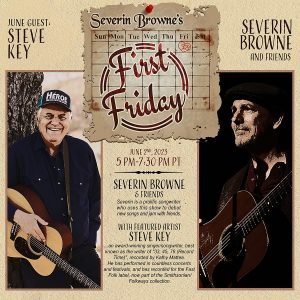 Can't join us in person? No problem! This incredible show will also be streamed LIVE ONLINE. Stay tuned for the direct URL to experience the magic through Zoom to YouTube Live. Additionally, the performance will be shared on Severin Browne's First Friday page, ensuring that you can enjoy the music from the comfort of your own home.
Contact https://www.facebook.com/severin.browne on messenger if you want to join the show on Zoom and be part of the virtual audience.
Prepare to be captivated by the talent of Steve Key, an award-winning singer-songwriter and recording artist known for his timeless compositions and heartfelt performances. Best known for his masterpiece "33, 45, 78 (Record Time)," which was beautifully recorded by country music star Kathy Mattea, Steve Key's artistry will leave you mesmerized. Performing solo, and occasionally accompanied by the talented cellist Bob Liepman and/or drummer Paul Griffith, Steve Key will take you on a musical journey that touches your soul and ignites your passion for folk music.
Experience the magic of Steve Key's live performances by watching his captivating performance at John & Linda's House Concert in Santa Rosa, CA on August 21, 2022: https://www.youtube.com/watch?v=OeicLL8gFBU