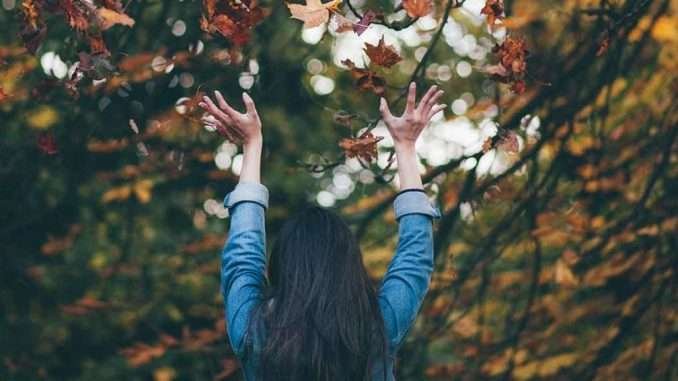 Just because the leaves are changing doesn't mean you have to give up your whole summer wardrobe and start anew. With a little imagination and layering creativity, we're showing how you can take your go-to summer staples like a denim skirts and one-piece swimsuits to fall flawlessly.
The turning of the seasons from summer to fall is a tricky time for even the most fashionable ladies. It's like Goldilocks and the Three Bears, not too summery, not too autumnal, your outfit needs to be just right.
Rather than packing away those beloved summer pieces, take our advice. We've gone ahead and pulled for your four summer-to-fall transitional outfits focused around your key summer pieces. Scroll below to see how swapping out a few key accessories here and there will give your wardrobe new life, and you'll still be able to wear those summer pieces you blew your paycheck on.
1. The White Dress
Your crisp, clean, button-front LWD has been your go-to dress all summer long. You've loved dearly pairing it with strappy slides and red lipstick for the Fourth of July and it's beared witness to many hot summer-night concerts. Rather than shedding a tear as you tuck it away in a storage bin, use it as a clean canvas for showcasing this fall's breakout trend: animal prints!
Snakeskin ankle boots and tortoise shell hoops will pop against the white. Just throw on a duster cardigan and leather bag, and your white dress now looks right at home with the falling leaves.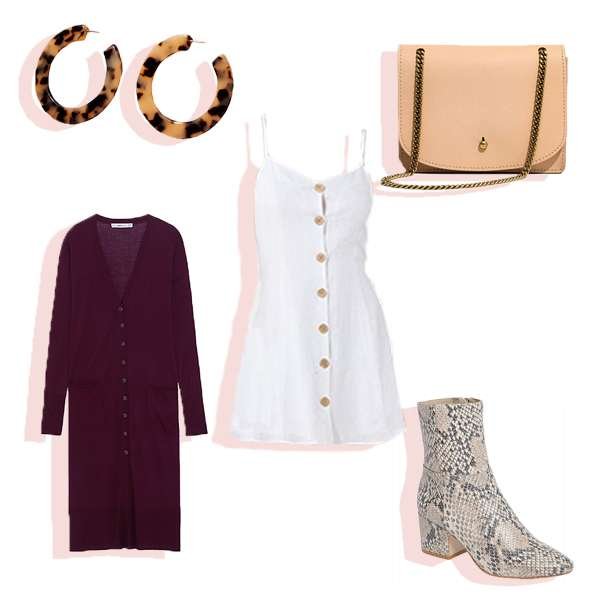 2. The Denim Mini Skirt
Denim is a no-brainer fabric for year-round use, so that distressed denim skirt you've been pairing with crop tops and silk camis on the hottest days of summer is effortless to wear in cooler temps by adding sleeves. Toss out the skimpy tops and pull on a cozy crew neck for those breezy fall days. Accessorize with your summer sunglasses and jewelry along with some fall western boots and a chic bandana around your neck.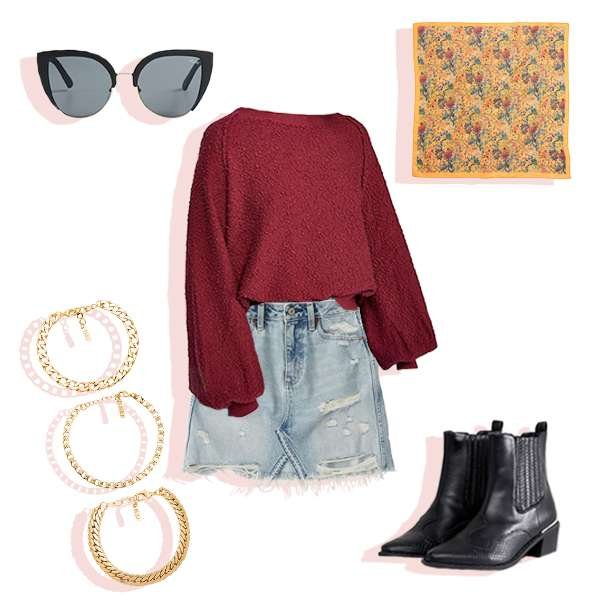 3. The Summer Slip Dress
This sexy slip dress has been by your side through many a cocktail hour and date night this summer, and it will be for fall, too. Look modern, sharp, and most importantly, warm, in your summer slip dress by pairing with hearty fall fabric pieces. A suede jacket, and velvet bag will ooze luxury, while velcro sneakers and tiny cateye sunnies will keep the look fun and youthful. Most importantly, you will look and feel warm!
4. The One-Piece Swimsuit
Now hear us out: Just because you're done taking dips in the pool doesn't mean your favorite one-piece swimsuit is done seeing the light of day! It's time to stop seeing it as a swimsuit and start seeing it as a bodysuit. Ditch the beach sarong for chic cropped jeans, dainty chain jewelry, a graphic tote, and slides. Tada! No one will even know the difference as long as you wash away the chlorine scent.
Source: More by