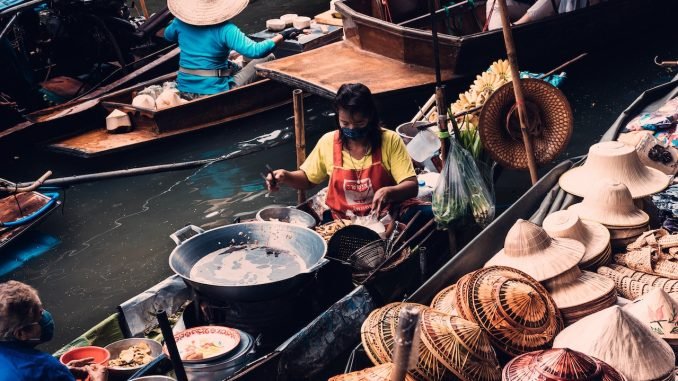 Bangkok offers a plethora of enticing attractions to explore during the summer months. Begin with a visit to the iconic Grand Palace and Wat Phra Kaew, marveling at their architectural grandeur. Delve into the spiritual ambiance of Wat Pho and its massive reclining Buddha. Shopaholics can't miss the bustling Chatuchak Weekend Market or the upscale malls like MBK Center and Siam Paragon. For a refreshing escape, venture to Lumpini Park or take a Chao Phraya River cruise, offering a respite from the heat and picturesque views. To delve into Thai culture, visit the Jim Thompson House and the Erawan Shrine. Lastly, enjoy an evening at Asiatique The Riverfront for riverside dining and entertainment. Be prepared for the heat, stay hydrated, and savor the vibrant charm of Bangkok in the summertime.
Safari World Bangkok
Safari World Bangkok is a captivating wildlife park that offers a unique blend of animal encounters and live entertainment. This expansive attraction is divided into two main sections: the Safari Park and the Marine Park. In the Safari Park, visitors can embark on a thrilling safari drive through open enclosures to observe a wide array of animals in a semi-natural environment, including lions, giraffes, zebras, and more. The Marine Park, on the other hand, showcases captivating shows featuring dolphins, sea lions, and exotic birds. It's a family-friendly destination that combines education and entertainment, making it an ideal place to spend a day with loved ones. Safari World Bangkok provides an opportunity to get up close to some incredible creatures while enjoying entertaining performances, making it a memorable experience for visitors of all ages.
Dream World Bangkok
Dream World Bangkok is a delightful amusement park that promises a world of fun and excitement for visitors of all ages. Located just outside the city center, this theme park features a wide range of thrilling rides, entertaining shows, and colorful attractions. Whether you're an adrenaline junkie seeking heart-pounding roller coasters like the Tornado or a family looking for more gentle attractions like the Snow Town, where you can experience a winter wonderland in the heart of Bangkok, Dream World has something for everyone. The park also boasts captivating live performances, including a stunning parade with beloved characters and impressive stunts. For those seeking a memorable day of adventure and entertainment in the Thai capital, Dream World Bangkok offers a fantastical escape from the hustle and bustle of the city.
Chao Phraya River Cruise
A Chao Phraya River Cruise in Bangkok is a captivating experience that allows visitors to explore the heart of the city in a unique and scenic way. The Chao Phraya River winds its way through Bangkok, and a cruise along its waters offers breathtaking views of both historic and modern landmarks. As you glide along the river, you'll pass by iconic attractions such as the Grand Palace, Wat Arun (the Temple of Dawn), and the bustling Asiatique The Riverfront. Many cruises also offer dinner options, providing a romantic setting to enjoy Thai cuisine while watching the city's skyline shimmering with lights. Whether you choose a daytime or evening cruise, the Chao Phraya River Cruise offers a relaxing and picturesque way to appreciate Bangkok's beauty, culture, and architectural wonders from a different perspective. It's an experience that blends serenity with the vibrant energy of this dynamic metropolis.
Lumpini Park
Lumpini Park, situated in the heart of bustling Bangkok, offers a serene oasis amid the urban chaos. Spanning over 140 acres, this verdant park provides a welcome retreat for both locals and tourists alike. Its lush greenery, tranquil lakes, and shaded pathways create a peaceful atmosphere, inviting visitors to escape the city's hustle and bustle. You can rent paddleboats to leisurely explore the park's central lake, join in outdoor exercise classes, or simply relax on the well-maintained lawns. Lumpini Park also hosts various events and festivals, making it a hub of cultural and recreational activities. The park's resident monitor lizards are a unique attraction, adding a touch of wildlife to the experience. Whether you're looking to exercise, have a picnic, or simply unwind in a natural setting, Lumpini Park is a refreshing destination that offers a glimpse of tranquility within the vibrant city of Bangkok.
Chatuchak Weekend Market
Chatuchak Weekend Market, often referred to as JJ Market by the locals, is a vibrant and sprawling marketplace in Bangkok that is a shopaholic's paradise. Covering a massive area, it is one of the largest weekend markets in the world, boasting over 8,000 stalls and vendors. Open on Saturdays and Sundays, this bustling market offers a staggering variety of goods, including clothing, accessories, antiques, handicrafts, home decor, and much more. Navigating the labyrinthine alleys and sections of Chatuchak is an adventure in itself, and it's easy to get lost in the maze of stalls. Alongside shopping, visitors can savor delicious street food from countless food vendors serving Thai snacks and international cuisine. Chatuchak Market is a treasure trove of unique finds, and whether you're hunting for souvenirs, fashion, or local delicacies, it provides an authentic and lively shopping experience that captures the spirit of Bangkok's street culture.
Asiatique The Riverfront
Asiatique The Riverfront is a captivating entertainment and shopping complex located on the banks of the Chao Phraya River in Bangkok. This bustling open-air venue combines the charm of a traditional night market with the modern amenities of a shopping mall. At Asiatique, visitors can explore an extensive array of shops offering everything from clothing, accessories, and handicrafts to electronics and home decor. However, what truly sets this place apart is its enchanting riverside atmosphere. In the evening, the cool breeze from the river provides a welcome escape from Bangkok's heat, and the beautifully lit buildings and vintage Ferris wheel create a picturesque backdrop for an enjoyable evening. Aside from shopping, Asiatique offers a diverse range of dining options, from local Thai cuisine to international flavors, ensuring that food enthusiasts will have plenty to savor. The complex also hosts nightly cultural performances and showcases, including traditional Thai dance shows, adding a cultural dimension to the entertainment.
Jim Thompson House
The Jim Thompson House in Bangkok is a captivating cultural gem that offers a glimpse into the life and legacy of Jim Thompson, an American silk merchant and art collector. This traditional Thai-style teakwood house, nestled amidst lush gardens, is a testament to Thompson's passion for preserving Thai art and craftsmanship. Visitors can explore the beautifully preserved residence, which consists of six interconnected teakwood buildings showcasing an impressive collection of Asian art, antiques, and exquisite silk textiles. What makes the Jim Thompson House even more intriguing is the mystery surrounding its owner's disappearance in 1967 while in Malaysia's Cameron Highlands. Thompson's former residence has since become a museum that not only honors his contributions to the Thai silk industry but also sparks curiosity about his enigmatic life. The tranquil atmosphere, traditional architecture, and lush greenery make this house a peaceful oasis in the heart of bustling Bangkok, where visitors can appreciate both Thai culture and the legacy of Jim Thompson.
Grand Palace and Wat Phra Kaew (Temple of the Emerald Buddha)
The Grand Palace and Wat Phra Kaew, also known as the Temple of the Emerald Buddha, stand as two of the most iconic and revered landmarks in Bangkok, Thailand. The Grand Palace, a magnificent architectural masterpiece, was once the official residence of Thai kings and a center of royal administration. Its intricate design, adorned with colorful and ornate details, reflects the opulence of Thai culture and history. Located within the Grand Palace complex, Wat Phra Kaew is home to the highly venerated Emerald Buddha statue, carved from a single piece of jade. The temple's glistening golden spires and intricate murals create an awe-inspiring backdrop for this sacred and revered figure. Visiting these historical sites offers a profound cultural and spiritual experience, allowing visitors to immerse themselves in Thailand's rich heritage and the deep reverence it holds for its monarchy and Buddhism. However, please note that appropriate attire, covering shoulders and knees, is essential when visiting this revered site, as a sign of respect to Thai customs and traditions.
Wat Pho (Temple of the Reclining Buddha)
Wat Pho, famously known as the Temple of the Reclining Buddha, is a cultural treasure nestled within the bustling heart of Bangkok. This awe-inspiring temple is celebrated not only for its stunning architecture but also for being home to one of the largest and most mesmerizing Buddha statues in the world. The highlight of the temple is undoubtedly the enormous reclining Buddha, which stretches an impressive 46 meters (151 feet) in length. As visitors enter the temple, they are greeted by the serene countenance of the reclining Buddha, adorned with intricate gold leaf detailing on its massive figure. Beyond the Reclining Buddha, Wat Pho's expansive temple complex encompasses beautifully landscaped courtyards, intricately decorated stupas, and numerous smaller statues and structures that showcase the finest elements of Thai art and craftsmanship. It's also a renowned center for traditional Thai massage and medicine, with a school on the premises where visitors can learn about this ancient healing art.
Siam Paragon
Siam Paragon is an iconic shopping and entertainment complex located in the heart of Bangkok, Thailand. Renowned for its luxury offerings and extensive range of high-end retail stores, Siam Paragon caters to discerning shoppers seeking top-tier fashion, jewelry, electronics, and lifestyle brands. This upscale mall is a paradise for fashion enthusiasts, housing flagship stores of renowned international designers and brands. Beyond shopping, Siam Paragon offers an array of culinary delights, with a diverse selection of restaurants and gourmet dining options that cater to various tastes and preferences. The mall is also home to a world-class cinema, an aquarium known as SEA LIFE Bangkok Ocean World, and a host of other entertainment and cultural attractions. Siam Paragon's sleek and modern design, along with its vibrant atmosphere, makes it a popular gathering place for both locals and tourists. Whether you're indulging in a shopping spree, savoring delectable cuisine, or immersing yourself in entertainment, Siam Paragon provides a luxurious and all-encompassing experience that epitomizes Bangkok's reputation as a cosmopolitan shopping and lifestyle destination.