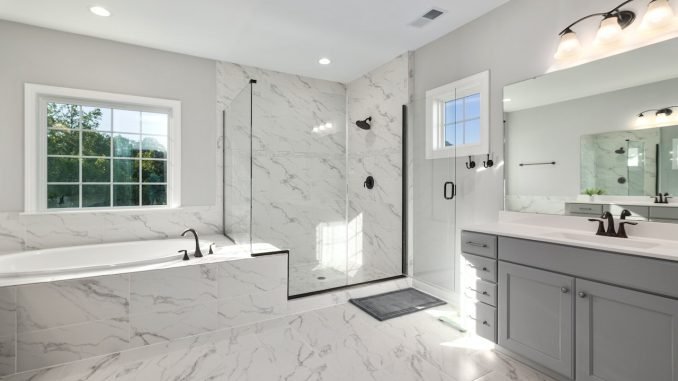 Bathrooms are often overlooked, but they can play a big role in our daily routines. They can be a place to relax and unwind or to start the day off with a refreshing shower. However, it can be difficult to make the most of a small bathroom without sacrificing style.
That's where space-saving solutions come in. There are a variety of ways to maximize the space in your bathroom without sacrificing aesthetics. For example, you can use wall-mounted shelves or cabinets for storage or choose a corner sink or toilet. You can also use mirrors to create the illusion of more space.
Here are some trendy storage hacks, clever floor plans, and inspirational décor ideas that can transform your small bathroom.
1)     Install the Stylish and Functional Walk-In Tub
Walk-in tubs are a great option for small bathrooms because they are space-efficient, accessible, and easy to install. Some benefits of walk-in tubs include:
Compact Footprint: Walk-in tubs are designed to maximize space so they can fit into even the smallest bathrooms.
Accessibility: These tubs incorporate a built-in door and a low step-in barrier, taking out the need to move over a high bath edge. This makes the tub ideal for people of any age and increases safety.
Simple Installation: If you're thinking about installing a walk-in tub, hire a contractor like EZ Baths & Walk-In Tubs to ensure a smooth installation. Their skill ensures a correctly sized tub that complements the style and dimensions of your bathroom.
Multi-Functional:These tubs offer flexibility. They offer the best of both worlds by serving as a bathtub and a shower. In small bathrooms with little space, this dual-purpose element is very useful.
Compact Design Seating: Some walk-in bathtubs incorporate implicit seats to expand space further. Since you can sit while showering, you won't require more seats or a greater washroom design.
Sleek Style: Modern walk-in bathtubs have sleek, cutting-edge designs that go with any bathroom's decor. With a wide selection of finishes and designs, you may discover the ideal complement for your décor.
2)     Floating Vanities
Floating vanities are a modern and stylish alternative to traditional floor-standing vanities. They are suspended above the ground, which gives the illusion of more space and makes the bathroom feel larger and airier. Floating vanities also free up floor space and make the bathroom look more clean and streamlined.
Floating vanities offer a variety of storage options without sacrificing style. Whether you prefer a sleek pedestal sink or a wall-mounted cabinet, these raised fixtures can help to create a visually appealing and relaxing bathroom space.
3)     Install Wall-Mounted Shelving
Wall-mounted shelves are a versatile and stylish way to organize and display your bathroom supplies. They can be used to store toiletries, towels, and other bathroom essentials, and they can also be used to display decorative items such as plants, photos, and candles.
Wall-mounted shelves are a great way to save space in small bathrooms, and they can also be used to create a focal point in your bathroom. When choosing wall-mounted shelves for your bathroom, be sure to consider the style of your bathroom and the items you plan to store on the shelves.
If you have a modern bathroom, you may want to choose streamlined, simple shelves. If you have a more traditional bathroom, you may want to choose elaborate, ornamental shelves.
No matter what style of shelves you choose, be sure to keep them tidy so that they can serve as both functional storage spaces and decorative display areas. This clever method makes the most of the available space and gives the impression of space, making your bathroom appear bigger.
4)     The Magic of Mirrors
Mirrors are essential for making small bathrooms look bigger. A well-placed, large mirror can reflect light into every corner of the room, creating the illusion of more space. This simple tip can have a big impact on the overall look and feel of your bathroom.
Mirrors also come in a variety of shapes and sizes, so you can find one that perfectly complements your bathroom décor. Mirrors can also be used to create a focal point in your bathroom or to simply add a touch of style.
5)     Light and Bright Color Palette
Using light pastels and light tones is a great way to make a small bathroom feel bigger and more inviting. These colors reflect light, making the space brighter and more airy.
Imagine a bathroom with calming blues, whites, or greens. The light and cheerful color scheme will make the bathroom feel more spacious and relaxing. This style is both timeless and visually appealing. Here's what you can do:
Choose a color scheme that you love, and that will complement the overall style of your bathroom.
Use paint to create a light and airy feel. You can paint the walls, the ceiling, or even the cabinets in your bathroom.
Add light-colored towels, rugs, and accessories to complete the look.
6)     Go Frameless with the Shower
Frameless showers are a popular choice for small bathrooms because they can make the space feel larger and more spacious. The lack of a visible frame creates an uninterrupted view, which can help to make the bathroom feel more open and airy. The transparency of the glass also allows natural light to pass through freely, which can brighten up the space and make it feel even larger.
In addition to their visual appeal, frameless showers also have a number of other benefits. They are easier to clean than traditional showers, and they can also be more accessible for people with disabilities. Frameless showers also come in a variety of styles and finishes, so you can find one that perfectly matches your bathroom décor.
Conclusion
Small bathrooms are often underestimated, but they can be just as stylish and functional as larger bathrooms. In fact, the challenge of designing a small bathroom can be an opportunity for creativity. By using creative space-saving techniques, small bathrooms can be transformed. These techniques can range from clever storage solutions to minimalist design choices that create the illusion of space.