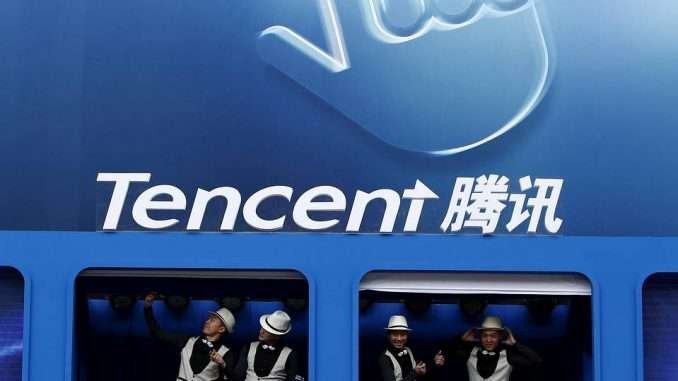 HONG KONG—Chinese internet giant Tencent Holdings Ltd. has agreed to acquire a controlling stake in China's leading music-streaming company in a deal that values the firm, China Music Corp., at roughly $2.7 billion and creates a dominant competitor in China's online-music market, people familiar with the matter said.
Tencent, China's biggest social-networking and online-games company, which also runs its own music-streaming service, will boost its stake in China Music to about 60% from 16%, one of the people said.
The deal turns Tencent into a clear market leader in China's online-music market, as it brings together the country's top three mobile-music applications owned by the two companies. CMC owns Kugou and Kuwo, while Tencent operates QQ Music. Kugou is the largest mobile-music service in China, with a 28% market share, followed by QQ Music's 15% and Kuwo's 13%, according to data from research firm iiMedia Research.
In the first quarter, China's mobile-music services had 449 million users, more than the entire population of the U.S., making it the world's largest market by the number of users, according to iiMedia.
Tencent plans to combine the team operating QQ Music with CMC, the people said. The combined music businesses will be valued at roughly $6 billion after the deal is completed and will operate as a subsidiary of Tencent, the people said.
CMC had been planning an initial public offering of stock in the U.S. before agreeing to be bought by Tencent. That plan has now been put on hold, the people said.
The Wall Street Journal reported in May that CMC was working with Goldman Sachs Group Inc. and Morgan Stanley for an IPO that was expected to happen later this year. Although the amount of funds CMC was expected to raise hadn't been decided at the time, some people familiar with the matter expected it to be between $300 million and $600 million.
Tencent could pursue an IPO of the combined company in the future, one of the people said.
Online entertainment, including music and movies, has become a significant battleground for China's biggest internet companies, such as Tencent, Alibaba Group Holding Ltd. and Baidu Inc.
Those companies have been signing licensing deals to distribute more songs and movies through their platforms. Tencent, for example, has secured deals with Sony Music Entertainment and Warner Music to become their exclusive online distributor in China.
Although China's digital-music market is huge in terms of users, the sector's revenue is still small compared with the U.S. and Europe. Paying for online music hasn't been a successful model in China in the past because of piracy, industry experts say.
Tencent has been trying to persuade users of its QQ Music, which streams most songs free of charge, to pay for a premium membership that offers perks such as an extended music library, higher-quality sound and members-only concerts at a small monthly fee.
The acquisition not only gives Tencent an overwhelming market share in terms of user base, but, in combining CMC and Tencent's exclusive content licenses, the new entity also represents more than 60% of all available music rights in China, said Ed Peto, managing director of Outdustry, a Beijing-based music-industry services company.
"The obvious downside of this is the whitewashing of a once tentatively competitive marketplace, the upside being that it gives Tencent the necessary clout to drive the market into a paid model, a process which has been faltering as of late," Mr. Peto said.