Barum, DiDi, Gayun
The face of pop music in South Korea has for a long time been generic, and everything that makes up the genre sounds unique with over a thousand voices.
One of the most prevalent factors in the widely loved pop music scene of South Korea is the existence of pop music boy/girl groups. So many of these groups have risen to stardom with the diverse pop style and taken center stage in South Korea and other parts of the world.
RUMBLE G, a girl group under WINNER ZONE Entertainment is one of those most recent bands that have become a force breaking barriers in pop music. Since their debut six months ago, Rumble G has created music that has crossed boundaries into parts of Europe, South America, and Southeast Asia. Their fandom (commonly referred to as Wings) has accelerated to over 30,000 fans and still growing.
Rumble G line-up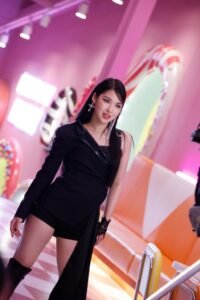 BARUM
Born 22.02.2000, Barum has been dancing and singing since her early childhood .She has made a number of stage appearances through dance club activities while her high-school days . She is now attending the major of Practical Music. Her musical influences stem from her love for various genres of music, and she identifies singer IU as one of her inspirations. With a stunning personality and character, Barum has the goal to become somebody satisfied with her own self.
DiDi
Born 16.01.1998, DiDi is a graduate from Korea University of Media Arts. Hailing from Burmese, she is the very first Burmese K-pop singer to take center stage in the booming pop genre.
DiDi is a natural-born vocalist and rapper with inspiration from other renowned female artists, including; Taylor Swift, Hwasa, and CL. Their music and actions inspire her to become one of the greatest pop artists that is about to transform the world into a much happier place.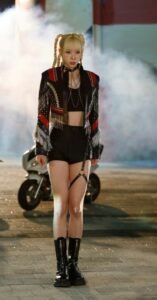 GAYUN
Born 02.11.1999, Gayun is a from Baekje Arts University. Her sentimental character is one of those qualities that she brings to the stage as she sets out to touch many of her fans with her vocals.
Gayun has been dancing since 6th grade and has experience through many stage performances. Her musical influences include; singer Hyuna, who she admires for the way she confidently takes control of her spotlight.
Rumble G's second single Album
After their debut last year in 2021, the girl group has kept on creating music for their fans as they keep up an appearance on their digital platforms. Their debut project, "Roopretelcham," served as the perfect intro to the pop music world.
For about six months, Rumble G was working on their second album, a follow-up to their debut single. Their album "Dear Hope" dropped recently on 16.02.2022 with six tracks, including; Dear Hope and their famous hit single "Every Other."
Presented with a simple, heartwarming feeling, the Album defies the common notion of releasing only trendy music and depicts a different worldview. "Dear Hope" was written with the desire to send out a positive message to everyone living through a stressful and challenging time. The lyrics of the song, "Everything Will Be Ok, Everything Will Be Alright" are comforting and contain a message of support for those who suffer from frustration and fear. In this modern pandemic era, a memo such as this is something that everyone needs to lean on.
The second digital single, "Every Other," off Rumble G's new project is a mirage of perfection from the pop music trio. The track features an impressive rhythm and vocals, with the lyrics written
entirely by the trio itself. "Every Other" is a vivid display of the girl crush version of Rumbel G across the dance-pop music genre.
The track is a collaboration between the famous American composer group Timmy Beep and Korean gifted composer producer 102. Its addictive hooks and colorful tones add interest to the song with lyrics that carry a message of self-love and a reminder to everyone trapped in a triangle and can't find themselves to start living as you.
Added to the audio, Rumble G also released the music video for the single "Every Other." The music video includes a very flashy vibe showing that three different creatives will gather together and share their aspirations with the world. The video comes off as the first from the trio, and they earnestly poured out all of their thoughts and feelings into creating the perfect introduction for themselves. This could have been a challenge for them as they embark on their new music career, but the results are indeed groundbreaking.
A myriad of lights creating a wave of enthrallment, Rumble G has emerged as a trio bringing down thousands of voices like thunder to the ground. Their unique style and sisterhood connected by one emotion is setting the trend for their music and winning them fans all around the world. With multi-diverse skills shared between the girls, no single word would express their force. Together they have made Rumble G seem like one person portrayed in three different ways. Each one of them brings a unique story to the table with their own features and gift to form one picture, which in itself is the epitome of class. So many of their fans (The Wings) spread all over the world have acknowledged their songs as a source of strength for them.
Even though Rumble G has not yet announced their presence through physical shows, the trio has made a number of digital shows on their social media and interacted with their fans through conversation and video calls. In this lucrative genre of pop, the moment you sing, cry or laugh as one, you are destined for greatness.
Rumble G is on their way to greatness!
To connect with the trio, follow them on www.winnerzone.net or check out their social media and music streaming platforms;
Follow RUMBLE G:
Instagram: https://instagram.com/rumble_zone/
Facebook: https://www.facebook.com/rumblegofficial
Twitter: https://twitter.com/RumbleG3/
TikTok: https://www.tiktok.com/@rumbleg_tiktok/
YouTube: https://www.youtube.com/c/WinnerZoneWorld/featured
Apple Music: https://music.apple.com/de/artist/rumble-g/1576145906?l=en