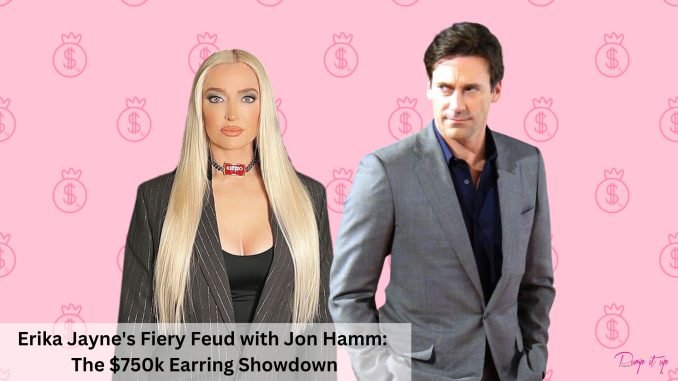 Erika Jayne of "The Real Housewives of Beverly Hills" is not on good terms with Jon Hamm after he called her out over her $750,000 earrings. In a recent appearance on the "No Filter with Zack Peter" podcast on October 30, 2023, Jayne discussed her legal victory earlier in the summer and took a swipe at Hamm.
"I have my appeal, and that's, you know — like Jon Hamm, you know. 'They never were yours.' F–k you. I won on appeal," the RHOBH star asserted. "You don't know what you're talking about. You know, 'Those were never yours.' Really? An appellate judge said they were. Or at least said you can't prove that they weren't. So that made me happy."
Throughout Season 12 of RHOBH, Jayne's diamond earrings became a central storyline as she hesitated to return the $750,000 jewelry given to her by her estranged husband, Tom Girardi, who was embroiled in lawsuits regarding his firm's alleged mishandling of clients' funds. The controversy led to backlash from her castmates, Crystal Kung Minkoff and Kyle Richards, who viewed Jayne's reluctance to return the earrings as a lack of empathy for the affected clients.
Jon Hamm, known for his role in "Top Gun: Maverick," weighed in on the earring situation during an appearance on "The Howard Stern" show in September 2022, saying, "You just want to shake her and go, 'Honey, they were never yours — give them back.'" He also pondered whether the earrings were worth $750,000 in total or each.
Hamm revealed his avid interest in Bravo's reality shows during an appearance on the "Today" show in June, mentioning that he watches "The Real Housewives of New Jersey" and "Vanderpump Rules."
Jennifer Lawrence, another A-list celebrity, criticized Erika Jayne's behavior during Season 12, expressing her disappointment in the show's lackluster quality. Jayne responded by inviting Lawrence to join the show and face off with the cast.
While the controversy surrounding the earrings and Jayne's legal battles continue to make headlines, her feuds with fellow celebrities like Jon Hamm and Jennifer Lawrence add an extra layer of drama to the RHOBH storyline.