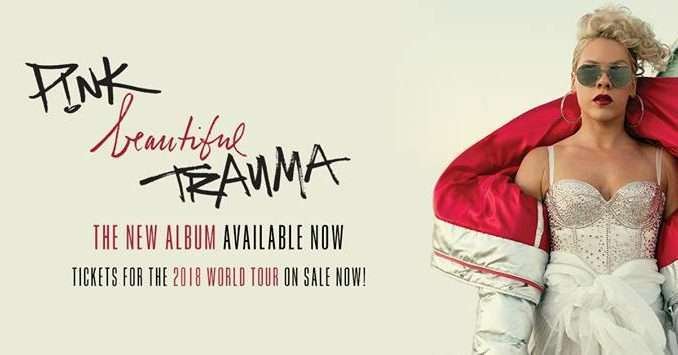 To no one's great surprise, Pink's newest album topped this week's Billboard 200 chart after earning the largest sales week for an album by a woman so far in 2017. Beautiful Trauma moved 408,000 equivalent album units, with 384,000 coming by way of traditional album sales. Beautiful Trauma follows Pink's last studio LP, The Truth About Love, her first number one charting record.
By most reasonable standards, Pink was the highlight of August's MTV Video Music Awards. No, not for her characteristically athletic, career-summary medley, but for the three-minute speech she offered upon being given the Video Vanguard Award, which used her daughter's self-esteem issues as a launching pad for a whirlwind treatise on artistic boldness and pop androgyny. You could argue that it was a little bit messy or long on family TMI, but then you'd be arguing against the whole concept of Pink, which would be a bad idea. Making empowerment not seem boring at this late date might've been an even more impressive stunt than the aerialist ones of VMAs past.
On "Beautiful Trauma," her seventh album (and first in five years), Pink makes a number of references to her own vocal skills — the talking ones. "There's not enough tape to shut this mouth," she sings in "Wild Hearts Can't Be Broken." It's not all so self-flattering: "My mouth gets me in trouble all the time," she says in "For Now," in a verse that has her additionally confessing to being "so goddamn mean." There will be a lot to get off her chest, as always, and if you're the slightest fan of confessional pop songwriting, you should be glad for her gift for gab, and for garrulous emotion. It doesn't hurt at all that she's a fabulous singer who knows that constantly shifting dynamics help keep her from ever just becoming a candor machine. Before you hear her belt — and lordy, there will be belting — you always hear her breathe.
Another thing that doesn't hurt: the array of all-star producer/co-writers who help create satisfyingly formal structures to encase all this passion and loose talk. Jack Antonoff has not been spread too thin as a favored collaborator of Lorde, Taylor Swift and St. Vincent to pitch in with a couple of tracks here. Neither have fellow Swift enablers Shellback & Max Martin found themselves too busy to come back to the Pink fold for three. Greg Kurstin, who co-wrote and produced Adele's "Hello," and seemingly every other recent record that the aforementioned guys didn't have a hand in, worked on two. There's also fresher meat in the form of rookie-of-the-year candidate Julia Michaels, who co-wrote two tracks; Adele pal Tobias Jesso Jr., who shows up just in time for the finale; and another (lowercase) name of the moment, busbee.
Pink may not play favorites as she spreads the love around among colleagues, but listeners will have picks for whose stamp deserves the biggest seal of approval. You can appreciate what other producers bring out in her and still wish that she would just make a whole damn album someday with Shellback and Martin, who are responsible for the two pop confectionary delights that most immediately demand instant replay, "Revenge" and "Whatever You Want." Other producers may do a better job at getting out of her way, on piano ballads and whatnot, but the combination of her volubility and their sugar rush makes resistance futile. She and Martin have always been a match made in pop heaven; with that hair, it could just be that she's a secret fellow Swede
"Revenge" in particular seems like a smash waiting to happen — if she can get singles rights for radio, that is, since her duet partner on the track is non-label mate Eminem, hooking up with her for the third time now. Eminem and Martin may seem like slightly strange bedfellows, but it gets a little stranger than that: Pink is more or less rapping on the track, at least on the verses — going into the chorus, she announces, "Here comes that singing part" — while Eminem is sorta, kinda singing, as they exchange comic insults about alleged infidelities. It's the one outright goofy song on the album, and with due respect to Alecia the Earnest, who dominates the rest of the record, Playful Pink is a kick in the pants. It's one of the funnier duets between hateful lovers since the Pogues' "Fairytale of New York." And while they both give as well as they get, it's hard not to twinge when he calls her a whore multiple times in the song. However, a comic coup de grace arrives after the music stops, when Eminem utters, "F— yeah," and she replies, "F— no." (Well, maybe you had to be there.)
The rest of the album's F-bombs are less in jest. You could accuse her of being a little Tourette's-y, working this much profanity into what is in most ways a pretty traditional, mainstream pop album. But Pink has a better way with that word than most, whether she's using it for a downtrodden rhetorical flourish ("F—, I'm blue," she sings in the album's bluntest three-word moment) or literally ("laughing and fucking" being singled out as pastimes). There's a fair amount of despair in the album, in between that early comedy and the closing bout of inspiration; she's not a word mincer when it comes to the language of depression, or exultation. Pink is a conversational writer, talking in songs the occasionally profane way Adele only talks between songs.
Which is not to say there isn't elegance to go around in her wordplay too. Knowing Pink's politics, you might expect her to have some F-bombs for the powers that currently be. But rather than write another pedantic song like 2006's "Dear Mr. President," she addresses the present mood more cosmically and soul-searchingly in "What About Us," a sad dance-floor thumper that was released as the album's first single. The beseeching lyric could almost just as easily be addressed to an uncaring God as a careless government, although the use of some Chris Christie audio clips from last year's GOP convention in the music video did rather signal her intentions. It's a lovely song, and it topped or nearly topped charts around the world — except in the U.S., where it stalled at No. 26. Funny that between this and the chart death of Katy Perry's "Chained to the Rhythm," Americans don't seem to have much taste for sad disco songs about how the system sucks. Go figure.
About the only song you have a harder time believing came from Pink's heart is "Barbies," a song about being wistful for carefree childhood days that maybe would have been better sung by Pink's 23-year-old co-writer, Julia Michaels. It's not just that it's harder to imagine a 38-year-old really wishing she could go back and get her Barbie house out. After Pink gave such a galvanizing MTV speech about non-traditional gender appearances, the least she could have done is throw in a few lines about putting Barbie's 36-18-33 dress on Ken.
But you don't have to stretch your imagination to think about how close to the bone the songs about spiritual and romantic crises cut. Not when the album has "I slashed your tires" as part of the opening couplet. (Do a web search on husband Carey Hart's ill-fated sidewalls.) And not when the title track makes melodiousness out of a line like "You punched a hole in the wall and I framed it." (Keep Googling… verses like these really could use Wikipedia-style footnotes.) The best evidence from the rest of the songs is that she loves as deeply as she fights, and through all of it — clinging or going into combat — she's just the corporeal ghost so badly needed in 2017's overly well-oiled pop machine.
Download Pink music on iTunes here