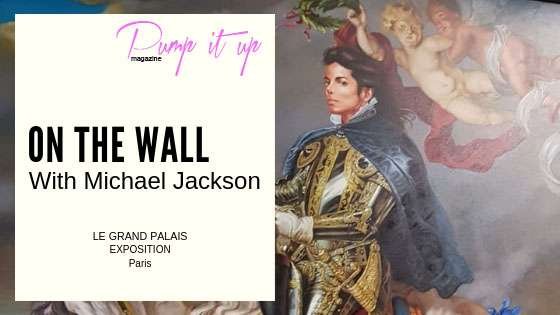 The King of Pop is back in Paris! No, Michael Jackson did not come back to perform a very special concert, but rather…the essence of his spirit and career has been captured on canvas by 40 artists and displayed on the walls of the Grand Palais.
Michael Jackson: On the Wall" (a play on the title of his album, "Off the Wall") pays homage to the music icon—the youngest person ever to grace the cover of Rolling Stone magazine who would have been 60 this year.. I should warn you…. Do not come here looking for nostalgic memorabilia and dance music.
This is an ART show that is not so much about Michael than it is an exhibition showing the profound influence he had on the world of contemporary art as seen through 120 works of art:  paintings, sculptures, photographs and video installations. The singer's image and music continue to have a far reaching cultural influence and though his impact on music, dance and fashion can still be felt.. little attention has been paid to the impact he had on the fine art.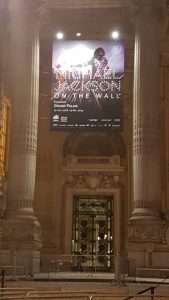 What is utterly surprising out this exhibition is how thoughout his career, Michael Jackson had been interpreted by so many world renowned figures like Andy Warhol, Kehinde Wiley (who famously painted the Obamas, Jeff Koons and Keith  Harirngs, not to mention Rita Ackerman, Dara Birnbaum, Candice Breitz, Marvin Gaye Cetwynd, Mark Flood, Isa Genzken, Maggi Hambling, David Hammons, Lyle Aston Harris, Johathan Horowitz, Gary Hume, Rashid Johnson, Isaac Julien, David LaChapelle, Louise Lawler, Klara Linden, Glenn Ligon, Paul McCartney, Rodney McMillian, Dawn Meilor, Lorraine O'Grady, Catherine Opie, Yan Pei Ming, Grayson Perry, Paul  Pfeiffer, Faith Ringgold, Donald Urquhart, Hank Willis Thomas and Jordan Wolfson.
The exhibition is divided into several areas expressing the different facets of Michael Jackson starting with "Legendary Dancer." Few people are instantly recognizable by their silhouette, clothing – gloves, shoes, a hat – or gestures alone. This first room examines how artists Dara Birnbaum and Appau Junior Boakye- Yiadom capture this characteristic specific to Michael Jackson, by drawing our attention to his legendary dance steps and body movements. In "VIA," Raphaëlle Delaunay takes on Jackson's iconic gestures then works them into a sequence of classical dance steps. Combining two choreographic styles, it brings together different dance traditions. Michael Gittes invites us to rediscover Jackson's body movements in the short film for the song "Smooth Criminal" to the sound of Frank Sinatra's "Fly Me to the Moon".
In "The Advent of the King of Pop," 12 artists look at Michael Jackson's transition from child star to global celebrity. Between the release of his solo album "Off The Wall" (1979)," Thriller," the world's best-selling album in 1982, and "Bad" (1987), the singer experienced an unprecedented rise to fame. Artists Susan Smith-Pinelo and Rodney McMillian examine Michael Jackson's social origins. In "Sometimes," Smith-Pinelo dances to the sound of "Workin' Day and Night" ("Off The Wall," 1979), and exposes the issue of intensive labor.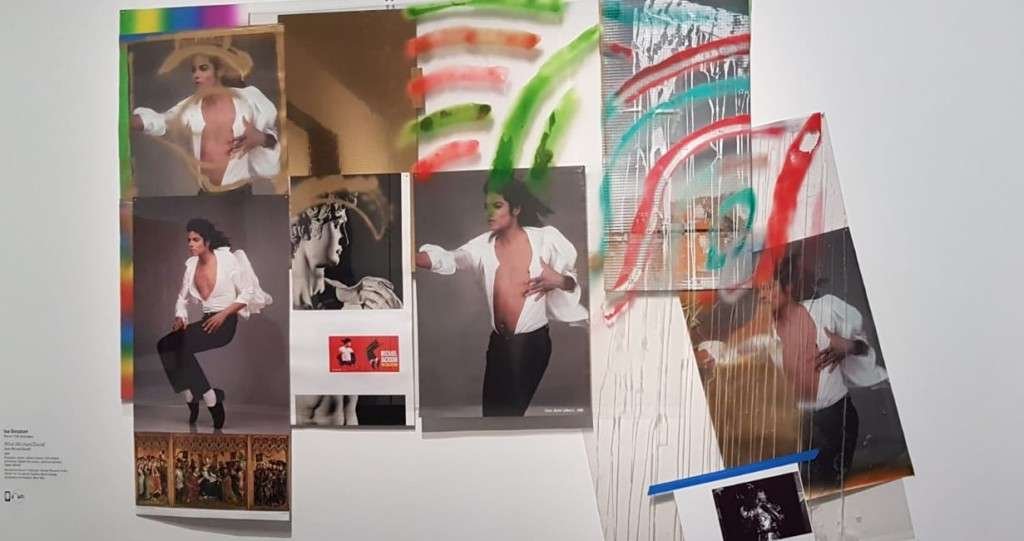 For "The King of Pop Art," Warhol interviewed Michael Jackson in 1977 about his work on The Wiz (1978), a film adaptation of The Wizard of Oz featuring African-American actors. In subsequent years, Warhol photographed Michael and began collecting souvenirs, items and documents relating to him. In October 1982, he chose Jackson's image for the cover of his magazine "Interview" and in 1984, Warhol used another portrait, a screen print, for the cover of "Time" magazine. Years after Warhol's death in 1987, Jackson returned the favor, featuring a self-portrait of the artist (Self-Portrait, 1986) in the short film for "Scream" (1995), a duet with his sister Janet.
For "Metamorphoses," the storytelling code which began in "Thriller" has itself been transformed into a music video. Jackson enacts a variety of roles as the video engages in a playful parody of the stereotypes, codes and conventions of the horror genre. The dialogue between film, dance and music draw us into a play of signs and meanings while "constructing" the star's image.
"Citizen of the world," focuses on Michael Jackson's artistic preferences which reveal an open mind to the world around him.
"The Mask." Jackson's face can also be seen as a mask, for his image has attracted and maintained the kind of cultural fascination that makes him more like a movie star than a modern rhythm and blues celebrity. For his album, "Dangerous," Jackson commissioned the artist Mark Ryden who along with Jordan Wolfson, Dan Mihaltianu, Isaac Lythgoe and Gary Hume, explore the mask as both an important object and symbol in Michael Jackson's work. In his videos, he uses costumes, make-up and cinematic special effects as a mask. For these artists, the mask is no longer a simple accessory; it is the face that becomes a facade.
Finally "Jackson as an icon and idol," is examined.  A form of sacred representation, each also has a figurative meaning: idol as an adulated person, and icon as a model or archetype. The works of David LaChapelle portrays Michael Jackson as an "American Jesus,"  depicted in three portraits that borrow from Christian iconography. In "Moonwalk," choreographer Jérôme Bel directs some 30 amateurs and professionals who perform  dance moves made popular by Michael Jackson. For her large-scale video installation, King, Candice Breitz recorded 16 Jackson fans singing the entire Thriller album a cappella. This room reveals the diversity of representations that give the King of Pop an exceptional dimension and sketches a portrait of Michael Jackson as seen through the eyes of his fan base.
"Splittings" shows off a variety of portraits of Michael Jackson which are split, divided, distorted and multiplied. In Maggi Hambling's work, the singer is dressed in a white suit as he watches his body double dance. Paul McCarthy uses symmetry in his satirical reinterpretation of the famous sculpture of the star with his chimpanzee, Bubbles, by Jeff Koons. In Paul Pfeiffer's videos, Michael Jackson's images recorded at concerts appear divided and duplicated.
"Quotations." The artists presented in this room use quotations and the process of representing a work to highlight the scale on which Jackson's images circulated in the media. In 1984, Ebony magazine published a fictional portrait of Michael Jackson for the year 2000. The artist Hank Willis Thomas modifies the image's status by moving it from the magazine to the exhibition space, reproduced in a larger format. Artist Isa Genzken has produced a series of works entitled Wind in which she uses a famous portrait of Michael Jackson by photographer Annie Leibovitz, published in Vogue magazine in 1989. The images of Michael with his chimpanzee, Bubbles, circulated widely in the media in the late 1980s. Jeff Koons created a porcelain work inspired by these images in 1988.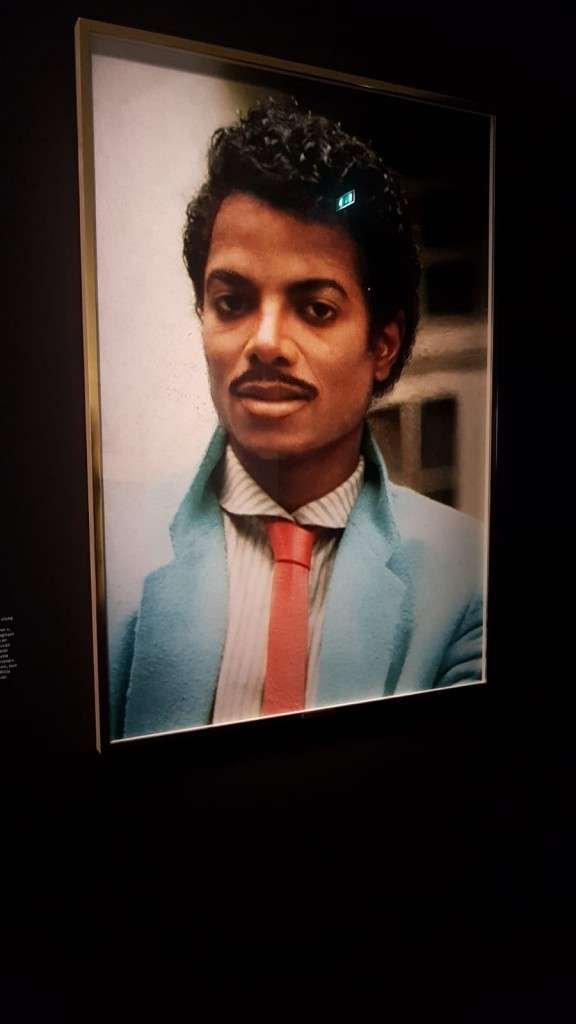 "Timeless." The last room brings into focus contradictions between the various representations of Michael Jackson and reveals the exuberance, romanticism and drama that emerge from some of his portraits. For example his "dinner jacket" is covered with small silver forks, knives and spoons, made by costume designer Michael Lee Bush based on the singer's own ideas. The exhibition ends with a floor to ceiling "Rubens" inspired portrait of Michael portrayed as a 17th century monarch riding high on a horse—an oil painting commissioned by the singer but not completed until after his untimely death.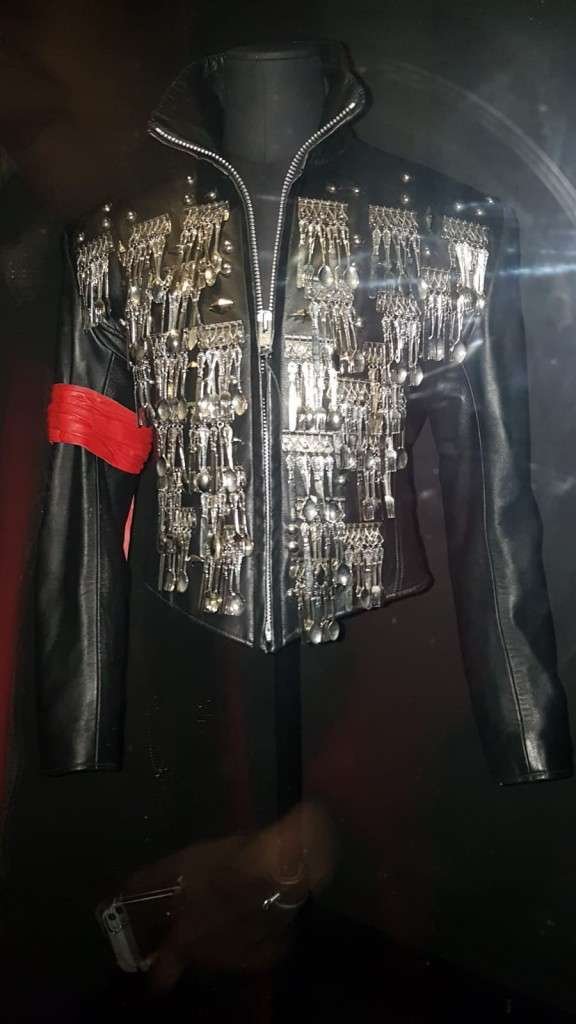 For anyone visiting Europe, "On the Wall" is currently showing at the Grand Paris (3 avenue General Eisenhower, 75008 Paris) through February 14. Afterwards, it travels to Bundeskunsthalle, Bonn (Germany) from March to July 2019 and afterwards, Espoo Modern Art Museum in Finland from August to November 2019.
Written by Carol Mongo