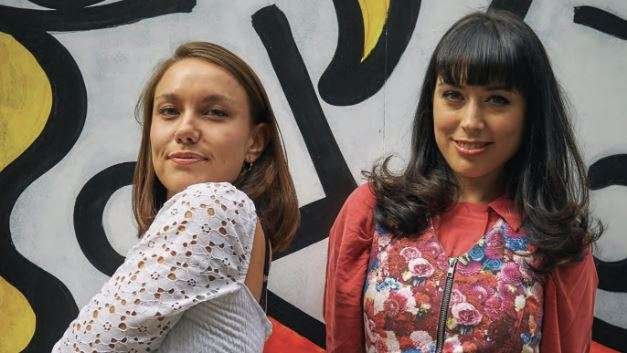 "As manager, you're the driving force for your artist," says Years & Years manager, Martha Kinn. "You've always got to stick to what you know is the right thing for their longevity."
Kinn and fellow senior YM&U management colleague Sophie Bloggs could write a book about the art of artist management.
Spending an hour with the two London-based executives gives MBW a crash course in how best to manage a record label's expectations, an artist's expectations – and their own expectations, when it comes to the reality of being an artist manager in 2019.
"The role of the manager has changed," says Bloggs. "Essentially, you can be the live agent for the beginning part [of an artist career], you can be the label – which implies A&R, marketing, promo – too, as well as being the manager. It's demanding."
Electronic music expert Bloggs joined YM&U – previously Machine Management – in 2015 from her previous position at Three Six Zero, where worked for a couple of years after a successful stint managing DJs independently.
Bloggs got started in the music business putting events on at university and did an internship at Fabric Records. From there, she worked at an independent dance label for two-and-a-half years doing PR and then touring.
"Then I was approached by Yolanda B. Cool at the point where they had their hit single, We Don't Speak No Americano," explains Bloggs. "I basically just made a decision at the age of 23 that I wanted to move into management as opposed to being at a record label. It felt like it was the right thing to do." Kinn joined Machine in 2013 and subsequently helped guide Years & Years to a No.1 album and single in 2015, with Communion and King, respectively. Kinn's career actually started in music journalism however, before she worked as a management and major label scout.
"I started off writing and just being out and about on the London scene," she says. "I met someone who ended up being my first boss; he happened to work in management and also at labels. "Being an A&R scout just totally threw me into the deep end," she continues. "I discovered Rizzle Kicks, who I ended up managing for a few years. I learned a lot of lessons [from that experience] and I think I really put [those learnings] into the way I approached management going forward."
The A&R Award-winning Machine Management was founded by Iain Watt in 2002 and was fully acquired by talent management company James Grant Group (JGG) in September 2018, with Watt subsequently being made MD of JGG's UK music division.
Later that month, James Grant Group sold a majority stake to private equity firm Trilantic, rebranding the entire company as YM&U as of January 1, 2019. As Chief Talent Director of YM&U's music division in the UK, Kinn is tasked with helping build an entity that is diverse, creatively ambitious, and which helps a new breed of artists find success. (Alongside working with her own roster of acts, Kinn supports the company's other managers with their projects, and collaborates closely with Watt to grow the music business.) YM&U also houses Deckstar Management (acquired in 2017), home of Blink 182 and Steve Aoki, and Hall Or Nothing (acquired in 2012), which brought the likes of The Script and the Manic Street Preachers to its roster.
YM&U has offices in Los Angeles, London, Washington, New York and Manchester, and says that its mission is to "create the world's leading management company for clients in Sport, Music, Drama and Entertainment". The firm's UK music clients also include the likes of Take That, James Arthur, Kurupt FM, Friendly Fires and Clean Bandit.
"Music is such a global thing now; it's really important for an artist to know that they've got support both here and in America, and [that] there's synergy between the teams working on that," explains Bloggs. "This is basically the perfect place for any kind of crazy idea you might have," adds Kinn. "If you want to go and do a cameo in a film or if you want to make a podcast, [YM&U] is really well resourced for you to go and do those things."
Music Business UK met with Bloggs and Kinn at the Great Portland Street offices of YM&U to interview the duo about working at Machine, and how to approach artist management in 2019…
---
WHAT DO YOU KNOW ABOUT MANAGEMENT NOW THAT YOU WISH YOU KNEW WHEN YOU FIRST STARTED?
Sophie Bloggs: That it's okay to make mistakes. Or more to the point, that everybody makes mistakes and they learn.
Martha Kinn: Not to take it too seriously, to be okay when things don't go to plan.
SB: With management, it is essentially about planning and strategising and doing the things that the creative, aka the artist, isn't necessarily built to do. When something doesn't go to plan, you might feel like you haven't done your job properly, but that's not actually the case. The times that I have been most successful in management is when you're able to adapt to the plan and not allow it to stress you.
MK: Totally. It's such a fluid situation and you have to be reactive. Management is so all-consuming, and you can really get stuck in your own head.
---
MARTHA, THERE WAS A QUOTE FROM YOU IN A STORY ON MBW ABOUT THE YOUTUBE MUSIC-FUNDED MANAGEMENT PROGRAMME WHERE YOU SAID THAT YOU CAN ONLY REALLY EXPECT TO MAKE REAL INCOME FROM AN ARTIST'S BUSINESS TWO TO THREE YEARS INTO THEIR CAREER. COULD YOU TELL US ABOUT THAT?
MK: Yeah; I stand by that. That's never [been] truer than it is today. It can take even longer than that.
SB: We talk about this consistently in the office and it actually influences our choices when it comes to working with clients, because Martha is totally right. The landscape has changed over the past five years and to build a business for artists doesn't happen quickly anymore. There are so many different platforms which you have to engage with, which just means that the process is a lot longer than it used to be.
"THE LANDSCAPE HAS CHANGED OVER THE PAST FIVE YEARS AND TO BUILD A BUSINESS FOR ARTISTS DOESN'T HAPPEN QUICKLY ANYMORE."

SOPHIE BLOGGS
Having said that, when you do reach a certain point, I think the fan base is far more engaged. So it means there's more artist career longevity.
MK: To try and skip that or work around it or try and look for short-term success is where you'll fall down as a manager, especially if you're trying to build something that's really long term. That's the beauty of the artist-manager relationship. It's the only relationship where you're just as invested as the artist [in] their success, for as long as possible. That's why as managers we maybe [occasionally] come up against the label who are keen for more short-term results. That development part leads on throughout an artist's career. It's just going to be so considered and you have to be patient, if you want to build something that is going to last.
---
HOW DO YOU MANAGE AN ARTIST'S EXPECTATIONS OF WHAT THE MANAGER CAN HELP THEM TO ACHIEVE?
SB: It's difficult. Everybody approaches it individually, but I think myself and Martha come from the same standpoint on this, which is just being totally upfront; honesty is always the best policy. If you over-promise, you're the only person who's going to fail. Obviously when you're pitching to new artists or you're proposing a plan, you want to aim for the highest possible achievement. But you just need to have really honest conversations.
MK: Whenever I take a new artist on, which doesn't happen too often right now, I'm always like, 'I'm going to challenge you. If you don't want a manager that's going to challenge you, I'm not the right person for you.' I make it really clear that it's not going to be easy. There's no quick route to get there. It's going to be a long process.
Every artist is keen to get their music out – and now! From my own experience with Years and Years, I [can] talk about how long it actually takes to get something [created and recorded] that is really good enough. I talk a lot about the development process [giving artists] the luxury of time. Once you are on the runway, so to speak, there's no going back. New artists need to use that development time to really build something authentic and amazing that's going to carry them through the rest of their career.
---
WHAT THINGS DO YOU TAKE INTO CONSIDERATION ABOUT WHAT CLIENTS YOU TAKE ON?
SB: I think the music has to be the starting point for every conversation. Obviously we are approached for management from seven different ways. But first and foremost, it's the music. I have to love the music to be engaged with it, otherwise I just can't put 100% of myself into a project and that's what's needed to make anything successful these days.
"I SET THE BAR VERY HIGH. FOR ME TO TAKE SOMETHING ON, THEY'VE GOT TO BE REALLY GLOBALLY AMBITIOUS – IF THEY'RE NOT, THEN I DON'T WANT TO WASTE MY TIME. AND I WILL SAY THAT IN THE FIRST MEETING."

MARTHA KINN
MK: I set the bar very high. For me to take something on, they've got to be really globally ambitious – if they're not, then I don't want to waste my time. And I will say that in the first meeting. They've also got to exist in their own lane. Maybe I'm asking for a lot, but I'm quite lucky that I have acts that [fulfill] those things, that take me beyond just the music, with so much cultural significance. I know not every artist can have that, but that's definitely something that I look for, because I want to be managing icons, really, not just a flash in the pan.
---
IT'S DIFFICULT TO KNOW WHEN YOU'RE DEALING WITH CREATIVE ENDEAVORS IF YOU'RE GOING TO GET A RETURN ON YOUR INVESTMENT…
SB: You're not going to know. It's a risk. But if you believe in something that much, then all you can do is give it 100% and hope that it works out. And if it doesn't, then you know that you've tried your best.
MK: You just go with your gut. If your gut is telling you to do something and put your all into it, then do it. They might fire you a few months later – but I don't have any regrets when it comes to stuff like that. Because when one does really happen, when it becomes successful, that's just the best feeling ever.
---
HOW DO YOU MANAGE THE PRESSURES THAT COME WITH SUCCESS AND FAME FOR AN ARTIST AND FOR YOURSELF?
SB: It's difficult. We're lucky that we have a group of people to lean on within our company; it's important to vent, and have someone that can relate to a situation, who offers advice and guidance.
MK: I come from a background where my family work in mental health. What I did with Years & Years, and with the new artists I'm managing like Bree Runway (pictured inset), as soon as I can, I try and get them into therapy, just to prepare them as much as possible.
And to help them understand that the life that they're going to be leading, if it all goes well, is going to be so trying of them and their mental health. I just try and be tuned in and sensitive about what they could be going through. [It's] important that you seek support like within your peers.
That's why I love being part of the company. But it's not easy. You really want to protect your artists. But then on the other side, you can sort of create a monster with your artist too, if you put [a] bubble around them, and you fan the flames of fame. I try my best to keep my artists grounded, always have a joke with them, bring them down a peg or two, crack the whip. And I have to say, I see it very often; a lot of artists, you can tell are quite indulged, but I don't stand for that.
SB: Martha is better at being hard than I am! But I agree. I don't know whether this is quite a sweeping statement, but I think being a female does change or does influence how you approach these things. That can be really beneficial for the early stages of an artist's career because, as Martha mentioned, there's a lot of handholding, really guiding them through the process, that's needed. And that takes a lot of patience.
---
CREATING ART AND PUTTING YOURSELF OUT THERE CAN BE EMOTIONALLY TAXING BECAUSE YOU'RE IN THE PUBLIC EYE AND YOUR ART IS BEING CRITIQUED AND SCRUTINIZED. HOW DO YOU HELP ARTISTS DEAL WITH THAT?
SB: It's [about] protecting them to a certain degree and managing expectations from the beginning, or having reasonable expectations from the beginning to be able to protect them from any downfalls.
MK: I can really relate to this when it comes to Olly [Alexander]  (pictured inset) and Years & Years, because I think a lot of what Olly puts out is so personal. He's so open and a lot of the issues he talks about are incredibly meaningful and important. And there have been many times, especially on the last album where a lot of people, I won't name any names, tried to push me to get Olly [Alexander] to do something different. To be basically less gay, is what I was [hearing].
Things like, 'Oh, you'll turn people off if you do things like that.' We had to weather a lot of that criticism. The only thing that I could do in that situation was to 100% back Olly. I can't make him be something that he's not and I wouldn't want to. For me it was just so clear that I was going to support him and support his creative [idea], which was basically part of his identity and it's an identity that's important, that we need to see out there. Any other sort of commercial argument that I was getting from anyone else, just took a backseat.
SB: I've had situations in the past with some of my acts. You do get questioned by people who ask to push things in a different direction. You have to support your act because you are there as their protection and their support system. And it just goes back to having that same vision and knowing that you're a partnership.
---
HOW MUCH DID THINGS CHANGE AFTER THE JAMES GRANT GROUP ACQUISITION IN TERMS OF DAY-TO-DAY OPERATIONS AND OPPORTUNITIES OPENING UP FOR THE CLIENTS THAT YOU WORK WITH?
SB: It's opened up a lot of opportunities for our clients. It's allowed us the flexibility to bring in other members of staff to head up divisions that we were [previously] trying to do ourselves. In terms of a global footprint, we've never been quite successful in achieving that before – and we have tried! – but it's very different now.
MK: Yeah, it's one thing to tell an artist that you have an American company. A lot of companies try putting one or two managers out in America, but for us, having an inbuilt company [in Los Angeles] who have a really big and successful, incredible roster; having them available to us, their expertise; having an office we can go to, and that knowledge that we can share – that is actually what presenting a global management offering looks like. That side of things has been really good. And then the other thing that really excites me about being here is, especially for the kind of artist that I have, like with Olly and with Bree, is they do things beyond music.
---
WHAT HAS IT BEEN LIKE WORKING WITH MACHINE MANAGEMENT SPECIFICALLY FROM THE START?
SB: It's really interesting and I guess it's important that we both speak quite candidly on this because myself and Martha had a very similar journey coming into Machine Management independently. We both came from companies previously that we had some difficult situations with. I met with Iain [Watt]  (pictured inset) and felt that we had a bit of a unified approach in how he and the company look for artists, want to work with artists long term, and also how he builds his staff and team. That's why I decided to take the job. Also, I've never worked with female managers before anywhere I've been previously. The female role has always been as a junior whereas [here] it's been incredible to see another female manager, and have the support of another female managers as well. Iain's been an incredible mentor to me. Iain and Machine have always taken the approach of empowering staff, and particularly women.
MK: I joined Machine over six years ago. I was also coming out of a very difficult situation. I had lost a lot of trust for people in the music business and wasn't feeling very secure. I really wanted to be part of a company that made me feel secure, appreciated me, valued me, and when I met with Iain, it just seemed to click – I felt like he had my back. I'd spent quite a lot of years having men take credit for things that I had done. I've definitely found with Iain, he was one of the few men I'd met that just did not have that in him whatsoever.
He was just so happy to see me succeed and be part of that in a supportive way. Iain gave me a lot of freedom, as well. Even though I was coming in with all this experience behind me, I still had a lot to prove. He really supported me and I [have] really grown within Machine and been a really big part of the company. I've really enjoyed that side of it. I felt really empowered and when Sophie joined as well, I was like, 'Oh my God, there's another senior female manager in this business!' I was so happy about it. There's not enough of us, really, right across the industry.
---
HAVE THERE EVER BEEN DIFFICULT TIMES IN THE WIDER MUSIC BUSINESS IN THE WAY YOU ARE TREATED AS WOMEN GENERALLY?
SB: I head up the electronic division within YM&U and that's something that I'm building long term with some of the team. Every scenario prior to being at Machine, aka YM&U, I would say 99% of the time I've been the only female in a room, whether it be a boardroom, a planning meeting or a gig. That is quite challenging sometimes because you do feel a level of insecurity or not being taken seriously. Like particularly with the technical side of the electronic setup. My opinion has previously been disregarded because, 'You're a girl. You don't know what you're talking about'. That kind of thing.
MK: It's still such a boys' club.
SB: Yeah, it is. But I'm really seeing a change now, like the past year. I worked as part of the Duke Dumont team during its pivotal success. The experience that I [gained] through that meant that my contact database was at a certain level when I arrived here, even though I didn't necessarily have a roster. The attitude towards [dance music] being a boys' club is changing. It's not [gone] by any means. But there are a lot of female DJs and producers coming through, which I think naturally means they look to work with female peers, which is great. Also I've found a lot of men, male DJs and producers, have been drawn to me because they don't like the way that the boys' club operates, which you know, is a lot of drinking and not necessarily organization.
---
WOULD YOU SAY THE GENDER BALANCE OUT THERE IN GENERAL INDUSTRY TERMS IS GETTING BETTER?
SB: I feel it's getting better in that there are a lot more females coming through that you can work with; on a few of my acts, I have all-female teams. So in that respect it's changing, yes. But of course there are still moments where you just feel like nothing's changed.
MK: When it comes to the more overt sexual harassment and abuse, we seem to have moved forward [as an industry] with the whole #metoo movement. Now what we need to be wary of is the more insidious [less overt] sexism; it can be really difficult to vocalise what those things are, but they can be just as damaging. Can I also just say, I don't want to make this all about women. There's also an issue with there not [being] enough people of color as well. Especially when it comes to women. It's fine for us to fight the fight as white women. But we're not at a place where we have any kind of real diversity in the industry. And it's on all of us to change things.
---
WHY DO YOU THINK THERE AREN'T AS MANY SENIOR FEMALE EXECUTIVES AS THERE SHOULD BE?
SB: If you really look at it, women don't ask for as much as men do. It's not a very female approach to ask for a role or ask for a pay rise or know that they can get that senior position. That's probably where it starts. I know that there are initiatives within record labels and publishers that are trying to balance out the gender difference now, and I think you're starting to see [the results] of that, definitely. We actually both get approached by a lot of senior A&Rs, and heads of music labels to ask for advice on females that we can put forward for roles. I guess that's a good starting point.
MK: It's hard, because it's so deep-rooted in our society, the sort of behavioural differences. So much of this industry is about confidence and self-belief, especially as a manager. It's a very entrepreneurial role. You've really got to motivate yourself and spend a lot of time alone. There are a lot of aspects [to management] that don't always complement the way that women have been brought up or the way that society expects women to act. It's a social issue that is not always easily corrected.