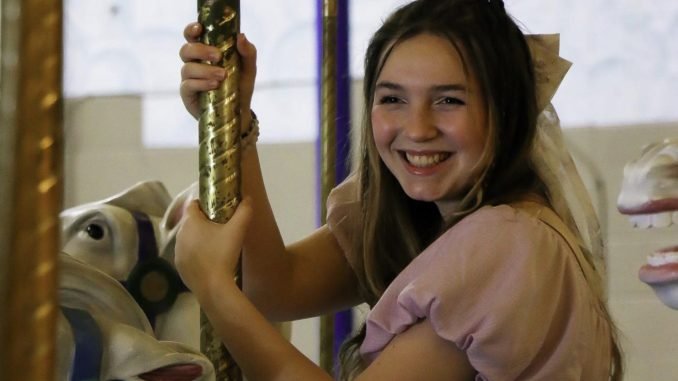 Ryan Brown, the 17-year-old rising singer-songwriter, takes us on an emotional journey with her latest music video, "Carousel." This talented artist delivers a captivating performance that blends raw emotion with an upbeat pop sound, leaving listeners spellbound.
In "Carousel," Ryan draws inspiration from her own life experiences, crafting graphic lyrics that paint vivid images of the highs and lows of teenage life. As the music video unfolds, Ryan stands in a recording studio, her soulful voice resonating with genuine emotion, while her band harmoniously supports her, creating a mesmerizing vibe.
The video showcases Ryan's undeniable talent as she skillfully portrays the heartfelt essence of the song, never compromising the quality of her voice. With a unique blend of catchy melodies and eloquent storytelling, "Carousel" resonates with fans of artists like Olivia Rodrigo, Lizzy McAlpine, and Maisie Peters.
The single and video credits boast an impressive team of creatives, including production by Stephen Rezza and Joe "The Butcher" Nicolo, and video direction by Peyton Skelton. The band, featuring Marcus Grimmie on guitar, Jonathan LaMarche on bass, and Thomas Silvers on drums, showcases perfect synchronization, further elevating Ryan's magnetic presence.
Experience an emotional journey with rising singer-songwriter Ryan Brown! Ryan's latest music video, "Carousel," showcases her raw emotion and captivating performance, blending pop sensibilities with genuine storytelling. Drawing inspiration from her own life experiences, Ryan's graphic lyrics paint vivid images of teenage highs and lows. The video features a harmonious band supporting Ryan's soulful voice, creating an enchanting vibe. Produced by Stephen Rezza and Joe "The Butcher" Nicolo, "Carousel" is a must-listen for fans of Olivia Rodrigo and Maisie Peters. Join Ryan Brown on this heartfelt musical adventure and watch her live performance music video for "Carousel" on all digital platforms.
Ryan's musical journey is deeply intertwined with the legacy of the late Christina Grimmie, and the video features Marcus Grimmie, Christina's brother, on guitar. Ryan's work with Christina's unfinished songs is a testament to her dedication and love for turning personal struggles into beautiful art.
As a proud ambassador of The Sound Mind Network, Ryan uses her music for a meaningful cause, as exemplified by her single "After Midnight," written by Tony Luke, Jr., benefiting the charity.
Having performed at prominent events alongside renowned artists, Ryan continues to leave a lasting impression on audiences. From singing the National Anthem at major sporting events to taking center stage in theater productions, her versatile talents shine through.
Ryan's music delves into the depths of teenage vulnerability, resonating with listeners of all ages. Through her music, she encourages others to find solace in shared experiences and embraces authenticity as the core of her art.
Join Ryan Brown on this heartfelt musical journey and experience the genuine passion that fuels her music. Listen to "Carousel" on all digital streaming platforms and watch the captivating live performance music video.
CONNECT WITH RYAN BROWN
🔗 Website: www.ryanbrownofficial.com
🔗 Facebook: facebook.com/ryanbrownmusic
🔗 Instagram: instagram.com/ryanbrownofficial
🔗 TikTok: tiktok.com/@ryanbrownofficial