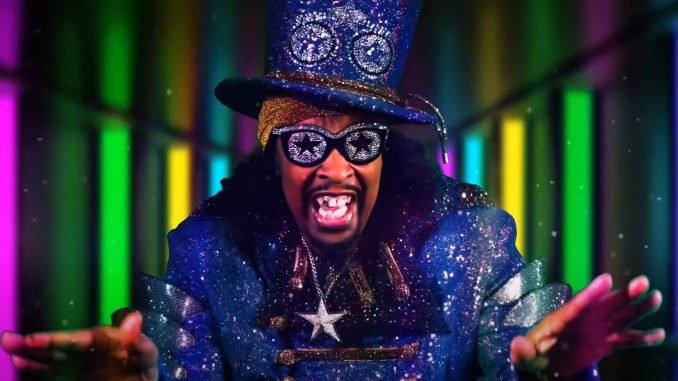 Bootsy Collins, along with the entire P-Funk family, has always possessed a remarkable ability to infuse profound messages into their dance floor-filling songs. Now, Collins picks up his bass once again and collaborates with some heavyweight friends to deliver an important anti-violence message through his latest track, "Funk Not Fight."
The timing of this song couldn't be more crucial, as it seems that not a week goes by without news of a mass shooting occurring somewhere in the country. Collins acknowledges the urgency of the situation, aiming for "Funk Not Fight" to become a fun and funky anthem against violence. He hopes that this tune will ignite further conversations about the rampant violence that has even led to active shooter drills becoming a part of the educational process.
"We just wanna calm down some of that violence out there. Cause y'all know that it ain't right! Come on now. Jump on board. Let's get the One! For being funk, and not fight," Collins passionately expresses.
"Funk Not Fight" is an absolute banger that boasts an electrifying bass line. With Bootsy Collins, the legendary bassist, at the helm, it's no surprise that the track delivers a pulsating groove. And that's not all—Collins is joined by equally legendary musicians such as Marcus Miller and Victor Wooten, ensuring a sonic experience that's rich in depth and texture. To top it off, the lineup includes the extraordinary guitarist Marlon McClain, forming an all-star cast that sets the stage on fire.
As a music elder statesman, Bootsy Collins uses "Funk Not Fight," along with his upcoming album of the same title, as a platform to showcase up-and-coming artists who have contributed original work to the project. This elevates the album beyond a mere collection of songs and transforms it into a powerful movement against violence.
Furthermore, it's worth noting that proceeds from the album will go towards supporting anti-violence initiatives across the nation. By listening to "Funk Not Fight," you not only get to groove to an infectious track but also contribute to a noble cause.
We invite you to experience the irresistible energy of "Funk Not Fight" by clicking on the link below. It's a call to action, a call to embrace funk and reject violence.
Check out "Funk Not Fight" here.