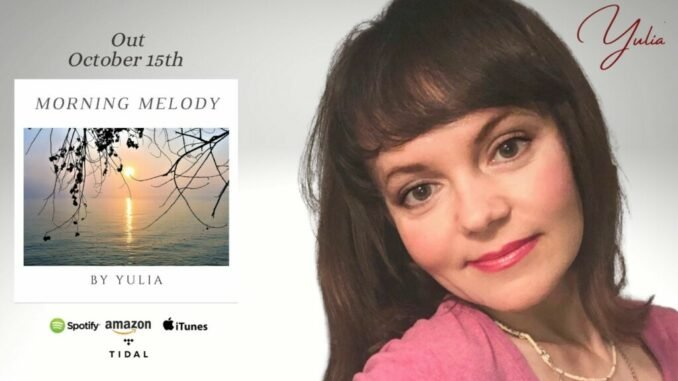 Originally from Russia, trained classical pianist and jazz artist Yulia brings a treasured groove into fruition upon the release of her new single Morning Melody. Yulia's musical roots stretches back into her childhood when she began learning piano at the age of five and would start composing music three years later. Although she was reared in classical music studies as a youth, Yulia 's passion for artistic innovation would lead her to new landscapes, as found in the blues, jazz, and r&b. Her ambition and talent continue to blossom as evident in her latest offering Morning Melody.
Morning Melody is a vibrant jazz tune wherein Yulia captures our attention with a warm and stirring instrumental dialogue. This textured composition opens with some very moving piano
measures from Yulia It is through her expertise that she is able to weave a level of intrigue upon the minds of music lovers. Yulia 's work on the piano is further complemented by saxophone riffs and ostinatos that add to Morning Melody's depth and sense of sophistication. The track evolves into a wonderous jazz groove that easily draws the listener into its tapestry with crisp drumming and a well-grounded bassline.
Yulia 's lastest work is a true masterpiece and stands as an open book of good times and fond memories. In her own words Yulia describes her source of inspiration in creating Morning Melody as follows:
"When I wrote this music I was thinking about calm early and beautiful morning, about waking up flowers, rising sun and fresh breeze… I would like every person this morning to have gratefulness for the new day and hope to live it better than the previous one." 
Listening to Morning Melody by Yulia is truly an inspiring experience. There is so much that can be gleamed mentally and spiritually from this epic groove. Its premise is irresistible and something that is precious enough to be enjoyed by all.
To know more about Yulia, please visit: