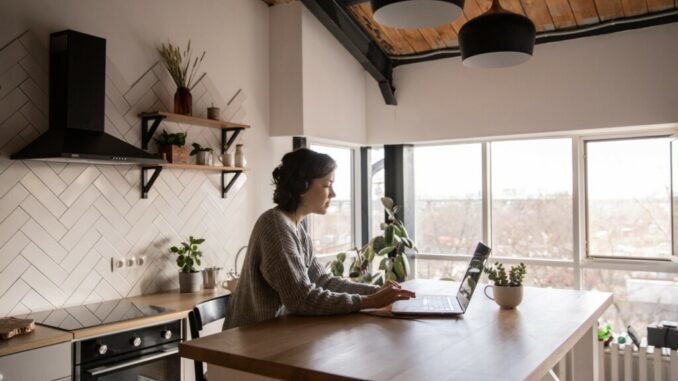 While remote working opportunities are a lasting stop-over from the pandemic (thanks to many forward-thinking companies seeing just how effective this can be), it's true to say that not everyone has experience in it. If you've found yourself struggling to deal with the novelty of remote working, a few issues may have come your way.
To start with, it can be quite tough to keep consistent hours when our daily working deadlines may have opened up. Of course, you may attend meetings on time, but depending on the work you do, submissions and deadlines may be more open than they were during your previous office job or role. Disciplining ourselves to work in a productive sense is important, then.
Another consideration to make is that of personal wellness. It's very important for us to eat well when working from home, because when you have your kitchen in the next room, snacking and eating throughout the day absent-mindedly can be more than possible. The best advice, then, is to make conscious decisions based on what you're to eat that day, and to stick to it.

With this post, we'll discuss a few means of making that easier for you:
Meal Plan & Prep
Meal planning and preparation may have seemed like something of an internet trend for the past few years, but it really can reward you with spectacular results. Joining a forum such as r/mealprepsunday and discussing recipes can help you see how easy it is to use one big cooking session a week for the preparation and storage of beautiful meals during the week. This can help you meet your macros, while also ensuring you have no excuse for snacking or ordering from Uber Eats.
Better yet? The meal preparation you make can be simple but change each day thanks to added spices and sauces. That in itself can help you avoid becoming bored with your daily meals.
Curate A Few Wonderful Recipes
Having a few comfortable recipes you can whip up in a short amount of time, with delicious taste, low cost, and feeling satiated will help you grow your confidence in your kitchen, even when juggling many work responsibilities. For instance, see how this beautiful chettinad curry can help you enjoy fragrant, delicious food at home during your lunch hour, without having to rely on snacks or basic microwavable ingredients to save time. The best part? If you're working from home, you don't have to worry about filling your kitchen with aromatic smells as you may do in the office.
Limit Your Snack Purchases
When you purchase snacks and have them in the household, it's true to say that you're more likely to pick them up and nibble on them day-round. It might be that you finish work that day and realize you've only managed to eat nuts or berries and other dried goods for five hours.
That's not as healthy as it could be. This is why limiting your snack purchases is key. You may decide to enjoy probiotic yogurts, or dried fruits, or just fresh fruit you can enjoy one piece of to help your wellbeing. The less quick access you have, the more you will rely on thorough meals, no matter how many video conferences you have that day.
Give Yourself Time To Eat
Remote working can often seem like a great convenience, and many people who work in the office are envious of people who can work from home. The truth is, however, that any job that requires your strenuous mental effort when working from home can be hard to leave, as your workplace is on your laptop, and may be calling you at all hours of the day. 
It can be hard to leave your working mindset behind in the office then, as you may have enjoyed before. For this reason, a real blending of work and personal hours can lead you to feel a little less separate than before. Giving yourself time to eat these meals, then, properly, and with a nice beverage to match, is key. 
We'd recommend scheduling a full lunch hour where you don't look at your laptop screen or work phone. The same goes for the evening, when your family return home and you have the chance to sit around the table for an evening meal. Give yourself time to eat and decompress a little. It will help you eat more slowly, which is important for satiation and nutrition, while also allowing you to associate wholesome foods with rest.
With this advice, we believe you'll eat well as appropriate when working from home.