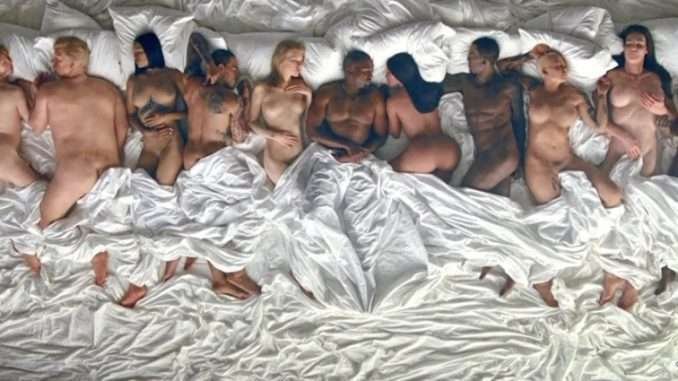 Kim Kardashian, Amber Rose, Rihanna, Chris Brown, Caitlyn Jenner and Donald Trump are other famous faces appearing naked in the visuals, which was premiered at L.A.'s Forum on Friday.
If you think Kanye West's "Famous" couldn't be any more controversial, think again. As promised, the rapper hosted an exclusive premiere event at L.A.'s Forum on Friday night, June 24 and unveiled the song's official music video that shows him and a lot of his fellow famous faces going naked in bed.
Those A-listers include West's on-and-off nemesis Taylor Swift, who's name-checked on the track. They're seen sleeping next to each other in an enormous bed and covering part of their bodies with a large white sheet alongside Kim Kardashian, Amber Rose, Rihanna, Chris Brown, Caitlyn Jenner and even Donald Trump.
It's unclear if these people seen in the video are the real celebrities themselves or not. It won't be a big surprise if West's wife Kardashian and collaborator Rihanna, who are no strangers to baring their curves in public, are really in the clip. But it will be if it's revealed that the real Swift and Trump were part of the filming too.
"Famous" appears on "The Life of Pablo", which came out on Tidal earlier this year and landed at No. 1 on Billboard 200 after it was made available on other streaming services back in April. Upon its arrival, the song caused controversy because of its Taylor Swift-related lyrics.
West, who calls her "b***h" on the song and says that he's the one making her famous, claimed that the 26-year-old diva gave him approval to include the lyrics. The rapper's wife Kardashian recently also said that Swift knew about the lines and that she could prove it.
Swift has denied the couple's allegations, though. Recently, her camp said that she and West did have a conversation about the song in a phone call, but at the time he only asked her if he could release it via her Twitter account.
© AceShowbiz.com