Houston Texas (August 9 2021) – Noted jazz vocalist Kathy Lyon (Pensacola Florida) records her latest album "Nothin' But Love" featuring tenor sax great Houston Person. The twelve song compilation was recorded at Teaneck Sound Studio, produced by Houston Person and includes Lafayette Harris Jr on piano, Peter Hand on guitar, Matthew Parrish on bass, with Vince Ector on drums. Engineering, Mixing, Mastering performed by Dave Kowalski. With such a great line up behind her Kathy's voice becomes the icing on the cake as this performer delivers from the soul and yet retains the vocal discipline required to draw inside the lines. The results of this collaboration are exceedingly enjoyable. Mr. Person's signature arrangements allow the standards to remain the familiar standards we know and love yet the instrumentation and vocals are able to breathe and produce a refreshing collection of music . This breath of fresh air is felt from the very beginning until the very end. The "Nothin' But Love" album title came about as a result of the harmony within the studio between everyone involved. Kathy shares,
"It felt great, you couldn't ask for a more refined and harmonious group of musicians.  It was a very memorable collaboration, the room was filled with nothing but love
>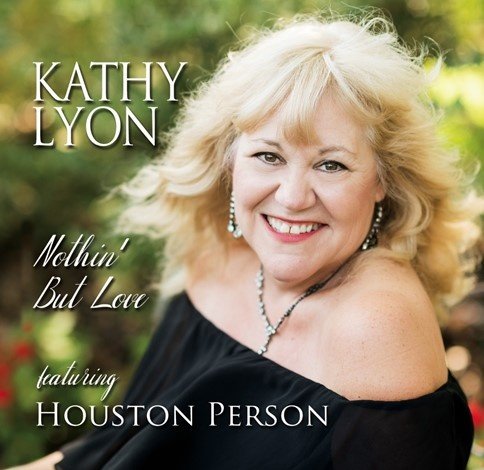 About Kathy –
 Some time back Kathy toured with the USO entertaining American troops abroad.  At that time the money was slim and you had to pay for your own hotel. However the money was not the motivating factor for Ms. Lyon. She wanted to deliver the American sound personally to our troops serving in other lands. The first person experience in and of itself was pay enough. As she performed on those stages she could feel the welcomed reception of the songs. Kathy Lyon would go on to become an experienced jazz festival performer and graced the stages at such notable events as the 
Mid Atlantic Jazz Festival, Roswell Jazz Festival, Jazz By The Bay Festival, and closer to home the Pensacola Jazz Festival. 
Her professional abilities also extend beyond her performances as she creates original songs as well. To date Kathy has released four albums with the latest being available now, Nothin' But Love.
Tracks And Times
Kathy Lyon with tenor sax great Mr. Houston Person