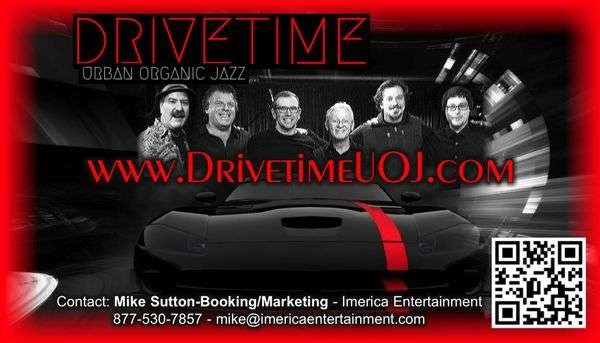 We caught up with Bernie Capodici from the Jazz Band Drivetime, who is in the studio working on a new album.
1. So Bernie I hear you're working on a new single? With and album to follow? Can you tell us about it?
Our new single Mysterious Life is one of the most exciting projects I think Drivetime has ever been involved with. We decided to break away from our normal Urban Organic Jazz sound and do something that would be more competitive in the Smooth Jazz market, Mysterious Life written by Hiroshi Upshur it features Sax legend Kim Richmond and drummer James Gadson, James Manning on Bass and Gene Terramani and myself, produced by Michael B Sutton, mixed by Jason Anderson Engineer and mastered by Coney Island Studios Joel Soyffer. With this crew it going to be a very smooth ride 😉
2. When Will It Be Released?
No date set but within a couple of weeks, we hope it turns out to be everyone's go to summer groove.
3. Have you found more positive than negative regarding the Jazz and Smooth Jazz World?
That's actually two different questions if you think about it. Jazz is jazz and if you're a smooth jazz cat, jazz cats think you're a pop star, most Grammy's for Instrumental Pop are awarded to Smooth Jazz Artists, jazz artist don't think of smooth jazz as jazz. If your a smooth jazz cat, jazz was but ain't no mo…. ya dig So if a listener likes your work that's positive if they ignore you and move on to another act that's negative. If your asking about the industry no one puts a whole lot of stock in jazz or smooth jazz much anymore so yeah I would say in general as far as pop culture goes a band has to have some kind of gimmick to get noticed, so many talented bands and players go un-noticed because of the way the music business is today.
4. Are there many opportunities for Indie Jazz Artists to promote their music?
There are tons of ways to promote your material, Sound Cloud, Band Camp, Reverbnation, YouTube, Social Media, unfortunately it takes awhile to figure out what works for you. The best promotion is being in front of people who enjoy what you do and sell merch, make yourself available and be your own best salesman.
5. You are a percussionist and bandleader. How important is the role of a percussionist to Jazz/Smooth Jazz music?
You should ask Mongo Satamaria, Ralph McDonald, Doc Gibbs, Bill Summers… lol Just about every piece of jazz Music is based on primitive African rhythms with the addition of Conga to jazz in the early days of jazz made the tonal link between modern music and that primitive connection we all have in our DNA. When I free-lanced I was always the last hired and the first to go. That's why I'm a bandleader 😉
6. What made you want to be a percussionist and do you play any other instruments?
Actually I'm a tap dancer, seriously my dad was a Sammy Davis Jr. freak and had me playing drums and tapping dancing for his friends at whatever clubs he was playing at since I was about 6 yrs. old. In the early sixties I was the bongo player for beat poets in Philly coffee houses at 15 so my ear training was different then say a traditional conguero. Played bongos for the next 5 years till I went on the road and I picked up the congas along the way. I eventually studied congas with Harry Hawkins from Trenton. Also studied theory with Joe Butera and piano / Hindemithwith David Anchor from Juilliard. And most recently I'm studying with Doc Gibbs to improve my tone.
7. What would you like to see change in the music business, especially jazz?
I support BMI Advocacy and ASCAP's efforts on the Music Modernization Act; it has passed the House and now goes to the Senate. This will go a long way to help writers collect money for their works. Jazz is a cultural music it ebbs' and tides with what is culturally popular at the time, I'm not sure anyone can change that. I would also like to see more opportunities for a band like Drivetime for festivals and concerts, I know entertainment coordinators will always go for the biggest names in Smooth Jazz but very seldom give a new and upcoming act enough room to spread their wings.
To know more about DRIVETIME, please visit :
https://www.facebook.com/drivetime.uoj.1
https://soundcloud.com/drivetimeuoj
https://twitter.com/DrivetimeUOJ
The interview is also available on the printed edition, click below: