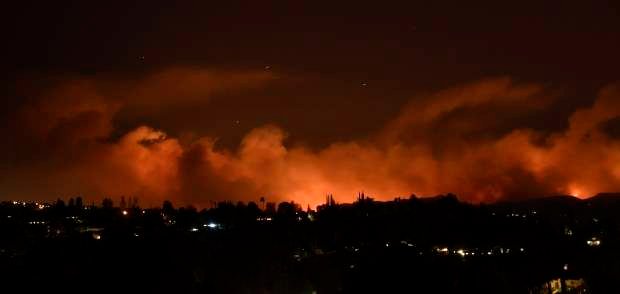 Here are some ways to help victims of the Woolsey and Hill wildfires through donations or directing them to helpful services
NOVEMBER 20
Islands Restaurants: Donating 20 percent of net sales to United Way of Greater LA/Southern California Disaster Relief Fund at locations in Agoura Hills (29271 Agoura Road); Canoga Park (Westfield Topanga, 6600 Topanga Canyon Blvd.); Newbury Park (935 Broadbeck Drive); Northridge (11400 Porter Ranch Drive); Simi Valley (1213 Simi Town Center Way). Hours: 11 a.m.-9:30 p.m. www.islandsrestaurants.com
NOVEMBER 22
Harkins Theatres: All locations will donate $1 from every popcorn purchased on this date to the American Red Cross California Wildfires Relief. Theaters include: Cerritos 16 (600 Los Cerritos Center; 562-865-4140); Chino Hills 18 (3070 Chino Ave.; 909-627-8010); Moreno Valley 16 (22350 Town Circle; 951-653-6161); Mountain Grove 16 (27481 San Bernardino Ave., Redlands; 909-793-7993). harkins.com
NOVEMBER 26
Studio Movie Grill: Fundraiser for American Red Cross Wildfire Relief with 10 percent of all purchases (beverage, food and tickets). Locations include: 2733 Calloway Drive, Bakersfield; 8200 Third St., Downey; 410 S. Myrtle Ave., Monrovia; 340 Eureka St., Redlands; 5140 Commons Drive, Rocklin; 1555 Simi Town Center Way, Simi Valley. studiomoviegrill.com
NOVEMBER 29
Headlines the Salon: Mingle and Jingle fundraiser for fire disaster relief, 6:30-9:30 p.m. 121 N. El Camino Real, Suite C, Encinitas. 760-436-1812, Email: info@headlinesthesalon.com. www.headlinesthesalon.com
JANUARY 12-13
REO Speedwagon concerts: Proceeds from two concerts go to Ventura County Community Foundation for victims of Borderline shooting and Woolsey fire, 8 p.m. Jan. 12; 7 p.m. Jan. 13. Tickets $61 and up. Kavli Theatre at Thousand Oaks Civic Arts Plaza, 2100 Thousand Oaks Blvd. 805-449-2787. www.civicartsplaza.com
ONGOING
Airbnb: The company has expanded its Open Houses program to help displaced residents and relief workers of the Woolsey and Hill fires to Nov. 29. Program is recruiting hosts who are able to offer temporary free housing. Hosts do not have to be an existing Airbnb host to help. www.airbnb.com/woolseyfire
American Red Cross money donations: www.redcross.org/about-us/our-work/disaster-relief/wildfire-relief.html
American Well: Free video visits, until Nov. 26, with board-certified physicians and therapists for those impacted by the Woolsey wildfire. Health questions include: sinus and respiratory infections, asthma, rashes and therapy for anxiety, panic attacks and depression and bridging prescription refills. Download American We
ll's Amwell app from your mobile device app store for 24-hour, seven-days a week help. amwell.com
Bank of America's California Wildfire Client Assistance: 855-729-1764.
Chabad Center: Accepting donations of new/great condition clothing for adults and children, children's play items, phone chargers, gift cards, hotel/motel vouchers and toiletries. Also, a distribution center for those in need. Hours: 9 a.m.-6 p.m. 30345 Canwood St., Agoura Hills. 818-991-0991. Email: rabbi@chabadconejo.com. www.chabadconejo.com; bit.ly/2PuMyXt
Disaster Distress Helpline: The 24-hour, seven-days a week line, sponsored by the Substance Abuse and Mental Health Services Administration, offers confidential, multilingual counseling for those who are experiencing psychological distress as a result of natural or man-made disasters and incidents of mass violence. 800-985-5990. Also, by Text: TalkWithUs to 66746. disasterdistress.samhsa.gov
Fire Family Foundation: Financial aid to firefighters and their families due to disasters, illness and death. Donations: www.firefamilyfoundation.org
Gabi James Restaurant: Donations to benefit the Malibu Foundation through purchase of a glass or bottle of two wine choices from Malibu Rocky Oaks Estate Vineyard paired with Spanish dishes at dinner. Hours: 5-11 p.m. Friday-Saturday; 5-10 p.m. Sunday-Thursday. Reservations. 1810 S. Catalina Ave., Redondo Beach. 310-540-4884. www.gabijamesla.com
Humane Society of Ventura County: Donations needed to help the society's efforts providing shelter for displaced cats, dogs, horses and other animals. The shelter is located at 402 Bryant St., Ojai. 805-646-6505. hsvc.org
JQ International: Helpline for support and resources for LGBTQ+ Jews, their families and allies. 855-574-4577. Email: helpline@jqinternational.org
Los Angeles County Animal Care Foundation: Accepting donations through the Noah's Legacy Fund. 562-728-4610. lacountyanimals.org/way-to-give/disaster-relief
Los Angeles County Animal Care and Control: Request for donations of alfalfa and hay to temporary animal shelters at Hansen Dam (11127 Orcas Ave., Lake View Terrace) and Pierce College (7100 El Rancho Drive, Woodland Hills). lacounty.gov/woolseyfire
Los Angeles County Fire Department Foundation: Accepting donations. www.lacfdf.org
Los Angeles County's information on the Woolsey Fire: Find information on evacuations, animal and human shelters, road closures and tips on what to do before,during and after the fire. www.lacounty.gov/woolseyfire
Los Angeles Fire Department Foundation: Accepting monetary donations, especially for hydration backpacks (check their Twitter account for updates). Donate money at: supportlafd.org twitter.com/lafdfoundation
Los Angeles Rams: Select Rams players auction off their game-worn jerseys, against the Seattle Seahawks, with proceeds benefiting the American Red Cross Southern California Wildfire Relief, and also the Conejo Valley Victims Fund for victims of the Borderline victims in Thousand Oaks (check website, under jerseys and Los Angeles Rams, for days left to bid). The Los Angeles Rams train at California Lutheran University in Thousand Oaks. bit.ly/2FhWdMj
Lyft: Partnering with United Way and 2-1-1 offering Relief Rides in Los Angeles and Ventura counties.
Pet Food Express: Free self-service pet washes through Nov. 18 (may be extended). Check website for locations. www.petfoodexpress.com
RedRover: Provides emergency animal shelters to animals displaced by wildfires. Donations needed for the emergency shelters, and also wildfire evacuees can find pet evacuation shelters at redrover.org/news/cafires
Roman Catholic Archdiocese of Los Angeles Wildfire Fund: Questions about donating. Donations to www.archla.org/fires
Salvation Army: The organization needs donations as they work with government agencies to provide food, personal necessities, and shelter to victims and first responders. bit.ly/2ROyyEy
State Farm: Contacting your agent to file a claim when it is safe to do so: 1-800-732-5246 ( 1-800-SF-CLAIM); statefarm.com; or the mobile app.
24 Hour Fitness: Club access to first responders and residents (regardless of membership status), through November at 10 locations in Camarillo, Oxnard, Santa Monica, Simi Valley, Thousand Oaks, West Hills and Woodland Hills. Check with the club before arrival to ensure hours of operation. www.24hourfitness.com
T-Mobile: For questions about your account: www.my.t-mobile.com; www.t-mobile.com/news/cal-wildfire
U.S. Postal Service: Malibu postal customers may pick up mail at Los Angeles Main Post Office (7101 S. Central Ave., Los Angeles; hours: 10 a.m.-6 p.m. Monday-Friday; 10 a.m.-3 p.m. Saturday). Topanga postal customers may pick up mail at Pacific Palisades Post Office (15243 La Cruz Drive; hours: 10 a.m.-5 p.m. Monday-Friday; 10 a.m.-3 p.m. Saturday). Residents of Malibu and Topanga may inquire about resumption of mail delivery, 323-586-1460.
United Way: Accepting monetary donations for fire victims in Los Angeles and Ventura counties. unitedwayla.org
Ventura County Community Foundation: The foundation has set up the "Hill Fire/Woolsey Fire Sudden and Urgent Needs Effort Fund" to help those affected by the fires. The fund will help the immediate needs of community nonprofit organizations. For those in need of this assistance call Stephanie Bertsch-Merbach, 805-330-6667. Emergency information: www.vcemergency.com To donate: www.vccf.org