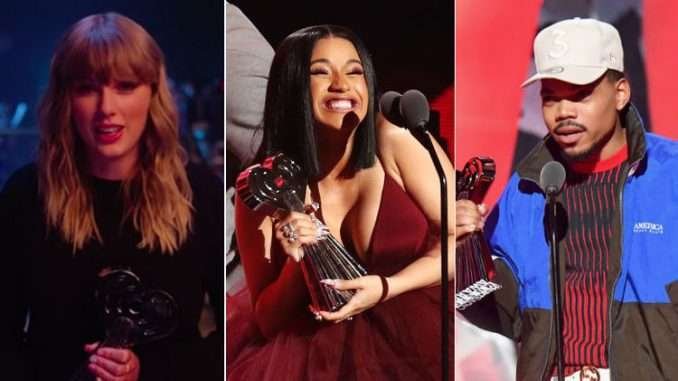 Cardi B's Sunday night outing at the 2018 iHeartRadio Music Awards was full of highlights. Not only did she announced that her debut album will drop in April, as per her Best New Artist award speech, but she also celebrated her meteoric rise in 2017. At the top of the show, Bardi stormed The Forum stage in a spiked biker top with a matching black tutu dress to kick off the DJ Khaled and Hailey Baldwin-hosted ceremony. With a crew of dancers and accompanying motorcycles, the breakthrough star performed a medley of her hits, including "Bartier Cartier," "Motorsport," "Finesse," "No Limit," and, of course, "Bodak Yellow."
 by Taylor Fields and Hayden Brooks
Taylor Swift Debuts "Delicate" Music Video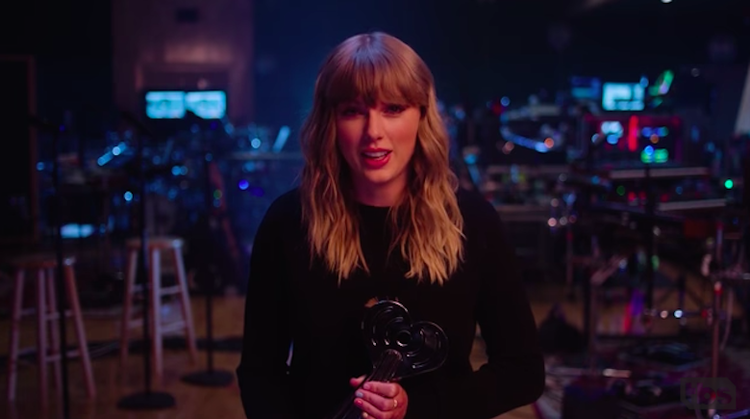 Swifties! We have a brand new music video! Taylor Swift debuted her new music video for her latest reputation single "Delicate," and it is the video Swifties have been waiting for, as it is reminiscent of old Taylor. Guess the old Taylor can come to the phone now?
Taylor premiered the new visual just after she received the iHeartRadio Music Award for Female Artist of the Year, a category she was nominated in alongside Rihanna, P!NK, Halsey, and Alessia Cara. "I just wanted to say thank you so much for this award. And to the fans that you have done and always continue to do, you're the best," she said. "I cannot wait to see you on tour, I'm actually in rehearsals right now, and that's why I'm not there. But in my absence, and to show my gratitude, I really wanted to show you my brand new video for my new single 'Delicate.' This video I'm so excited about and I hope you like it too."
Bon Jovi Accepts iHeartRadio Icon Award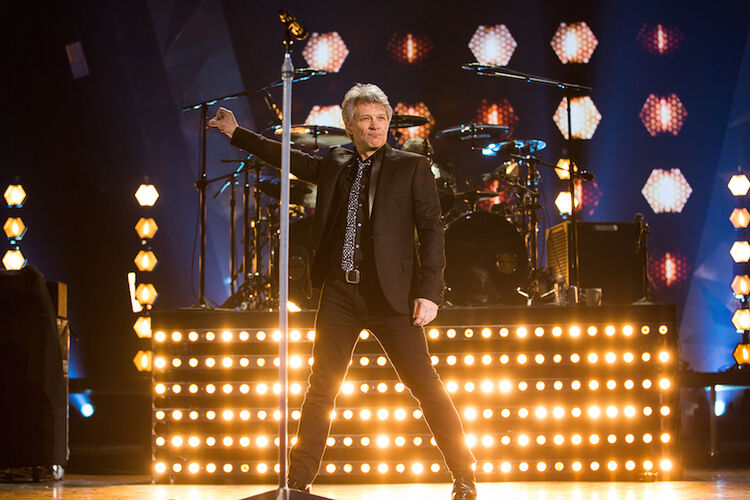 Over the last 35 years, Bon Jovi has cemented their status as rock & roll icons, releasing chart-topping hit after chart-topping hit, not to mention all of their sold-out tours. They are being inducted into the Rock & Roll Hall of Fame next month, but the legendary rock band was honored with the first-ever Icon Award during our Sunday night ceremony.
After introductions by Olympic snowboarder Shaun White, who spoke about the legendary rock band's success, Bon Jovi appeared on stage again to accept the title. Jon Bon Jovi thanked the band's fans for listening to their music over the last 35 years, and gave some advice to all of the new talent in the room. He said: "I wanna thank the three and a half decades of fans that have been listening to Bon Jovi songs. We've been at this game a long time, and the only advice I'll tell this incredible generation of incredible talent is just stay true to who you are, and then they're going to make you guys icons too some day."
Pharrell Presents Chance The Rapper with iHeartRadio Innovator Award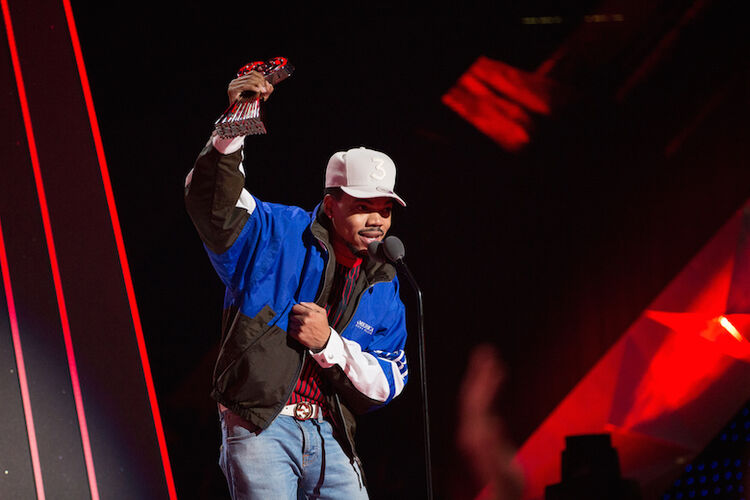 Chance the Rapper is the newest recipient of the Innovator Award during this year's show. At just 24-years-old, Chance joins previous Innovator Award winners Pharrell Williams, Justin Timberlake, U2, and Bruno Mars.
Three-time Grammy winner (and seven-time nominee) Chance the Rapper is recognized for his groundbreaking accomplishments in music and undeniable contributions to social causes. As an independent artist, he has risen to the top of hip-hop superstardom and uses his voice to fight for youth empowerment through the arts, and education through his non-profit organization, SocialWorks.
In his acceptance speech, Chance started out by thanking Pharrell, and spoke about the positive influence that he's had on his life. He explained, "Thank you, first of all. And real quick, since nothing is scripted up here, thank you Pharrell for number one being just a positive, I say that with as much impact as I can, a positive influence in my life since I was young. But also, for giving me the confidence, because I don't know if you remember this a long time ago we were at a studio, and I was telling you, I think I need to sell this third mixtape, so I can get my nominations at the Grammys and blah, blah, blah. And you were like, 'No, you don't gotta do that.' And just with small passing things that you say, I don't know if you know how much weight it carries on people, but thank you."
Camila Cabello's Fangirls Award Was Much More Than Just Another Trophy
Just as we reported, Camila Cabello's celebratory showing on Sunday night was further proof of her solo pop superstar pursuits. Not only did she blaze the stage with a Madonna-esque performance of her breakthrough smash, "Havana," but the former Fifth Harmony singer was awarded the first-ever iHeartRadio Fangirls Award presented by L'Oreal Paris for her ability to push beyond her naysayers and break boundaries.
Dressed in a much more subtle outfit than her gleaming pink performance dress, Cabello took the stage to accept the award and offer up a passionate speech about inspiration and remaining optimistic to pursue your dreams. "I wanna thank L'Oreal and I wanna thank iHeart for giving me this award. I fully believe in what it stands for and taking risks and pushing boundaries. Oh my God. I love you so much," she said.
"It's people like Laverne that inspire me to be brave and inspire us all to be brave and I hope I can do that for my fans, too. I hope all of you guys know that no matter where you come, you kow, where you come from doesn't determine where you're going. I really want all of you to remember that you can d