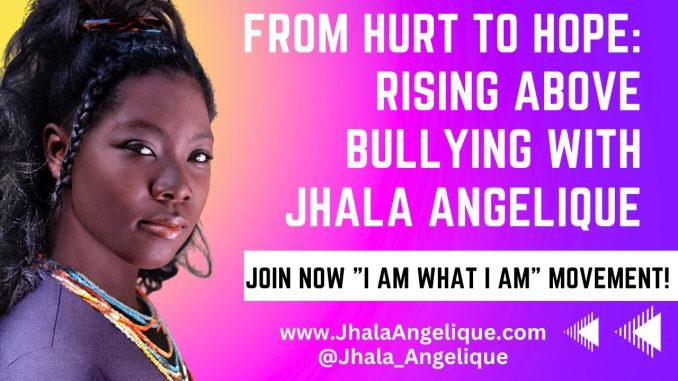 In a world where individuals often grapple with being labeled as "too much" or "not enough," a remarkable campaign emerges to rewrite this narrative. Introducing the 'I Am What I Am' movement – a potent initiative rooted in empowerment, empathy, and unity.
At the forefront of this movement stands Jhala Angelique, an unwavering advocate and visionary leader. Driven by personal experiences and a profound grasp of the emotional toll inflicted by bullying, Jhala Angelique initiated the 'I Am What I Am' campaign. Its core mission is to counteract the scars of bullying and elevate those who have shouldered its weight.
From Hurt to Hope: A Personal Journey
Jhala Angelique herself once faced the words, "too tall, too dark, too thick, and not enough." This distressing encounter became the catalyst for a transformational mission. A journey from pain to purpose, a story shared universally. The 'I Am What I Am' movement endeavors to portray that true strength emerges from embracing vulnerability.
A Message for Victims and Bullies
The essence of the campaign resides within the stories it shares. "We comprehend the isolation, abandonment, and despair that often accompany bullying," asserts Jhala Angelique. "This is why we stand united with victims, offering them a sanctuary to mend, rebuild self-confidence, self-worth, and self-esteem."
Moreover, the 'I Am What I Am' movement extends an invitation even to bullies themselves. "Hurt people hurt people," underscores Jhala Angelique. "We firmly believe in the transformative power of compassion. Bullies, we invite you to join us, channel your energy toward positive impact, not perpetuating pain."
A Message of Unity and Empowerment
At its core, the 'I Am What I Am' movement thrives on collaboration. In a recent video spotlighting the gifted singer, author, and anti-bullying advocate Jayla Angelique, Jhala Angelique delves into the profound significance of embracing individuality. "Being a singer, author, anti-bullying activist – that is my purpose. That is my goal. That is who I am," shares Jayla Angelique. "Together, we challenge the judgments cast our way, asserting our identities."
Join the Movement
As momentum swells behind the 'I Am What I Am' movement, individuals from diverse backgrounds are urged to take part. Share your stories, engage in meaningful dialogues, extend support – the movement thrives on collective empowerment and unity.
For more about the 'I Am What I Am' movement and to participate in the mission to transcend bullying, visit www.jhala_angelique.com and www.pumpitupmagazine.com. Be sure to watch for Jhala Angelique, gracing the cover of our September issue – Back To School Edition.
Join the conversation on social media using the hashtags #IAmWhatIAm, #AntiBullying, #Empowerment, #Unity, #Respect, #Love.
About Jhala Angelique:
Jhala Angelique is a captivating speaker, accomplished singer, and dedicated anti-bullying advocate on a mission to spread self-love and positivity. Her personal triumph over bullying fuels her passion to empower her peers and individuals globally, encouraging them to embrace their identities and take a firm stand against bullying. Through her impactful creative ventures, encompassing both music and written works, Jhala is a catalyst for lasting and impactful change.
About Pump It Up Magazine: Pump It Up Magazine is an entertainment, lifestyle and humanitarian awareness magazine based in Los Angeles. Recognized for its commitment to showcasing diverse talent and inspiring readers, the magazine serves as a source of engaging stories and features that drive positive change.