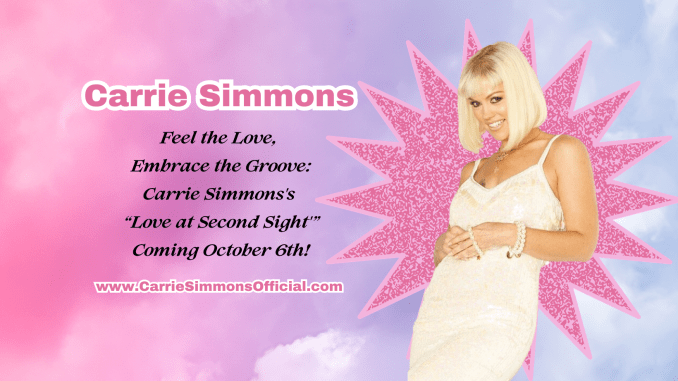 Carrie Simmons: A Life and Career – Chasing Dreams, Embracing Mental Health, and Finding Her Voice
Early Life and Family: Carrie Simmons was born on March 19, 1974, in Alexandria, Virginia, to her parents, Robyn Simmons and Frank Simmons. She also has a younger brother named Scotty. Her upbringing in Northern Virginia, just outside Washington D.C., was filled with cherished family moments, from pool days to neighborhood bike rides and tennis matches. These idyllic childhood experiences laid the foundation for her love of life's vibrant moments.
At the age of 5, Carrie's family relocated to Miami, Florida, where her mother took a job with Pan American Airlines. It was in Miami that Carrie's journey into the world of entertainment began. At a young age, she caught the acting bug and landed her first commercial for a toy store. After four years, her parents divorced, leading the family to return to Arlington, Virginia. Throughout these transitions, Carrie continued to pursue her passion for acting and singing at The Little Children's Theater of Arlington.
At just 12 years old, Carrie's dedication and talent secured her a role in her first equity theater production, "The Sound of Music," at The Hayloft Supper Club. Her ability to balance academics with her budding musical theater career showcased her determination and commitment. As she progressed through high school, she expanded her repertoire to include modeling, singing, dancing, and various performances.
 Don't miss out on our print/digital copy of Pump It Up Magazine Vol. 8, Issue 11, available on November 20th, 2023, featuring Carrie Simmons on the cover. Get ready to dive into an incredible issue!  

In this edition of Pump It Up Magazine, we're celebrating the 'Sounds of Empowerment: Music, Wellness, and Style.' Expect captivating music, wellness wisdom, style statements, and an inspiring cover story featuring the multi-talented Carrie Simmons. Get ready to be empowered and entertained!
Academic Pursuits and Fashion Design: While considering her future, Carrie recognized the highly competitive nature of Broadway in New York City. To explore other creative avenues, she made the decision to attend The Savannah College of Art & Design in Georgia. There, she studied a range of artistic disciplines, including photography, fiber arts, art history, and fashion design, culminating in her graduation with a Bachelor of Fine Art in Fashion Design.
Post-graduation, she ventured to Manhattan, where she honed her fashion skills while working for prominent fashion designers like Anna Sui, XOXO, and Tripp. Her passion for fashion led her to establish her own environmentally conscious clothing line, HempKandi, which enjoyed considerable success. In addition, she created the brand Carrie Suzanne, offering a line of organic sportswear that aligned with her commitment to sustainability.
Transition to Hollywood and Commercial Success: Several years into her journey in the visual arts, Carrie felt the pull of her passion for performing arts. She made the bold decision to move to Hollywood, California, where she achieved recognition and success in the entertainment industry. Her career in Hollywood featured numerous national commercial appearances, including notable campaigns for brands like MGD, Hewlett Packard, and Tower Records. She also graced music videos alongside renowned artists like Lenny Kravitz and Avril Lavigne.
A pivotal moment in her career came with her role in MTV's "True Life: I'm An Actress." Carrie's face graced billboards and magazine covers, establishing her as the premier cover-girl of the video game "GTA: San Andreas."
Exploring Music and Personal Transformation: In her artistic journey, music became a transformative medium for Carrie. She discovered her passion for writing lyrics and cultivating her unique voice. This discovery led to the formation of her band, HYPER, which performed across Los Angeles and developed a dedicated fan base. As the band's frontwoman, she navigated the intense world of rock, electronic, and hip-hop music.
With the demands of her musical career taking their toll, Carrie decided to pivot her journey. She opened a yoga studio and pursued a Master's Degree in Clinical Psychology. This shift was driven by her quest for self-love, self-respect, and her desire to help others. Through this path, she found a therapeutic way to express her passion and entertain while positively impacting people struggling with trauma, addiction, and alcoholism.
Modeling Career and Personal Growth: Carrie's modeling career began when her mother secured her a contract with the Linda Townsend agency while she was still a teenager. She learned valuable lessons in professionalism, punctuality, and collaboration during her early modeling days. This experience laid the groundwork for her successful career in print campaigns, billboard ads, and music videos when she moved to Hollywood.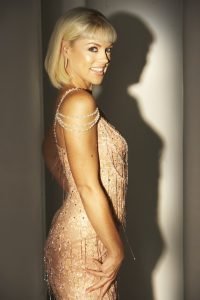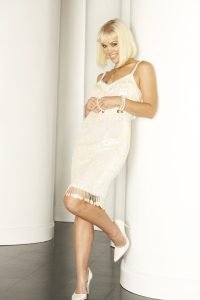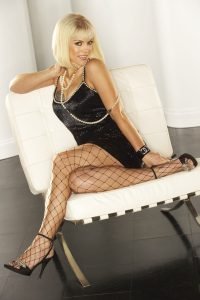 Carrie's experiences in the modeling industry influenced her personal and professional growth by instilling in her a strong work ethic and the importance of self-care. She learned to balance the demands of the industry while maintaining her physical and mental well-being.
Commercial Appearances and Television: Beyond modeling, Carrie ventured into the world of television, co-hosting several game shows and making dynamic appearances. Notably, she was introduced on "Win Ben Stein's Money" by Ben Stein, who had a special connection with her family, having been best friends with her uncle and even taking her mother to his high school prom in 1968.
Singing Career and Musical Influences: Carrie's transition from modeling to singing was a seamless evolution of her creative journey. She sought more freedom and a deeper sense of purpose in her work. Her musical influences spanned a range of artists, from 80s icon Madonna to the hip-hop culture, punk bands, and DJs. She drew inspiration from artists like Blondie, Pat Benatar, Taylor Swift, Sia, Pink, and Shakira.
One of her recent releases, "Sobriety (Detox remix)," draws inspiration from her personal journey of sobriety, which began 16 years ago. The song reflects her experiences in finding a higher power and becoming aware of one's patterns of behavior. Her music serves as a therapeutic medium to share her insights and healing journey with her audience.
Wellness Company and Environmental Commitment: Carrie also ventured into the wellness industry, founding a company with a mission to heal Mother Earth and combat the greenhouse effect. Her commitment to minimizing the carbon footprint and promoting sustainability led her to create a range of eco-friendly products, including yoga mats, candles, and incense. These products reflect her dedication to environmental responsibility and raising awareness of conscious living.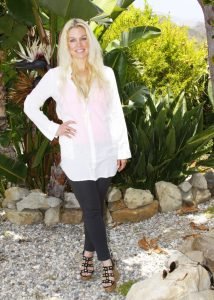 Fashion Brand: Carrie Suzanne: Carrie's fashion brand, "Carrie Suzanne," was inspired by the practice of loving-kindness and a desire to be kinder to the Earth. She used organic cotton in her private label collection of camisoles, incorporating graphics that reflected her environmental values.
Balancing Multiple Pursuits: Balancing a singing career, a fashion brand, a wellness company, and her other career pursuits was no small feat. Carrie succeeded by delegating responsibilities, practicing meditation, and mindfully pacing herself to maintain her passion and vision.
Challenges and Triumphs: Carrie's journey has not been without its challenges. Overcoming alcohol addiction and achieving 16 years of sobriety is a monumental achievement in her life. She's proud of her resilience, tenacity, and her commitment to giving back to her community, focusing on contributing to society in a positive way. Her belief in the power of self-love, respect, and authenticity underlines her outlook on life.
Personal Growth and Philosophy: Through her diverse career journey, which encompasses modeling, singing, entrepreneurship, and mental wellness, Carrie has found her true purpose in helping others on their journey of recovery and being a source of hope, peace, and faith. Her guiding principles include having a relationship with a higher power, walking in love and tolerance, and maintaining a code of kindness.
Future Aspirations: Carrie's future goals and aspirations include performing at venues and collaborating with artists who offer healing and therapeutic experiences to their audiences. She envisions an immersive experience that combines dance, meditation, healing, and spiritual rituals to create a holistic experience for patrons.
Message to the Public: Her message to fans and the public is simple but profound: "Be yourself, believe in yourself, and be true to yourself. Then, only the best things will happen for you with ease and grace."
Final Thoughts: Carrie Simmons' journey is a testament to her resilience, unwavering determination, and her commitment to making a positive impact on the world. Her life is a multifaceted tapestry of creative pursuits, environmental stewardship, and personal growth, all driven by her passion for helping others and spreading love and kindness. Through her music, modeling, entrepreneurship, and wellness endeavors, she continues to inspire and uplift those who cross her path.
Written by Editions LA