Mystery is a slippery entity…sometimes an asset, sometimes a deficit…straddling realms of the known and unknown…the way a man may be perceived vs. who really he is: in reality…and his funky-funky imagination.
In the case of Byron Miller, mystery has been a double-edged lightsaber.
It has been an asset in the way his music commences asses to wiggle thus gaining him a beautiful and bootiful fan bass of "ass-ettes." Mystery has allowed Brother Byron to concentrate on his work, legacy and creativity without the pressures of having to be "on" at all times. His "on-switch" is saved for the stage where he bumps it up full blast, bobba…with swift, nimble and emphatic bass thumpins and rumblins…notations that speak a singular language all his own yet can be fully understood by all.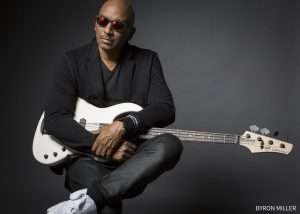 Yet, mystery has been a deficit, too, because it has robbed the world of a Byron Miller catalog that could easily have been 20 albums deep by now.
However, by Byron's own deeply confessional admission, he simply was not ready to take that step. Though he has released three little known previous CDs to date, the one you are holding in your hands truly marks "The Rebirth of Byron" – literally and figuratively – via his alter ego: "Psycho Bass." Throw away your thesaurus, dictionary and preconceived calculations. Byron Miller – the man who gave Funk one of its most "Funk-da-Mental" bass solos on George Duke's concert-christened "Reach For It" – steps from the shadows and evil broadcast radio edicts to speak freely and truthfully with every inspired pluck and run.