The One The Only
Blues Artist Annika Chambers

Whether it's touring the United States, South America, or Europe Annika Chambers is lighting up audiences worldwide.  Her highly entertaining playful stage presence mixed with her soulful heartfelt vocals is knocking the socks off of audiences all around the world.  Hailing from Houston, Texas Annika Chambers teams with record producer Richard Cagle, President of Montrose Records.  The rest as they say has been history but it doesn't end there.  "I knew in my heart right away that Annika should pursue making an album because she was presenting something extraordinary. She was in the beginning and she continues to grow to this day.  She is even better today which is hard to believe," Cagle said.

Annika Chambers can deliver the blues as was witnessed in 2017 at the Blues Foundation's famous annual Blues Music Awards.  Annika took to the stage making a statement in red to be known, seen, and remembered.  She walked up to the microphone as the band was playing her first song and when she belted it out a huge audience of her peers went crazy.  To Annika the blues is the sharing of what lies deep within your heart and soul.  Because this is how she feels the music, the blues comes out of her like it does and that is why audiences react so wildly as they do.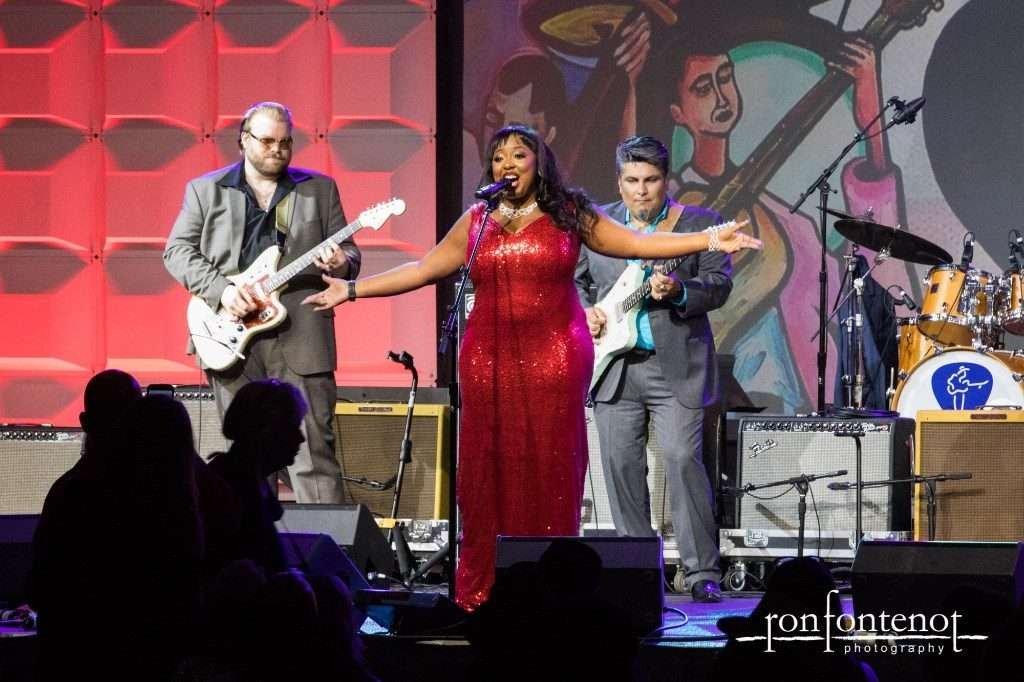 Pump it up Magazine | Black History Month Special Edition | February 2018
Dear Readers,It's been a wonderful start to a new year! We want to introduce our newest cover girl Annika Chambers a power house blues artist and performer. We're celebrating Black History Month with a focus on Soul Music, Gospel and Blues!New in this issue is our Culture section with…
1.How did you get interested in singing? Did you have a musical family?  
I don't come from a musical family. I just came out making noise as my granny would say.
2. Who were some of your early influences. How did you wind up in the blues genre?
I grew up listening to gospel music. My influences were Mahalia Jackson, Dottie People's and my favorite Yolanda Adams.
When I joined the army a Guitar player introduced me to the Blues during our first deployment. I sang love me like a man by bonnie railroad.
3. Did you have formal training? Were you involved with singing in school?
No i don't have any formal training and I didn't sing in school. I actually was in ROTC. I called cadence which later I realized I was singing.
4. How did some of your early gigs go? Where were they?
My early gig were just plain ol bar gigs honing my craft.
5. What was your turning point of becoming professional?
 During my deployment in Iraq I decided I wanted to pursue music fulltime and that's what I did. I got out with an honorable discharge in feb 2011. I started singing at Blues jams and created a band and boom 3 Blues music award nominations later we are here.
6. Are there any particular shows that you have played up to this point, that really stand out in your mind.
Yes opening blues music award show in 2015. That has been a highlight of my career.
7. What impact did Hall of Famer Larry Fulcher have on your career
 He's amazing! He and CO producer Richard Cagle have taught me so much over the years. They know my voice the best and continue to push me to new levels on every project.
8. How involved were you with the planning and production of your chart topping " Wild and Free Album"
 I chose the songs carefully for this record. I wanted each song to reflect a part of me and my life.
9. Why the title " Wild and Free" ?
 Wild and Free represented me being let free from my 6 months prison sentence for a mistake that happened when I was in my early 20s.
10. Where do you see yourself in the next 5 years
 You know I'm focused on continuing to build my brand and yes continuing to make music. I love spreading love around so my goal in the next 5 years.
11. Do you have any words of encouragement for newer blues artist aspiring to be where you are?
Just follow your gut. Only you know what it's inside of you and if you forget always find the quiet and remember why you're doing what you're doing. Most importantly remember to smile it looks good on you.
---