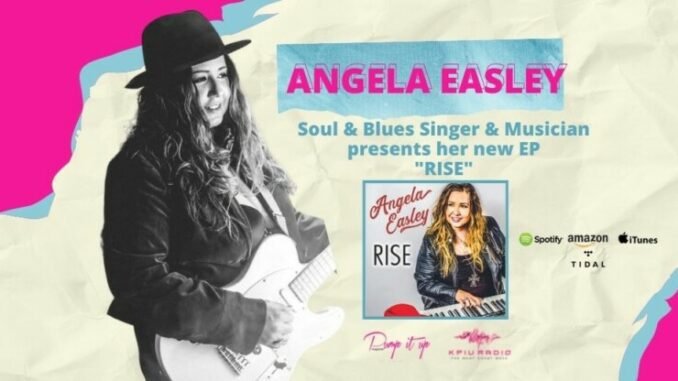 (RISE EP) REVIEW
Tracklist: I Can Let Go, Running Out of Time, Rise, Don't Let the Devil Down, One more Last Time, Crazy Rain
Blues and Soul music is the foundation for good music of all kinds.
The great Willie Dixion said, "Blues is the roots that bare the fruits".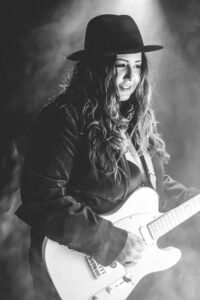 A perfect example of an artist that has moved the styles of blues and soul music is the amazing Angela Easley.
Behind a vast discography with tracks considered sultry, spicy, and full of soul, Angela Easley has picked much of her inspiration from great acts such as; Reba, The Judds, Heart, Aretha Franklin, Janis Joplin, Led Zeppelin, and James Brown, among others. Her music borrows heavily from her Mississippi heritage but is also linked to the themes, lyrics, and melodies of the Nashville music hall.
Nashville has contributed greatly to the outspoken voice of singer/songwriter Angela Easley . Her latest EP dubbed "Rise" released in February 2022 is one of her latest projects that is creating a buzz on many blues and soul music charts and radio stations. "Rise" is a six-track EP featuring two Grammy-winning artists, including "The McCrary Sisters". Since its release, the EP has become a chart-regular scooping #1 spot on; Blues Album Billboard charts, Blues Album Soundscan, Single Siriusxm Bluesville Rack of Blues, Album for TN all genres roots music report charts, Single on contemporary Blues Roots music report charts, & Single for TN for all genres roots music report charts. Rise has also debuted as #9 on Digital Radio Tracker and #24 on the Top 25 Blues Albums in Italy. For the year 2022, the EP could be one of the most decorated blues and soul projects.
Taking a deep navigation behind the sounds on the EP "Rise," one can surely notice how dynamic and gifted Angela Easley is. All the tracks on the EP carry a little of everything and speak a volume in regards to Angela Easley 's ingenuity. The songs borrow a speck of flavor from the styles of country, rock, funk, gospel, blues and soul music. While being interviewed by our team at Pump it up magazine, Angela Easley disclosed that her latest EP is an anthem and a message to everybody.
"The only way we rise is if we come together and RISE TOGETHER".
Alongside having some of the greatest features on this EP, Rise is a call for peace, hope, and healing for a world that desperately needs healing right now. The global theme of the EP is Love. On the single "Rise," for instance, there is a voice of call to action. When people come together as one, they have power. In the world today where we pre-exist with wars and weapons, one way to tame mankind to live in harmony with one another is to rise up together for each other. Love is lost, and gained, but above everything, it overcomes all. The gifted Angela Easley chose the path of encouraging all her fans and listeners with an uplifting track list that unites and will touch your soul on a deep level.
Indeed, the EP "Rise" is very assimilating and well thought-out. The artist's mollified vocals gave each track a much-needed transfusion of new blood while she stayed true to the roots.
Angela Easley track "Running Out of Time" accompanied a rock-kind of vibe that displayed her versatility as an artist that can blend in the current styles. What is different about Angela Easley from many other blues and soul artists, is her adept songwriting skills and a good ear for music. All of her songs encompass a melody that may seem relatable to the ear but is often unknown with the lyrics that are manifested.
"I Can Let Go" featuring "The McCrary Sisters" is a classic that can be used for the precedent. There are standards in terms of the production and vocal ability if it comes to renowned acts such as Easley and the McCrary Sisters. However, with so much simplicity, they both delivered a sweet aroma that is not foreign to the ear but in a fashion that was expected from two talented generations. If you are familiar with Angela Easley from her Bayou Lagniappe days, you can surely relate to her agility. Artists such as Tina Turner, and the whole Motown movement jazz songs, with rock and roll blues, emerged as a different genre to the rock and roll of the 50s. Currently, Angela Easley has also given rise to the rhythm of soul and blues being seen as a piece of legitimate popular music. She has become one of the famous Nashville faces and is respected as a performer, Award-winner, radio show host, and outstanding instrumentalist.
Angela Easley is a powerful and dynamic vocalist, multi-instrumentalist, prolific songwriter, and radio show host on Radio Free Nashville "103.7 FM and 107.1 FM". She became the youngest member and lead singer in the band "Bayou Lagniappe" at the age of fifteen. With Bayou Lagniappe, Angela played in many clubs and on festivals across the Nashville region and opened for many artists, including George Jones.
Currently, Angela Easley  is a resident of Nashville and occasionally performs with her "Angela Easley Band". The band has achieved wide recognition on the Nashville music scene and has formerly performed on the famous Nashville tourist strip dubbed "Broadway". Angela has also shared a stage at the 3rd and Lindsley with The Wooten Brothers, represented New Orleans alongside NFL Saints player Kyle Turley at Benchmark and has featured at other nightspots, including; The Full Moon Saloon, The Fiddle and Steel Guitar Bar, Paradise Park, and more. Her latest EP: Rise, is the most recent display of her talent and holds a special meaning to her and many of her fans. She plans on touring and collaborating with other artists in Nashville and all over the US as she embarks on her next studio album.
Don't miss out on her exclusive interview on Pump  it up magazine print edition – vol.7 – Issue #7 – July 2022 – out July 18th
Listen to "Rise" on KPIU RADIO – INDIE PLAYLIST EVERYDAY AT 6PM PST – WWW.KPIURADIO.COM
Keep up with Angela Easley's music through her website (https://angelaeasley.com/) and on all her social and music media platforms.
Facebook: https://m.facebook.com/angelaeasleymusic/
Twitter: http://www.twitter.com/@angelaeasley
Instagram: http://www.instragram.com/@angela_easley
TikTok: http://www.tiktok.com/angelaeasleymusic
YouTube: http://www.youtube.com/angelaeasleymusic
Apple Music: https://music.apple.com/us/artist/angela-easley/539053269?l=en
Spotify: https://open.spotify.com/artist/3gqmMP9vKR9n9Ev2D1BykB?si=TTsYUlOtQQSD9mW2sMXE2Q
Angela is sponsored by Micon Services
Follow Micon Services on facebook >> https://www.facebook.com/cmizell101/