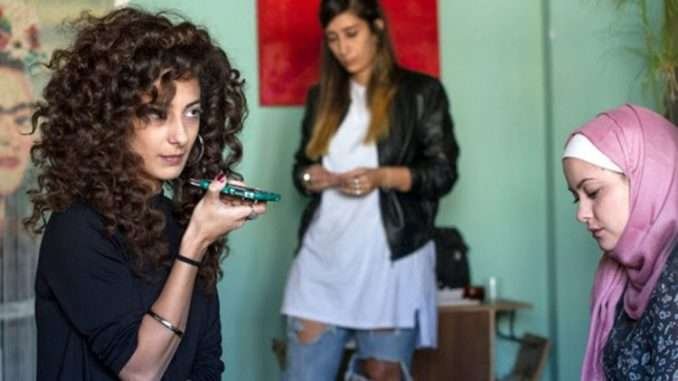 How many women-directed films have you seen this year? If, like me, your answer is "not enough," you're in luck: the following calendar will keep you up-to-date on upcoming movies by your favorite female filmmakers and exciting new directorial voices alike. From big-budget studio fare like A Wrinkle in Time to small indies and the next Sundance favorites, the new year is poised to be an auspicious one for women behind the camera. Below is a list of all the scheduled movies, along with some that don't have set release dates but which will likely be headed to a theater near you in 2018.
January
In Between – directed by Maysaloun Hamoud. This movie — also called Bar Bahar — tells the story of three modern women living in Tel Aviv and navigating complications in romance, faith, and friendship. Hamoud's first feature has garnered largely positive reviews since its debut at Toronto in 2016 and won several awards on the festival circuit. Release date: January 5th.
Blame – directed by Quinn Shephard. When an oddball girl begins to develop a close relationship with her drama teacher, a jealous girl at school plans to commit extreme acts of revenge. Chris Messina plays the teacher, with Shephard (a triple threat, also writing and directing at age 22) and Nadia Alexander as the teens. Release date: January 5th.
Goldbuster – directed by Sandra Ng. The strange residents of Humble Grove apartments don't want to lose their homes to a greedy property developer, so they lock themselves indoors. For years. When supernatural forces come around, things get complicated. Release date: January 5th.
In the Land of Pomegranates – directed by Hava Kohav Beller (Oscar nominee for The Restless Conscience: Resistance to Hitler Within Germany 1933-1945). This documentary exploration of Middle Eastern conflict apparently took over a decade to make. It follows a group of young people — some Palestinian, some Israeli — as they take a "vacation from war" together in Germany. Release date: January 5th.
Project Eden: Vol. 1 – co-directed by Ashlee Jensen (500 Miles). An ambitious sci-fi saga, Project Eden sounds a bit like a reverse-Midnight Special, featuring a woman fighting to evade discovery when she learns her catatonic son might be an important part of a worldwide conspiracy. Release date: January 5th.
The Strange Ones – co-directed by Lauren Wolkstein. This dark-woods thriller, which is based on a 2011 short of the same name, picked up a couple of jury prizes on the festival circuit. It follows a man and a boy as they travel through a remote area of America for shady, unclear reasons. Release date: January 5th.
Freak Show – directed by Trudie Styler. A high schooler named Billy runs for homecoming queen at his hyper-conservative high school in this film, the cast list of which includes Laverne Cox, Bette Midler, Abigail Breslin, and Annasophia Robb. Release date: January 12th.
Vazante – directed by Daniela Thomas (Linha de Passe). A black and white period piece set in Brazil in 1821, Vazante follows the life of a wealthy cattle herder, his slaves, and the two women who become his wives. Release date: January 12th.
Forever My Girl – directed by Bethany Ashton Wolf. A country music star returns to his hometown and discovers a daughter he never knew he had in this romantic drama. Release date: January 19th.
Kangaroo – co-directed by Kate McIntyre Clere (Yogawoman). A deep-dive into Australia's relationship with its most famous animal, which alternates between being a beloved mascot and a creature that's hunted for sport and profit. Release date: January 19th.
February
The Female Brain – directed by Whitney Cummings (creator of 2 Broke Girls). Stand-up comedian Whitney Cummings makes her feature directorial debut with a movie that follows real-life neuropsychiatrist Dr. Louann Brizendine (Cummings) as she researches the differences between men and women's brains. The supporting cast includes James Marsden, Beanie Feldstein, Cecily Strong, and Sofia Vergara. Release date: February 9th.
Oh Lucy! – directed by Atsuko Hirayanagi. A single woman drifts through her life in Tokyo without a strong sense of meaning until she begins taking English classes and adopts a blonde alter ego named Lucy. The film, which is based on a short with the same title, played Cannes last year and so far has a 100% Rotten Tomatoes score. Release date: February 16th.
The Party – directed by Sally Potter (Orlando). A dinner party meant to celebrate a promotion leads to revelations of infidelity and plots of revenge in Potter's black comedy follow-up to Ginger & Rosa. The all-star cast includes Kristin Scott Thomas, Emily Mortimer, and Cillian Murphy. Release date: February 16th.
Half Magic – directed by Heather Graham. Making her directorial debut, the Boogie Nights actress also co-stars with Stephanie Beatriz and Angela Kinsey, together playing three new friends who form a sisterhood devoted to their own female empowerment, vowing to be treated better in the bedroom and workplace. Release date: February 23rd.
March
A Wrinkle in Time – directed by Ava Duvernay. The classic children's novel gets its first major adaptation thanks to the acclaimed director of 13th and Selma. Perhaps the most-anticipated film on this list, the fantasy film features a talented cast including Mindy Kaling, Reese Witherspoon, Oprah Winfrey, Chris Pine, and potential breakout star Storm Reid. Release date: March 9th.
What They Had – directed by Elizabeth Chomko. Michael Shannon and Hilary Swank star in this tense drama, which follows a woman who returns to her hometown after her mother, suffering from dementia, wanders into a snowstorm. Release date: March 16th.
April
Blockers – directed by Kay Cannon. The feature directorial debut of the screenwriter behind the Pitch Perfect franchise, this ensemble comedy is about three parents who join forces to prevent their daughters from losing their virginity on prom night. Release date: April 6th.
You Were Never Really Here – directed by Lynne Ramsay. This Cannes-winning film, another intense thriller from the director of We Need to Talk About Kevin, stars Joaquin Phoenix as a brutal mercenary hired to track down the kidnappers of a politician's teenager daughter. Release date: April 6th.
The Rider – directed by Chloé Zhao (Songs My Brothers Taught Me). A cowboy questions his role as a man in America after experiencing a life-threatening head injury. Having already garnered praise on the festival circuit last year, this film is slated to run at Sundance before hitting theaters. Release date: April 13th.
Zama – Directed by Lucrecia Martel (The Headless Woman). A Spanish soldier born in South America awaits his king's orders to transfer to a different post. As the news does not come, he is forced to take stock with his life left behind. Release date: April 13th.
June
I Feel Pretty – co-directed by Abby Kohn. In this Amy Schumer-led comedy, a once-insecure woman takes a tumble and wakes up with the confidence of the most beautiful person in the world. The writers of Never Been Kissed and How to Be Single make their directorial debut with the movie, which also stars Michelle Williams and Emily Ratajkowski. Release date: June 29th.
Valley Girl – directed by Rachel Goldenberg (A Deadly Adoption). This is a musical adaptation of the star-crossed-lovers '80s flick, complete with the prep-punk romance. Mae Whitman, Chloe Bennet, and Ashleigh Murray are a few members of the young ensemble cast. Release date: June 29th.
August
The Spy Who Dumped Me – directed by Susanna Fogel (Life Partners). Two best friends are pushed into the world of espionage when one's ex is revealed to be a spy. Kate McKinnon and Mila Kunis headline as the friends. Release date: August 3rd.
Barbie – directed by Alethea Jones (Fun Mom Dinner). The long-discussed live-action Barbie movie stars Anne Hathaway as the iconic doll, who is ejected from Barbieland and forced to join the real world. Release date: August 8th.
The Nightingale – directed by Jennifer Kent (The Babadook). This revenge saga follows an Irish woman who, in 1825 Tasmania, must team up with an aboriginal tracker to hunt down the men who killed her husband and baby in front of her. Release date: August 8th.
September
The Darkest Minds – directed by Jennifer Yuh Nelson (Kung Fu Panda 2). This adaptation of a YA sci-fi thriller follows a teenage girl who is one of few survivors of a plague that killed 98% of America's children. She's also trapped at a government "rehabilitation camp" for kids with superpowers. Amandla Stenberg stars. Release date: September 14th.
October
Can You Ever Forgive Me? – directed by Marielle Heller (The Diary of a Teenage Girl). Based on the Lee Israel memoir of the same name and scripted by filmmaker Nicole Holofcener (Enough Said) and Jeff Whitty (Broadway's Avenue Q), this Melissa McCarthy vehicle tells the story of a biographer who, unable to adapt to the tell-all trend, begins committing celebrity forgeries. Release date: October 19th.
November
Mary Queen of Scots – directed by Josie Rourke (2011's Much Ado About Nothing). Saoirse Ronan leads as Mary Stuart in this historical drama written by House of Cards helmer Beau Willimon. Rourke brings extensive theater experience to her latest feature, adapting from John Guy's biography "My Heart is My Own." Release date: November 2nd.
TBD
Dark River – directed by Clio Barnard (The Arbor). A bleak landscape sets the tone in this North England-set drama about a woman (Ruth Wilson) who returns to tend to her childhood home after her father dies — and to face the memories she left there years ago.
Fast Color – directed by Julia Hart (Miss Stevens). Gugu Mbatha-Raw stars in this thriller about finding one's powers. She plays a woman with superhuman abilities who is forced to go on the run and return to a home she hasn't seen in years.
Furlough – directed by Laurie Collyer (Sherrybaby). A female prisoner is granted a one weekend release from prison to visit her ailing mother in this film, which boasts an impressive cast including Tessa Thompson, Whoopi Goldberg, and Melissa Leo.
Honored – directed by Elissa Down (The Black Ballon). Headlined by four actresses, three of them YouTube stars, Honored is a comedy about a group of former friends, now wildly different high schoolers, checking off their old bucket list.
Let the Corpses Tan – co-directed by Helene Cattet. This retro ode to violent '70s crime movies might have the best title of any film on this list, and judging by the mostly positive responses at Toronto and Fantastic Fest, has the goods to back it up. In it, a gang of gold thieves hideout in a remote European location where their plan quickly goes south.
Mustang – directed by Laure de Clermont-Tonnerre. Connie Britton and Bruce Dern play opposite Matthias Schoenaerts in this drama, which tells the story of a convict who's given a chance at rehabilitation through a program that lets him train wild horses.
On the Basis of Sex – directed by Mimi Leder (Deep Impact). One of two films about Supreme Court Justice Ruth Bader Ginsberg poised for release in 2018 (the other is the Sundance doc RBG), this biopic stars Felicity Jones, Justin Theroux, Armie Hammer, and Kathy Bates.
Out of Blue – directed by Carol Morley (Dreams of a Life). Based in part on the novel "Night Train" by Martin Amis, Out of Blue is set up to be a trippy metaphysical neo-noir about a detective who's called to investigate the death of a scientific expert in black holes.
The Turning – directed by Floria Sigismondi (The Runaways). After a year spent directing stellar episodes of TV for American Gods and The Handmaid's Tale, Sigismondi is working on a modern adaptation of Henry James's classic psychological haunting story "The Turn of The Screw." Mackenzie Davis and Finn Wolfhard are set to star.
Untitled Sense8 finale film – directed by Lana Wachowski (The Matrix). Although this endcap to the much-loved Netflix series is being described in press as a single super-sized episode, it has all the makings of a great film. Shot across many locations by the famed director, it follows eight strangers who are mentally linked, have uncanny abilities, and are being hunted down.
Vita and Virginia – directed by Chanya Button (Burn Burn Burn). This period drama follows indelible author Virginia Woolf (Elizabeth Debicki) as she is pursued by her passionate friend and potential lover, Vita Sackville West (Gemma Arterton).
Woman Walks Ahead – directed by Susanna White (Nanny McPhee Returns). A Western that made its debut at Toronto this year, White's film tells the story of native advocate Caroline Weldon (Jessica Chastain), who eventually painted an historic portrait of a significant member of the Lakota tribe, Sitting Bull (Michael Greyeyes).
Sundance Narrative Premieres
And Breathe Normally – directed by Ísold Uggadóttir. A struggling mom working in Icelanding border patrol comes across a suspicious passport. In a small town, she and the passport's owner — a Guinea-Bissae refugee — keep crossing paths.
Clara's Ghost – directed by Bridey Elliott. When Clara's actor husband and former-child-star children all come together at their Connecticut home, Clara must face a ghost that only she can see.
Dead Pigs – directed by Cathy Yan. Assorted locals in Shanghai must deal with family, career, and relationship issues, all while a constant stream of dead pigs floats down the river toward their city.
Holiday – directed by Isabella Iklof. A Danish gangster takes his girlfriend on a luxury vacation to Turkey, but it's less than picture-perfect when she meets another man.
I Am Not a Witch – directed by Rungano Nyoni. In a village in Zambia, an eight-year-old girl is accused of witchcraft and must choose between being turned into a goat and eaten by her peers, or going to live with other women, enslaved in a witch camp.
I Think We're Alone Now – directed by Reed Morano. In the latest from Morano (The Handmaid's Tale) one of the last men on earth (Peter Dinklage) discovers, to his dismay, that he's not alone.
The Kindergarten Teacher – directed by Sara Colangelo. This is an American adaptation of an Israeli film that made waves on the festival circuit a few years back. Maggie Gyllenhaal plays a teacher who becomes obsessed with a five-year-old student whom she believes is a prodigy.
Leave No Trace – directed by Debra Granik (Winter's Bone). Granik brings her eye for moody scenery to Oregon, where a man and his teenage daughter must deal with outside forces threatening their peaceful off-the-grid existence.
The Long Dumb Road – directed by Hannah Fidell (A Teacher). Two men meet and travel through the American Southwest in this road trip comedy, which also stars Taissa Farmiga and Grace Gummer.
Madeline's Madeline – directed by Josephine Decker. When a girl joins an experimental theater group that values dedication and authenticity, the lines between her real life and her performance begin to blend dangerously. Miranda July plays the girl's increasingly worried mother.
The Miseducation of Cameron Post – directed by Desiree Akhavan. Think a less campy But I'm a Cheerleader. Cameron Post (Chloe Moretz) gets caught having sex with the prom queen and is shipped off to a gay conversion camp, where she finds an authentic community for the first time.
Nancy – directed by Christina Choe. A struggling writer with a habit of creating elaborate lies becomes convinced she's the previously kidnapped daughter of a couple she meets in Choe's first directorial feature.
Never Goin' Back – directed by Augustine Frizzell. Two stoner high school dropouts and best friends try to make a quick buck when their Texas vacation plans go extremely awry.
Night Comes On – directed by Jordana Spiro. Angel just got out of juvie, and has a plan that could either destroy or repair her life. For starters, it involves rescuing her sister from foster care and finding her murderer father.
Ophelia – directed by Claire McCarthy (The Waiting City). This retelling of Hamlet focuses on his better half, and stars Daisey Ridley, Naomi Watts, and Clive Owen.
Private Life – directed by Tamara Jenkins (The Savages). Kathryn Hahn and Paul Giamatti star as a couple who has tried everything to get pregnant — except third-party reproduction.
The Queen of Fear – co-directed by Valeria Bertuccelli and Fabiana Tiscornia. In this absurdist comedy, a week before her one-woman show is supposed to open an actress drops everything to visit a dying friend.
Revenge – directed by Coralie Fargeat. A female-centric homage to grindhouse, this French slasher features a woman who, left for dead by violent, misogynists, is out for–you guessed it–revenge.
Skate Kitchen – directed by Crystal Moselle (The Wolfpack). Long Island skateboard culture is the topic of this realistic drama, which follows a teenager who joins a group of girl skaters she found on Instagram.
Summer of '84 – directed by Anouk Whissell (Turbo Kid). A hormone-crazed teenager suspects his neighbor is the serial killer he keeps hearing about in the news in this coming-of-age thriller.
The Tale – directed by Jennifer Fox. Laura Dern stars as a woman who discovers a story she wrote when she was a young teen describing an inappropriate relationship she had with two adults in her life. Confused and shocked, she is determined to track down the two and find out the truth.what they
Sundance Documentary Premieres
306 Hollywood – co-directed by Elan Bogarín. Two siblings excavate their late grandmother's home and catalog its belongings in a colorful documentary that incorporates animation, interview, reenactment and more.
Dark Money – directed by Kimberly Reed (Prodigal Sons). An examination of Citizens United, a ruling that allows nearly unlimited, anonymous corporate financing of politicians, through the eyes of citizens of Montana who are invested in fighting corruption.
The Devil We Know – directed by Stephanie Soechtig (Fed Up). This investigative doc reveals the dangerous history of the chemical C8, which is found in most household products and 99% of Americans' bloodstreams.
Generation Wealth – directed by Lauren Greenfield (The Queen of Versailles). Part retrospective, part portrait of materialism and excess, Greenfield's latest looks at modern wealth across different cultures and generations.
Hal – directed by Amy Scott. Through interviews and archival footage, Scott gains insight into the life and work of Hal Ashby, the director of classic films including Harold and Maude and Shampoo.
Half the Picture – directed by Amy Adrion. Appropriate to this list, here's a doc about women directors in Hollywood.
Inventing Tomorrow – directed by Laura Nix (The Yes Men Are Revolting). Six high schoolers get ready to participate in the world's largest science fair — and possibly come up with ideas that'll change the future of humankind.
Jane Fonda in Five Acts – directed by Susan Lacy. The director of Spielberg now gives us a film about actress Jane Fonda.
Kusama-Infinity – directed by Heather Lenz. The story of Japanese artist Yayoi Kusama, who produced avant-garde and political art in the US during the 1960s, is incredible and largely unknown. Lenz finally brings it into the light by interviewing the woman, now 88 and living in a mental institution.
On Her Shoulders – directed by Alexandria Bombach (Frame by Frame). Nadia Murad narrowly escaped death at the hands of ISIS, and now spends most of her time recounting her traumatic story to anyone who will listen in hopes of bringing awareness about the ongoing slaughter.
The Oslo Diaries – directed by Mor Loushy (Censored Voices). A look at the peace talks between Israelis and Palestinians in Oslo in 1993.
Quiet Heroes – directed by Jenny Mackenzie, co-directed by Amanda Stoddard. The AIDS epidemic is often revisited through the lens of progressive cities like San Francisco, but Quiet Heroes retells the story from a different perspective. The subject is a woman in a largely conservative, religious part of Utah who was the only doctor in the area willing to treat AIDS patients.
RBG – co-directed by Betsy West and Julie Cohen. The other film focused on Justice Ruth Bader Ginsberg this year.
Robin Williams: Come Inside My Mind – directed by Marina Zenovich (Roman Polanski: Wanted and Desired). An intimate biography of the late actor.
Science Fair – co-directed by Cristina Costantini. Another competition doc focused on the international science fair.
Seeing Allred – co-directed by Sophie Sartain (Mimi and Dona) and Roberta Grossman (Hava Nagila: The Movie). In the wake of the #MeToo movement, this portrait of Gloria Allred, trailblazing women's rights attorney and figure of controversy for several decades, is probably the most timely film screening at Sundance.
Shirkers – directed by Sandi Tan. Shirkers is also the name of an indie film that went missing after completion, along with its producer, for 20 years.
This Is Home – directed by Alexandra Shiva (How to Dance in Ohio). Another timely doc, This is Home follows four families of Syrian refugees struggling to resettle in America in 2016. Cultural disconnects and war-based trauma make this a challenge, and then President Trump issues the travel ban.
Westwood: Punk, Icon, Activist – directed by Lorna Tucker. Fashion legend Vivian Westwood is the subject here.
A Woman Captured – directed by Bernadette Tuza-Ritter. This Hungarian film reveals the story of a woman named Marish who has been trapped in indentured servitude for decades, working as a household slave, paid in cigarettes. In the midst of filming the documentary, Marish plans an escape.
Source : filmschoolrejects.com