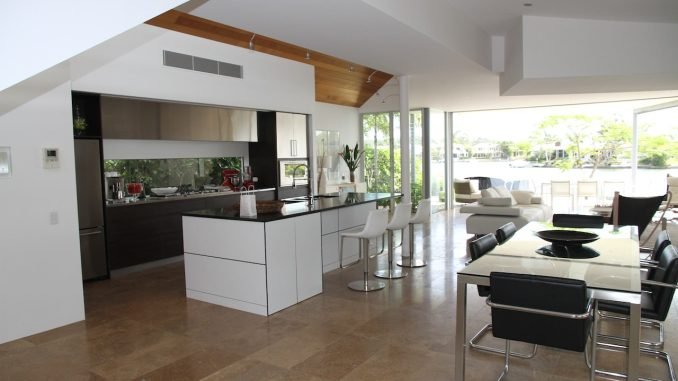 According to the adage, "Don't move, improve," we wholeheartedly support cost-effective enhancements that can augment our residence's value and optimize the utilization of our living areas. While it's undeniable that home repair and renovation endeavors can incur significant expenses, it is worth noting that affordable alternatives exist.
In this regard, we present a collection of methods to update and elevate your living space without breaking the bank. Let's check them out:
Hiring a Remodeling Contractor
A crucial point to discuss first is seeking the expertise of remodeling contractors. Engaging the services of a professional remodeling contractor can be perceived as a substantial investment. However, it can prove to be a prudent financial decision. Undertaking remodeling activities on one's own might lead to undesirable outcomes, potentially resulting in additional costs to rectify the situation. In contrast, enlisting a dependable contractor well-versed in comprehending your specific remodeling requirements and possessing the necessary expertise holds paramount significance.
Conducting thorough research to identify available remodeling companies is imperative. Seek out those that offer exceptional service and exhibit the flexibility to tailor their provisions to align precisely with your individual needs. This approach will ensure that the chosen contractor can deliver the desired results while mitigating potential risks and unnecessary expenses associated with DIY endeavors.
For instance, one notable establishment, Delerio Construction, is a reputable remodeling enterprise renowned for its diverse services. From comprehensive kitchen and bathroom remodels to proficient window and door replacements, their extensive expertise and considerable experience position them as a reliable company capable of catering to their client's distinct and varied needs.
1.     Revitalize or Replace the Existing Front Door
Initiate your home's transformation by focusing on the front door, as it can leave a lasting impression, significantly contributing to the overall curb appeal. By exploring suitable front door ideas, one can immediately enhance exterior aesthetics.
Applying a fresh coat of paint, in particular, yields remarkable results in rejuvenating the existing door, breathing new life into it, and concurrently elevating the visual allure of the entire home exterior.
2.     Selecting Striking Paint Hues
If the mundane presence of white walls in your abode has left you seeking change, it is crucial to embark on a paint upgrade. The question now arises: Which paint color should you opt for? Should you veer towards fashionable interior shades such as turquoise, pale pink, or olive green? Alternatively, you might derive inspiration from the colors of your existing furniture, employing a complementary hue to foster harmony within the space.
If a grand paint transformation feels overwhelming, fear not, for a more modest yet effective option entails the addition of a simple accent wall, thereby bestowing a smaller yet impactful burst of color upon the surroundings.
3.     Remodel Your Fireplace
Transform a lackluster brick fireplace into a contemporary masterpiece by applying a fresh coat of paint. Before commencing this home improvement endeavor, diligently clean the fireplace to eliminate accumulated grime. Subsequently, use a stain-blocking primer to the cleansed surface, concealing any soot stains before the painting begins. High-loss paint can bestow a stunning modern aesthetic, elevating the fireplace's overall appearance.
4.     Revitalization Or Replacement of Internal Doors
The simple addition of a new door can promptly breathe new life into any room, whether you opt for contemporary paint colors to rejuvenate existing internal doors or install a fresh set of French doors featuring glass window panes. The impact on your home's layout can be transformative.
5.     Enhancing the Ceiling's Aesthetics
It is crucial not to overlook the potential of elevating your ceiling when considering interior improvements. Numerous options exist for this particular do-it-yourself project. For instance, adding faux wood beams combined with beadboard or shiplap in a kitchen or dining room can impart a charming farmhouse-style ambiance. Alternatively, in the bathroom, you can opt for surface-mount tile or tin to evoke a more retro atmosphere.
Furthermore, your bedroom can be enhanced by simply applying an accent color to the ceiling, creating an appealing contrast and introducing depth to the space. These diverse choices allow homeowners to personalize and revitalize their ceilings according to their preferences and interior design aspirations.
6.     Illuminate Your Space with Thoughtful Lighting
The incorporation of exquisite light fixtures can significantly influence the ambiance of a space, imbuing it with a sense of vitality or tranquility. At the same time, intelligently designed lights can enhance the ease of engaging in visually demanding activities. A well-balanced lighting arrangement involves skillfully crafting light layers and incorporating task, accent, and ambient lighting to create a harmonious and well-balanced environment. By introducing captivating pendants, sconces, or chandeliers, you can instantly elevate a room's sophistication.
7.     Opt for New Flooring
An economical approach to enhancing your residence involves the installation of new flooring. Consider using laminate flooring, sheet vinyl flooring, or ceramic tile for this home makeover endeavor. Vinyl flooring stands out for its durability and water-resistant properties, rendering it a practical and resilient choice. Alternatively, if your preference leans towards hardwood aesthetics, laminate flooring is a suitable option, as it retains its color despite prolonged exposure to sunlight.
On the other hand, if ease of maintenance is paramount, traditional tile floors present an ideal selection, offering convenience in cleaning and upkeep. Choosing among these flooring alternatives allows you to effectively rejuvenate your living space without exceeding your budgetary constraints.
8.     Enhance Elegance with Crown Molding
Trim work and crown molding are akin to ornate jewelry, embellishing walls, doors, and windows with a touch of refinement.
A comprehensive and sophisticated finish for your home can be accomplished cost-effectively by procuring readily available, off-the-rack moldings from a nearby home improvement center. For those seeking a more opulent and bespoke touch, layering various pieces of crown molding around entryways and ceilings allows you to attain a deluxe custom look.
Conclusion
Every home renovation project represents a highly significant undertaking for any homeowner. Several viable options exist for revitalizing and elevating your living spaces without incurring substantial costs. Incorporating the home improvement ideas mentioned above and being mindful of affordable alternatives can lead to a notable transformation, rejuvenating your living spaces and enhancing your home's overall value and appeal.