New York-based surreal rock band Wool Sucker will release their debut album, "Plastic Wings" during January 2018. On it, songwriters Alex Minier and Elizagrace Madrone forge their storytelling craft, alongside Producer Kevin Salem (Rachael Yamagata, Yo La Tengo), and the band, made up of Jeff McLaughlin (guitar), Cody Rahn (drums), Andrew Miramonti(keyboards) and Alex Minier (bass and lead vocals). And while we attend the album release Wool Sucker tantalize our senses with the single "Rusalka (Drown With Me)".
In Slavic mythology, a rusalka is something akin to the Celtic mermaids or the Greek sirens. In short, rusalki are beautiful young women who dwell in bodies of water and enjoy enticing men. In the modern era, a large mythos has sprung up around the beguiling young women of the water. By the 19th century, the main objective of a rusalka had transformed into harassing the human population. While the pagan water nymph occurred naturally, the mermaid rusalka has quite varied origin stories.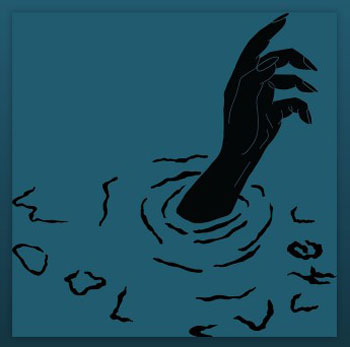 Typically, they involved young women dying violent deaths. Sometimes it is murder, sometimes it is a suicide, but usually it is a death by drowning. In "Rusalka (Drown With Me)" the rusalka enigma is further twisted and expanded upon, by Wool Sucker, who ably translate their own mysteriously dark narrative into song and a stunning supporting video.
The track seems to center around the inescapable claustrophobia of a disturbed being. The psychological doubts abound: You can try and hide your worst qualities, but they're a part of you. There's no running from who you are when the lights are out and you're alone…or maybe when you're not alone!
The underpinning low key melody lines are both insidious and effective, while the simplistic but resonant piano phrases are artfully employed building to varying feverish moments  – conveyed by bass, drum and keyboard treatments – that burn slowly, and more often than not to the point of termination before breaking down again.
There is more carefully considered, atmospheric moderation here, than kinetic excitement, but when that subtly arrives it does so with a fervent and understated tension. A momentum-gathering cascade of slow burning rhythm and tender voice that traces the route from aching dejection to reluctant arrangement.
Adding such constituent parts together, "Rusalka (Drown With Me)" is a track of formidable stature, of exceptional musicianship and of confident songwriting. Its rich yet reserved—anything too dramatic would throw off the sense of unsettling intimacy that the song spends much of its runtime building. Despite the loneliness and anxiety that permeates "Rusalka (Drown With Me)", it is a track of inevitable beauty.
About the Songwriting team:
Composer, bassist, and lead singer Alex Minier lives in New York. Since earning his Masters in Jazz Performance from NYU, Alex has toured and recorded with artists including Echo Bloom, Aly Tadros, Elsa Nilsson, Stephen Babcock, Hannah and Maggie, and iconiQ The Soundtrack Orchestra. Recent performances include an 8-week tour of Germany, Belgium, and the Netherlands as well as The Hotel Cafe in Los Angeles and New York staples including The Blue Note, The Highline Ballroom, and Rockwood Music Hall.
Elizagrace Madrone is a lyricist, playwright, and theater artist based in New York City. In addition to Wool Sucker, she's worked with composer Elsa Nilsson on multiple projects including most recent album, Salt Wind; a suite of tunes written & composed for Wave Hill's summer sunset series; and an upcoming multi-media performance project focused on climate change. This year, her writing has been on stage with Exquisite Corpse Company, Random People Productions, and others; Elizagrace is currently an MFA candidate in Dramaturgy at Columbia University.