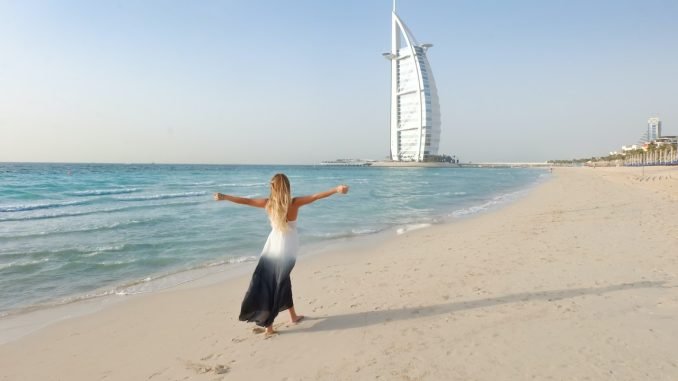 Photo by The Lazy Artist Gallery
Dubai, often referred to as the pearl of the United Arab Emirates, stands as a captivating destination that offers an abundance of family-friendly attractions. From its iconic skyscrapers to the thrilling theme parks and exquisite gardens, this city provides a diverse range of experiences to delight every family member. Whether you're admiring the awe-inspiring Burj Khalifa, strolling through the enchanting Dubai Miracle Garden, or embarking on an adventure at IMG Worlds of Adventure, Dubai's multifaceted offerings guarantee a vacation filled with joy and wonder. Additionally, securing Burj Khalifa tickets in advance ensures you'll have a seamless visit to this architectural marvel, and exploring the radiant Dubai Garden Glow is another delightful experience that adds a unique touch to your family getaway.
Dubai Miracle Garden:
A beloved destination for families, the Miracle Garden Dubai is a breathtaking oasis adorned with over 150 million flowers meticulously arranged in captivating shapes and designs. From heart-shaped arches to vibrant pyramids, this floral wonderland is a visual treat for all ages. Younger visitors will be enthralled by Disney Avenue and the colossal Mickey Mouse topiary. Capture these magical moments amid the colorful blooms with your family, creating cherished memories to last a lifetime.
Burj Khalifa:
Commence your family adventure with a visit to the iconic Burj Khalifa, renowned as the world's tallest building. Towering majestically at 828 meters, this architectural marvel offers breathtaking views of the city from its observation decks on the 124th and 148th floors. Whether you're admiring the mesmerizing skyline during daylight or witnessing the city's sparkling lights at night, the Burj Khalifa promises an unforgettable experience. Make sure to book your Burj Khalifa tickets in advance to avoid any hassles and ensure that your family enjoys this magnificent backdrop, creating timeless memories that will be cherished.
IMG Worlds of Adventure:
Prepare for a day of action-packed excitement at IMG Worlds of Adventure, recognized as the world's largest indoor theme park. Divided into four zones – Marvel, Cartoon Network, Lost Valley Dinosaur Adventure, and IMG Boulevard – the park offers an array of thrilling rides, attractions, and live shows. Booking IMG tickets allows you to meet your favorite superheroes, embark on adventures with Cartoon Network characters, and even journey back in time with dinosaurs.
Dubai Mall:
Adjacent to the Burj Khalifa, Dubai Mall is a haven for shoppers with over 1,200 retail outlets. However, it's not solely about shopping; the mall boasts various family-friendly attractions like the Dubai Aquarium & Underwater Zoo, offering kids the chance to marvel at marine life. Additionally, the VR Park provides an exhilarating virtual reality experience. For a delightful dining experience, the Dubai Mall features an extensive selection of restaurants and cafes catering to diverse tastes. From local delicacies to international cuisines, families can embark on a gastronomic adventure. After a day of shopping and entertainment, witnessing the captivating Dubai Fountain shows, choreographed to synchronized music and lights, serves as the perfect conclusion to a memorable family outing.
Dubai Parks and Resorts:
Dubai Parks and Resorts stands as the ultimate entertainment destination for families, comprising three theme parks: Motiongate Dubai, Bollywood Parks Dubai, and Legoland Dubai, along with Legoland Water Park. Your children will adore meeting their favorite movie characters, exploring themed zones, and enjoying thrilling rides. The fun never ends here, making it a must-visit for families seeking adventure and excitement.
Jumeirah Beach:
Unwind at Jumeirah Beach, one of Dubai's most exquisite public beaches. With its pristine white sands and crystal-clear waters, it's the perfect spot for a family beach day. You can soak up the sun, build sandcastles with the kids, and take refreshing dips in the Arabian Gulf. Numerous beachside cafes and restaurants offer delicious treats to round out your day at the beach.
Dubai Creek and Abra Ride:
To experience a touch of traditional charm, head to Dubai Creek and embark on a serene Abra ride across the creek. This journey offers picturesque views of both old and new Dubai, providing your family with a cherished cultural experience as you sail amidst historic buildings and bustling souks. Following your ride, explore the nearby Al Fahidi Historical Neighborhood, featuring narrow alleys and charming wind towers that immerse you in Dubai's rich heritage. Meander through quaint streets lined with art galleries, museums, and traditional cafes. The neighborhood's beautifully restored buildings offer glimpses into Dubai's past, making it an ideal location for an enriching family outing.
Dubai Desert Safari:
Embark on an adrenaline-pumping desert safari and discover the magic of the Arabian desert. Enjoy dune bashing in a 4×4, an exhilarating ride across the golden sand dunes. Your family will relish camel rides, henna painting, and the mesmerizing desert sunset. As night falls, savor a traditional Arabian feast while watching enchanting belly dance performances beneath the starlit sky, creating memories to be cherished for a lifetime. This immersive desert safari adventure is guaranteed to instill a deep appreciation for the beauty and allure of the Arabian desert.
Dubai Marina:
Take a leisurely stroll along the picturesque Dubai Marina, a vibrant waterfront promenade adorned with restaurants, cafes, and shops. Families can enjoy a relaxing boat tour or embark on a traditional dhow cruise to explore the marina from the water. The nearby JBR Beach offers an array of water sports activities, making it an ideal location for some family beach fun.
Dubai Butterfly Garden:
Step into the enchanting realm of the Dubai Butterfly Garden, where families can immerse themselves in a world of wonder and beauty. This captivating attraction features a vast indoor tropical garden that has proven to be a hit with visitors of all ages. Here, amidst the lush greenery, you'll have the chance to witness the mesmerizing flutter of colorful butterflies as they gracefully roam, creating a serene and almost magical atmosphere. Beyond its visual splendor, the Dubai Butterfly Garden also offers an educational dimension, providing valuable insights into the intricate life cycle of these delicate creatures. It's a place where both kids and adults can learn while having fun, making it a perfect addition to any family's Dubai adventure.