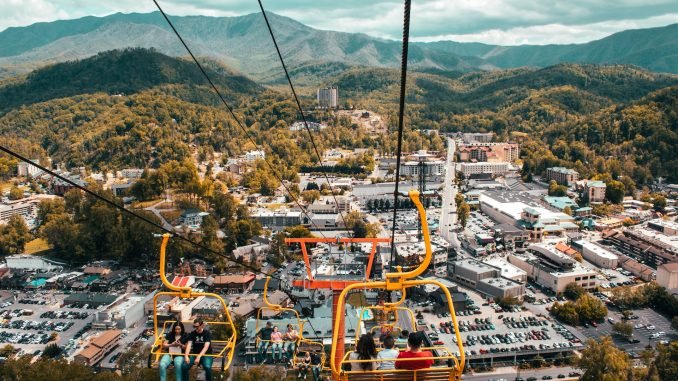 Nestled in the heart of Tennessee lies a town known for its captivating landscapes, entertaining shows, and the undeniable spirit of the Smoky Mountains: Pigeon Forge. With so much to offer, it's no surprise that thousands of tourists flock to this town every year, looking for adventures and memories to take back home. If you're planning your trip to Pigeon Forge or even making a return visit, here are some activities you can't miss.
1.    Dive into Souvenir Shopping
Vacations are not just about the present moment; they're also about reminiscing about the future. Souvenirs play a pivotal role in this. Every time you glance at that fridge magnet or wear that t-shirt, memories of your trip flood back. And if you're like most tourists, you've probably found yourself searching for souvenir shops, hoping to find the perfect place to grab that keepsake.
In Pigeon Forge, you're in luck. The town boasts some truly unique souvenir shops that not only offer typical gifts but also give you a genuine taste of the local culture.
Let's start with the Country Barn Gift Shop. It isn't your run-of-the-mill tourist trap. The store embodies the essence of rustic charm and offers a variety of items that perfectly capture the spirit of the Smokies. From handcrafted items to traditional gifts, there's something here for everyone.
Next, for those who want to take a trip back in time, the Old Mill General Store is the place to be. Located in the historic Old Mill district, this store offers a delightful array of classic gifts, artisan products, and mouth-watering treats. The old-world charm of the place, combined with its rich history, makes it a must-visit.
If you're wondering which store is close to your location in Pigeon Forge, looking up the keyword souvenir shop near me on Google will prove helpful.
2.    Experience the Great Outdoors with Smoky Mountain Adventures
Beyond the shopping and entertainment, Pigeon Forge's real gem is its proximity to the Great Smoky Mountains. Nature lovers, thrill-seekers, and even those just looking for some peace can find their haven here.
For starters, the region is crisscrossed with numerous hiking trails, each offering a unique view of the landscape. Whether you're a seasoned hiker or someone looking to take a stroll, there's a trail for you. The panoramic views, the chorus of birds, and the fresh mountain air make every step worthwhile.
If you're someone who craves a bit more adrenaline, how about some white-water rafting? The fast-flowing rivers offer the perfect setting for this exhilarating activity. Navigate the rapids, feel the splash of cold water, and experience nature's roller coaster.
For those who prefer a more relaxed pace, horseback riding is a great option. Explore the Smokies on horseback and see the region from a completely different perspective. Plus, with the guided tours available, you can learn about the area's rich history and biodiversity.
3.    Dive into the Local Entertainment Scene
If there's one thing Pigeon Forge doesn't lack, it's entertainment. The town is brimming with shows and attractions to cater to every taste and age group. One standout experience is the various dinner shows that combine delicious meals with top-tier performances. Whether it's music, magic, or tales of the Old West, there's a show to captivate your imagination. Plus, it's a unique experience; where else can you enjoy a hearty meal while being entertained by some of the most talented artists in the region?
For those who prefer a more hands-on experience, the many amusement parks and interactive museums in Pigeon Forge are sure to be a hit. Try your hand at mini-golf, challenge yourself with escape room puzzles, or enjoy the thrills of a roller coaster. With so many options, boredom is not on the agenda.
4.    Take a Scenic Drive
Pigeon Forge is not just about the bustling town center. The surrounding areas are equally, if not more, enchanting. One of the best ways to explore the beauty of the region is by taking a scenic drive. The winding roads, with the backdrop of the Smoky Mountains, are a visual treat.
As you drive along, you'll come across numerous viewpoints and picnic spots. These are perfect places to take a break, snap some photos, and maybe even spot some local wildlife. The best part? You can explore at your own pace. Whether you want to spend an entire day driving around or just a few hours, the experience is sure to be memorable.
Conclusion
Pigeon Forge is more than just a tourist town; it's a gateway to countless adventures, experiences, and memories. From shopping for souvenirs to diving into the local entertainment scene, from challenging outdoor activities to relaxing scenic drives, there's something here for everyone. So, the next time you're looking for a destination that offers a perfect blend of fun, nature, and culture, remember Pigeon Forge awaits. You'll most definitely have the time of your life here.