Isobel Bartz is an award-winning singer and vocal coach based out of the U.S. Inspired by the likes of Joni Mitchell and Roberta Flack, her sound is softly soothing with just the right amount of boldness to keep listeners hooked. She's classically trained, having studied voice up to doctorate level and even teaches others how to get the most out of their voice. The mezzo-soprano singer has traveled far and wide bringing her angelic vocal and top notch training to people around the world. She has just released her latest Christmas album that showcases her uncanny ability to take on a range of styles in the classical genre with ease and versatility. –
"The Gift Of Christmas" is a joyous Christmas record that takes us on a jolly, festive thrill ride through the world of adult contemporary and beyond! A truly soul soothing experience and perfect soundtrack to get you in the festive spirit
Isobel and Friends have just released their latest album. Opening up strongly on "The Christmas Song", luscious strings soothe us into orchestral-dripped bliss as Isobel's angelic voice fills the airwaves. The instrumentation on this release is simply spectacular, fusing organic classic string sections to mystifying piano lines. All wrapped up in a wonderful package, with just the right amount of pop-perfect melodies to keep you hooked from start to finish.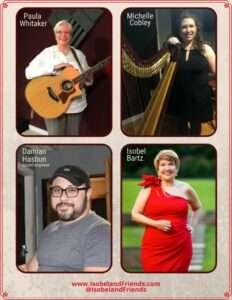 The second song on the release "All Through The Night" is a truly spellbinding experience. Her operatic vocals glide over sweet instrumentation in this stunning rendition of the timeless track. "Peace On Earth Little Drummer Boy" is the third track and it's truly a spectacle. The way that the vocals of her and her collaborator synergise is awe-inspiring, as the passionate pounding of a drum slowly builds up. Lush guitar licks take over the airwaves next as "Bring A Torch Jeanette" soothes us with it's bittersweet melodies and soaring vocals.
"Coventry Caroll" sticks with the great guitar lines as soothing vocals effortlessly soar over this distinctly stripped back track. Sixth track "The Gift You Are" is truly majestic, it feels like it's straight out of a Disney film as bewitching, soft vocals soothe us with uplifting, empowering lyrics. "What Are You Doing New Years Eve" brings some much needed razzle dazzle to the mix with a full band set-up, keeping a steady pace of rich instrumentation to softly soothing vocals that are brimming with versatility and soul-stirring crescendos. We finish on "Still Night", a captivatingly stripped back rendition of "Silent Night". All in all it's the perfect soundtrack to get you in the festive spirit. A truly soul soothing experience that covers a lot of ground and keeps us thirsty for more.
Connect with Isobel and Friends: