Over the decades, gambling has proven to be a timeless Hollywood subject. While films about poker, casinos, and related topics rarely smash the box office wide open, they tend to have fairly reliable bases; enough people are interested in these topics, and aware of the history of gambling cinema, to make up a respectable audience. As a result, the genre has been a steady one, and it seems that every few years we get a fresh, enjoyable gambling movie.
Ranking the best of them is difficult because there are more out there than you may realize. But this is one look at how they stack up.
1. Ocean's 11 (2001)
Ocean's 11 may not explicitly be a movie about poker players or casino enthusiasts playing games. It is however the quintessential modern Vegas film, and in a way it concerns the biggest gamble of all: knocking over a casino. This film's vaguely romanticized depiction of Sin City is just intoxicating, and the ensemble cast led by George Clooney and Brad Pitt jelled in an unforgettable, sensationally effective manner. It says a lot that 17 years after this film's release, the spinoff Ocean's 8 even beat a Star Wars movie and a Marvel flick at the box office – not to mention every previous "Ocean's" movie!
2. Rounders (1998)
If this discussion were purely about poker movies, Rounders would have to be in the top slot. This is due in part to the fact that it's just a great film, built around outstanding performances by Matt Damon, Edward Norton, and John Malkovich. However, it's also because of the movie's place in history, right on the cusp of – and some would say even responsible for – the amateur poker boom of the early 2000s. There is some light chatter regarding a possible sequel, and for my money it can't come soon enough.
3. Molly's Game (2017)
This is the most recent film on this list, and certainly one of the best. It's also just about unique among high-profile gambling movies in that it's based directly on a true story. That story – of a young woman who runs an underground celebrity poker ring and winds up in conflict with the FBI – was brought to life in wonderful fashion by the great screenwriter Aaron Sorkin (who also directed), as well as Jessica Chastain in the lead role. Its poker scenes are a lot of fun, but it also provides our only major cinematic glimpse into the world of celebrity gaming.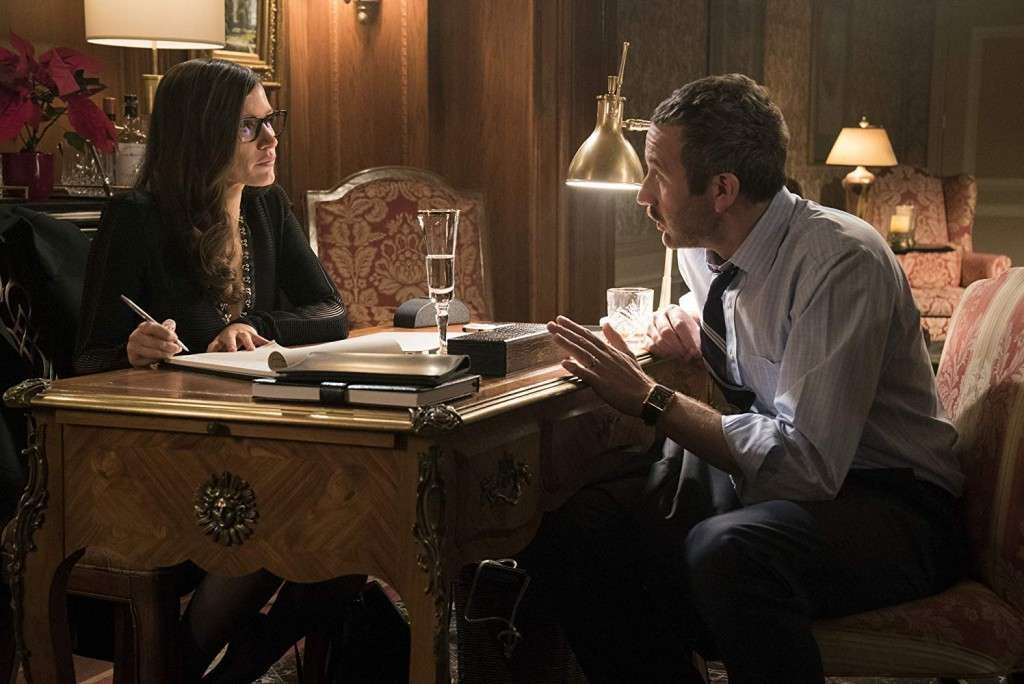 4. Casino (1995)
Equal parts mob movie and casino drama, Casino would be plenty of people's pick to top this list. It's a wonderful, tense film that gives its own compelling vision of Vegas, and the cast of Robert De Niro, Sharon Stone, and Joe Pesci, directed by the incomparable Martin Scorsese, is tough to beat.
5. The Sting (1973)
The Sting's only issue is that to a modern audience it can look a little dated at this point. Aside from this slight problem though it's a brilliant piece of filmmaking. More of a con movie than an explicit gambling one, it's still typically put in this category, and does deserve to be here. More than anything else though, it's one of a few examples of Paul Newman and Robert Redford – who were Clooney and Pitt before Clooney and Pitt – working together at the height of their powers. It may not quite be Butch Cassidy And The Sundance Kid, but it's great in its own right.
6. Mississippi Grind (2015)
Mississippi Grind flew under the radar when it was released in 2015, but it's one of the more heartfelt, emotionally effective gambling films ever made; said one review, it'll break your heart! That may be a slight stretch, but it's true that the buddy-road-trip duo of Ryan Reynolds and Ben Mendelsohn have a strong connection that carries this movie. The actual themes of the movie are somewhat tired (a gambler's getting in over his head again), but that doesn't stop the ride from being a thrill.
7. Casino Royale (2006)
Some are reluctant to consider a James Bond movie a true gambling film, but there's really no questioning it with Casino Royale. Sure, it's not exactly Rounders in terms of the amount of screentime dedicated to poker games, but there are a couple of high stakes games played out on screen, and the whole aesthetic of the movie is basically casino-themed. It all works to add a new level of tension to what's otherwise a standard spy flick, and Daniel Craig in a tux gambling millions doesn't hurt matters.
8. 21 (2008)
21 joins Molly's Game in that it's at least loosely based on a scandalous gambling drama from real life. In this case, it's the story of a sort of elite math club directed by a professor to become a card counting team bound for Vegas from New England on the weekends. It's not a masterpiece of filmmaking by any means, and it takes a few liberties with the true story in the name of drama. But it's actually a great glimpse into the very concept of counting cards, and it features plenty of thrilling gambling scenes, both in Las Vegas and elsewhere.
9. Runner Runner (2013)
Runner Runner was by no means a great film. It does cover some original ground however, in that it actually touches on the online casino business, which is more relevant to modern audiences by the day. Free casinos make it possible for anyone to play, mobile casinos embrace quality and functionality for easy access, and there are plenty of high-stakes digital games as well. All of this represents how most people interesting in gambling play the games these days, and Runner Runner is the only movie to explore that world at all. Granted it doesn't do a great job of it, and gets a little too caught up in crime and action – but the effort counts for something.
10. The Cincinnati Kid (1965)
As with The Sting, this movie can look fairly dated to people watching today. It's a true classic of the genre however, and should still be required viewing for anyone interested in this subject matter. It's basically a straightforward poker drama in the format of a boxing movie or something of the like, with an up-and-comer taking on an established pro in a bid to take the metaphorical crown. Steve McQueen stars in one of the better efforts of his career, which is saying something.