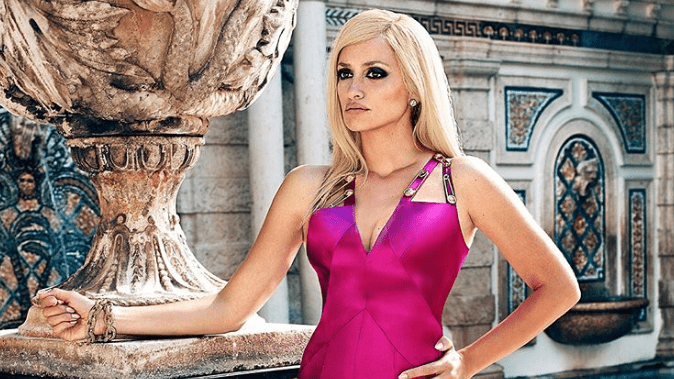 Stylish and vivid, violent and colorful, the newest installment of FX's American Crime Story anthology series (Wednesday, 10 ET/PT, ★★★½ out of four) is not a courtroom drama like 2016's The People v. O.J. Simpson. Nor is it really the story of the death of Gianni Versace, the famed fashion designer who was shot dead on the steps of his Miami Beach villa in 1997.
Instead, the nine-episode series, from executive producers Ryan Murphy and Tom Rob Smith, based on the book Vulgar Favors by Maureen Orth, is the story of spree killer Andrew Cunanan, who claimed Versace as his fifth and final victim. The series spins backward in time, peeling back the layers of one of America's most enigmatic killers, brought to life with disturbing energy and commitment by Darren Criss, who has decidedly left his wholesome Glee character in the dust.
The series unfolds like the operas for which Versace designed costumes. Its first moments are also Versace's (Edgar Ramirez) last, as they chronicle the fateful morning when he was shot by Cunanan and mourned by his lover, Antonio D'Amico (Ricky Martin), and sister, Donatella (Penélope Cruz).
Soon, the series leaves the Versaces behind to focus on Cunanan, occasionally weaving in flashbacks to Versace's childhood and ascent to fashion stardom. Whether it's responsible to give a killer a starring role is never quite examined, at least not in the first eight episodes. Each takes a step backward in Cunanan's life, including his murders of Lee Miglin (Mike Farrell), David Madson (Cody Fern), Jeff Trail (Finn Wittrock) and William Reese (Gregg Lawrence). And eventually the series travels back to Cunanan's troubled childhood to decode the man.
Cunanan is a grotesquely fascinating figure, but Versace's weakness, especially compared to People v. O.J., is that his life (and death) wasn't eventful enough to to devote nine episodes. Cunanan's tale is simpler, with fewer points of view than the O.J. saga. The series' reverse chronology is captivating, but it occasionally confuses the events in the killer's life.
Versace zeroes in on the struggles gay people faced in the 1990s, from the police homophobia it argues derailed the manhunt, or a side story about the military's "Don't Ask, Don't Tell" policy, but some of the moments are too heavy-handed.
However, the series' strengths lie in its spectacle. Murphy has a knack for grandiosity, and, as with American Horror Story, Versace marries the extravagant with the violent. Even when the series stretches its plot too thin, bold direction mostly makes up for it, ensuring that there is always something to look at, either beautiful or repulsive.
The series is grounded by sublime performances from its cast, led by Criss (and we're guessing the Emmys will notice); Martin, the singer whose deft and subtle acting skills may surprise viewers who missed him in Spanish-language TV; and Cruz, whose portrayal of Donatella never borders on cartoonish.
Versace will inevitably be compared to People v. O.J., so it's better that it stands apart from the earlier Emmy-winning chapter. What it does well, it does extremely well, and its mix of beauty and horror will stick with you long after its episodes conclude.
Want to talk about TV? Join us for our Critic's Corner TV chat Monday at 2 p.m. ET on facebook.com/usatodaylife; email questions to criticscorner@usatoday.com.