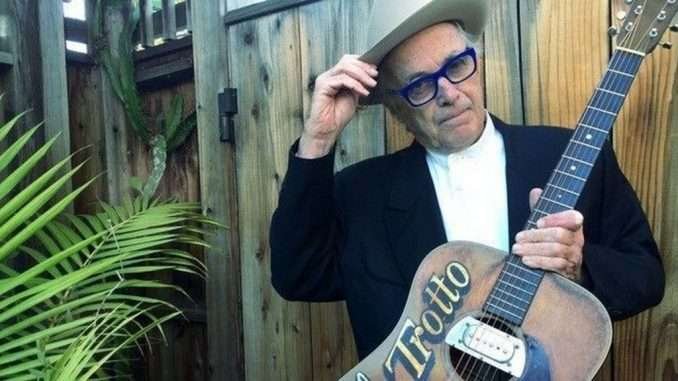 Guitarist, singer, songwriter and film composer Ry Cooder will release his new album, the gospel-minded 'The Prodigal Son,' on May 11. (Joachim Cooder
Gorgeously gritty guitar sounds waft through a north Santa Monica neighborhood on a recent morning. They emanate from a home studio and workshop, one where veteran musician Ry Cooder spends hours studiously making adjustments to his plethora of guitars, amplifiers and sonic accessories.
At this moment, he's working on a guitar-amp combination that he's tweaking so he can replicate the various evocative and roots-driven sounds heard on his new album, "The Prodigal Son," on the solo tour he's undertaking next month.
That tour, his first in a decade, is spotlighting his first new studio outing in six years, one that showcases the signature style of one of the world's great guitarists on a batch of original songs and vintage gospel numbers chosen to promote a message of empathy and unity in a fractious world.
Among them are a couple of Blind Willie Johnson songs, "Nobody's Fault But Mine" and "Everybody Ought to Treat a Stranger Right," Alfred Reed's "You Must Unload," Carter Stanley's "Harbor of Love" and the traditional gospel song "I'll Be Rested When the Roll Is Called."
After decidedly political projects including "Chavez Ravine" in 2005, about the forced displacement of hundreds of Latino families in the late '50s and early '60s to make way for Dodger Stadium, "I, Flathead" in 2008 and "Election Special" four years later, Cooder said he's lost interest in making overt political statements.
He told himself, "You did all that, now put that aside. Politics is no longer an issue, because it's dead in the water as an issue in this rubble of politics. So why sing about it? I don't want to — it's too depressing. Let's sing about something interesting and fun."
The notion of a group of gospel-focused songs seemed to fill that bill.
"In these times, all I can say is, empathy is good, understanding is good, a little tolerance is good," he said. "We have these dark forces of intolerance and bigotry that are growing back
"The gospel music has a nice way of making these suggestions about empathy. It's a nice musical way of suggesting that, of reminding people of that," he continued. "Plus, I like the songs, I have to admit. They're nice songs. Pretty. Beautiful chords, great melodies, for sure."
And Cooder's challenge of the moment: sussing out the combination of equipment that will allow him to replicate the studio recordings. It's a brain teaser on some level, in that choices made in a studio for certain effects on a recording don't automatically translate into the live performance arena.
"I have to have small equipment like this," he said pointing to a modest-sized amplifier at his feet. "Small gain structure, but big [sound]. But soft, not too loud. If it gets too pointy, like modern equipment does, then you play past the stage level. We're all going to sit, singing and playing — it's more like a swing band. It must be moderate, and yet it must sound good. If it's too dry, then it's not fun."
Even with the seemingly infinite combinations of volume and tone settings on various instruments, amplifiers, foot pedals and accessories, ultimately what he's after couldn't be more basic.
"It's about everything good," says Cooder, who grew up in Santa Monica just a few miles south of where he lives now with his wife, Suzy, next door to their son, drummer-composer Joachim, his wife, singer-songwriter Juliette Commager, and their grandchildren.
"I want to be happy, I want to have a good sound, instead of a bad sound," he said. "To paraphrase the great [country singer] Kenny Price: Make it sound good instead of bad."
Cooder often pares things back to the fundamentals in this way, whether it's in his soulful guitar playing, his way of expressing himself or his choice of songs.
"The Prodigal Son" consists of several gospel songs he's known most of his life, but they're wedded to tracks his son, Joachim, came up with that elevate them out of the realm of historical reconstruction and give them a sonic as well as thematic relevance.
The project grew out of a tour he and Joachim did three years ago with country-bluegrass musician Ricky Skaggs, and wife Sharon White's group the Whites.
"After that tour, Joachim came to me and he said, 'Well, you saw the audience. They want to hear some of this old stuff of yours, this kind of stuff, like you used to do. Let's make a record and then go travel around and play it.'
"I said, 'Fine. But a record of what?' I didn't know. Hadn't quite figured that out," he said. "We sang a lot of gospel music on that [Skaggs/Whites] tour, and it was really great to do. Beautiful songs, beautiful lyrics. Maybe that's the record. But how do I do that?"
Enter Joachim, who has collaborated with his father on several albums and tours and released a couple of solo recordings.
He had been building a stockpile of atmospheric tracks that appealed to his father as an entry point to resurrecting old gospel songs for a new era. Cooder said it appealed to him that he wouldn't be starting entirely from scratch for this album.
"He had already been doing these things," Ry said. "I just adapted some of these tunes on this record to those, then played over them, sang over them…. It evolved. It went down that road and I was happy to see that I could do it, that it was going to be OK, with a little bit of reinterpretation.
" 'Straight Street' is not the Pilgrim Travelers circa 1955, or whenever that record was done," he said. "It's a different version. 'Harbor of Love' is not the Stanley Brothers at all, but a beautiful song, done a different way — thanks to Joachim's background tracks that he had been working with."
Any number of biblical aphorisms seem befitting of the process that resulted in "The Prodigal Son": God will provide, the Lord works in mysterious ways, the Lord giveth and the Lord taketh away, ask and ye shall receive.
For example, as soon as talk of a new tour began, Cooder felt for a time that he didn't have a prayer, given that three singers who worked with him on the album wouldn't be available for the trek.
Blues, R&B and soul singer Terry Evans died last year, Louisiana singer Bobby King has since devoted himself exclusively to preaching, and Arnold McCuller is busy touring with James Taylor these days.
"People who do this all year for let's say 30 years, they know exactly what they're gonna do," he said. "But I don't. We had to start from nothing."
It was more than a matter of just lining up several new singers.
"We made this record [and] the singing is a primary component, so it has to have that kind of singing. That's retro singing. That's not modern. Not even modern black gospel music sounds like that anymore. It sounds very different now, just go on YouTube and see. So when Terry died, I thought, "Whuh, oh! Wait a minute, what do I do?"
McCuller made a suggestion that Cooder considers a blessing, bordering on a miracle.
"Arnold said, 'Go find the Hamiltones,' and he was right, and I did," Cooder said. "But that took months to get them to the point where they wanted to do it with me.
"This was the panic moment: What if they say no? At first they said no, and it went on and on and on….I was at the point where I wasn't sleeping, I was so scared. You take the dates, right? Because you have to. Then, you say, 'I've taken these dates, I've said yes to these shows, and I don't have a group. I don't, really. I haven't done this for years — what do I do?
"Finally they said yes," he said. "They're terrific. They're a trio of young Southern black guys from Charlotte, N.C., really good, real quartet-style singers. So we're in good shape."
The tour opens June 4 in Alexandria, Va. As of press time for this article, the closest it is scheduled to come to his hometown is a pair of shows that conclude the live run on July 19 and 20 at the Great American Music Hall in San Francisco.
He's not certain whether an L.A
date will be added, but he is feeling confident about the content and context of the songs chosen for the album, and those he wrote to complement the vintage gospel songs.
The new ones include "Shrinking Man," in which Cooder makes the case for simpler ways of living amid an increasingly complex and technology-dependent culture, the self-explanatory "Gentrification" and the imagined meeting of two iconic figures, "Jesus and Woody."
"You get funny ideas," he said. "The thing about Jesus and Woody [Guthrie] popped into my head one day. I was sitting there and I thought, Woody Guthrie sang, '[You] fascists bound to lose.' It was wartime — World War II. I'm sure he was thinking, like a lot of people thought then, 'We beat fascism.' The killers were dead, good had triumphed.
"I thought that was an interesting conversation: Jesus and Woody sitting around the heavenly throne thinking of the old times when it was possible to dream a dream: This land is your land," Cooder said. "It's obviously not true. It's a nice idea, but it just isn't so. It doesn't belong to us, as it turned out."
At this point, he checks his tendency to pivot dark, citing his wife's advice on songwriting: "Suzy's told me this for years: 'Don't bear down so hard in your lyrics. Don't make it so apocalyptic.' That's fair.
"The trick is to say it in such a way that isn't too discouraging," he said. "Because if you discourage people and they feel bad, they won't want to hear your record. It's kind of a fine line. But it's a nice song, and it's worth trying. So I threw it in there. It's got a pretty guitar sound, I like the effect of it."