Initially starting out as a garage band Red on Red released their first EP in 2009 followed by a string of Australian shows over the years to come. Within a few years the band hopped a flight to Los Angeles gracing the stages of some of LA's most iconic venues (Whiskey a go-go, Hard Rock Hollywood, Key Club and the Viper room.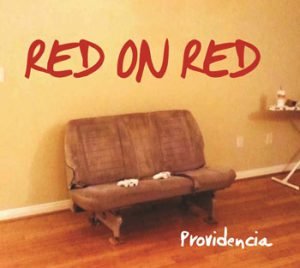 In 2016 Red on Red released their debut album, "Providencia", produced by the band and engineers, James Russel and Elliot Heinrich at Heliport Studios (Sunshine Coast) and mastered by Tom Coyne (Adele, Sam Smith, Taylor Swift, Mark Ronson). Red on Red are: Bonnie – Vocals & Keys, Justin – Bass, Andrew – Drums and Pablo on guitar, who joined the band in 2015.
"Providencia" is not an overproduced, auto-tuned, mechanized record. This is just gritty, guitar-driven rock and roll. Though rock music can often times be found stale from an over-saturated market and radio, Red on Red brings a new take to the genre with as much ease as The Beatles brought to their own sound.
The album is a collection of hard hitting songs that both showcase great musicianship, and extraordinary vocal work by Bonnie who is ready to take the world head on. Her vocals will leave a haunting echo in any listener's heart, as she sings both personal and relatable lyrics over smashing drums and dirty guitars.
Stand out tracks include the songs "Yesterday" and "Long Way From Heaven" – two songs that though polar opposites in tempo and texture, offer the same melody driven groove that gets retained in your mind long after listening.
Red On Red
Red On Red
The idea that rock and roll is dead obviously hasn't come to the attention of Red on Red, as songs like "Rockstar", "Thunder And Lightning" and "Through The Cracks" is proof that unbridled rock music with high intelligence is not only plausible, but executable.
Bonnie is a stand out singer and front runner, offering the perfect blend of classic rock vocals with rough around the edges rasping, often reminding me of the legendary Pat Benatar in her vocal phrasing.
All the way through the band drop spine-tingling power riffs and rhythms with vibrancy and honesty – something heartfelt rather than manufactured – that is able to grab your attention quickly. Creative grooves and rough attitudes pervade most tracks. But Red on Red demonstrates a delicate touch and true heart when needed as well.
This really is a great rock and roll album and if you like bands like Halestorm, Cherry Bomb, Paramore, or In This Moment you will enjoy this too. Though it does not feel like cookie cutter rock, which is really saying something these days, and with "Providencia" being a debut, it's clear there's a lot more to be had from this band, and each follow up is only destined to be better.
OFFICIAL LINKS: WEBSITE – FACEBOOK – ITUNES – AMAZON – GOOGLE PLAY