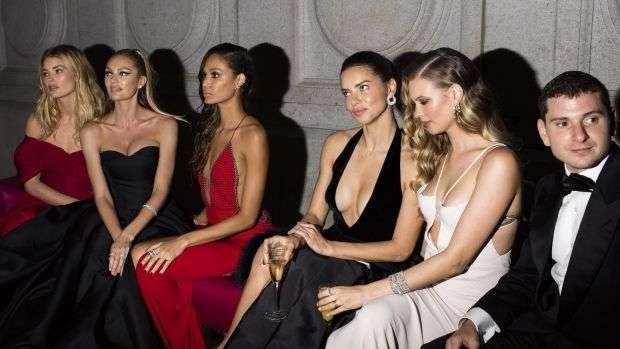 Gigi Hadid makes her entrance at the Met Gala at the Metropolitan Museum of Art in New York, May 1, 2017. Photograph: Benjamin Norman/The New York Times
What is the Met Gala? Officially, it's the Metropolitan Museum of Art Costume Institute benefit, a black-tie extravaganza held the first Monday in May to raise money for the Costume Institute (aka the fashion department).
Unofficially, the night's festivities have been called many things, including "the party of the year", "the Oscars of the East Coast" (mostly because of the star quotient and the elaborate red carpet, where guests pose on the grand entrance stairs to the museum) and, somewhat pointedly, "an ATM for the Met", the last by publicist Paul Wilmot. The party signals the opening of the Costume Institute's annual blockbuster show, and it is known for its celebrity and fashion hosts.
This year the exhibition is "Heavenly Bodies: Fashion and the Catholic Imagination," and the hosts are Anna Wintour (the magical manipulative Wizard of Oz for this particular event), Rihanna (who has a starring role in the coming Met Gala heist movie, Ocean's 8), Donatella Versace (because her brother Gianni had a thing about Catholic iconography) and Amal Clooney (because . . . well, who doesn't want to stand in a receiving line with Amal Clooney?).
Stephen A. Schwarzman, a founder of Blackstone, and his wife, Christine, are honorary chairs. They are the first people to name-sponsor a fashion exhibition since 1997. That's a big deal. It's also big money.
How much does the Gala cost?
Tickets this year are $30,000 (€25,100) apiece, and tables are about $275,000 (€230,588). The party and exhibition are sponsored.
All of the money from ticket sales goes to the Costume Institute, which it needs because it is the only one of the Met's curatorial departments that has to fund itself, fashion having been an iffy proposition as an art form when the Costume Institute was established. Last year, just over $12 million was raised. Of course, not everyone pays for a ticket.
A brand will often invite celebrities to sit at its table, and Wintour also often invites up-and-coming designers who may not be able to afford a ticket and scatters them around the event. This makes them really excited and makes them feel like they owe her. If they didn't already.
Why would anyone pay that much for a party?
Wintour, editor of American Vogue and artistic director of Condé Nast, took over as chairwoman of the gala in 1999. Since then, she has been instrumental in transforming a local philanthropic event into the ultimate global celebrity/power cocktail: Take a jigger of famous names from fashion, add film, politics and business, and mix.
It has become the gold standard of parties, that by which other benefits are measured.
It's such a heady combo that President Donald Trump proposed to his wife, Melania, during the gala in 2004. (In case you are wondering: No, they are not expected this year.) It is among the hardest party tickets of the year to get and thus, intensely coveted.
But wait: Isn't the current pope all about poverty and inclusion? How does that work?
If the Vatican doesn't see a problem with it – and it has given a seal of approval, lending approximately 50 pieces from the Sistine Chapel Sacristy – then should you?
The reasoning seems to be: Anything that celebrates Catholicism and opens it up to a broader audience is a good thing, and these exhibitions are that.
Both major Costume Institute shows in 2015 and 2016 drew the magic over-700,000 number of visitors, which makes them among the most-visited Met shows.
Still, the show's curator, Andrew Bolton, was careful to separate the church's clothes from the designer clothes. The sacred pieces will be exhibited by themselves in the Anna Wintour Costume Centre and the profane will reside in a separate space.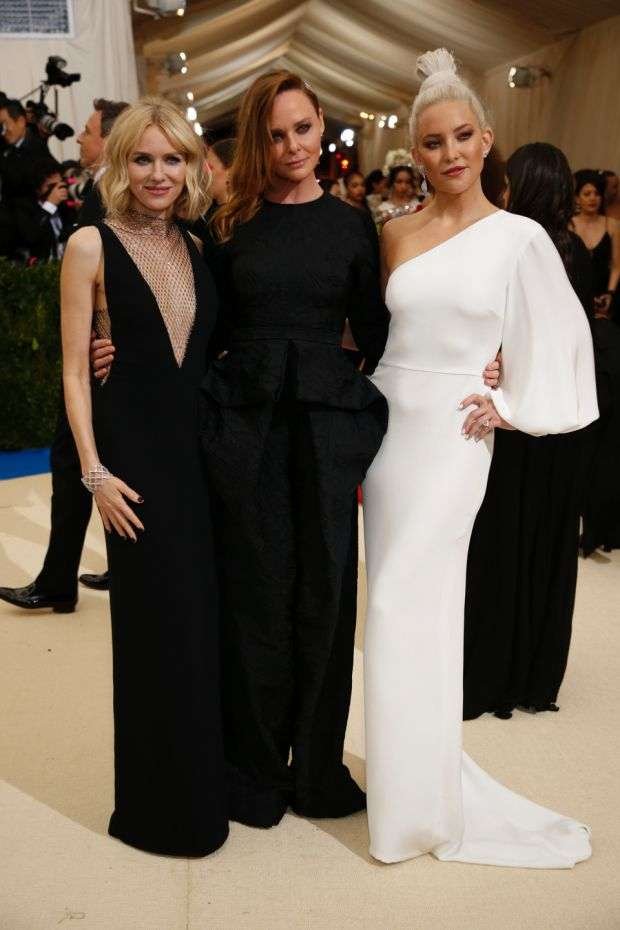 How many people get to go to the party?
Last year, about 550. But that was a more intimate event for a more intimate show, "Rei Kawakubo/Comme des Garçons: Art of the In-Between", which was devoted to the cultlike Japanese designer who once said her goal with one collection was "not to make clothes."
By contrast, "Heavenly Bodies" will be the biggest exhibition the Costume Institute has produced – about 58,600 square feet, stretching over three galleries: the Anna Wintour Costume Centre and the medieval rooms in the Met on Fifth Avenue, and the Cloisters in far northern Manhattan – and odds are the gala will be equally ambitious.
So if I can afford a ticket, can I go?
Dream on. Unlike other cultural fundraisers, like the New York City Ballet gala or the Frick Collection Young Fellows Ball, the Met Gala is invitation only, and there is a waiting list.
Qualifications for inclusion have to do with buzz and achievement (and beauty), aka the gospel according to Anna, more than money. Wintour has final say over every invitation and attendee, which means that even if a company buys a table, it cannot choose everyone who sits at its table: It must clear the guest with her and Vogue and pray for approval.
OK, you're saying I can't go. So why should I care?
It's reality TV at its most glamorous. See Tom Brady and Gisele Bündchen being much more perfect than any normal couple could hope to be! Check out Chelsea Clinton kissing Diane von Furstenberg! Watch Tom Ford try not to step on Sarah Jessica Parker's train! Judge whether you approve of the outfits!