The Leukemia & Lymphoma Society® (LLS) is a global leader in the fight against cancer
In this interview Michigan Executive Chair,  Vera Grigorian talks about the fight against blood cancers.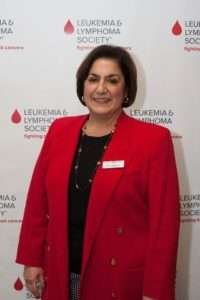 Hello Vera Ann Grigorian, could you talk about your journey and how you got involved with Leukemia & Lymphoma society?  
One of my peers where I am employed was on the Board of Trustees for the Leukemia & Lymphoma Society (LLS) and she asked for my assistance during one of the annual campaigns – Man/Woman of the Year Campaign.  I researched the organization and was drawn to it for the following reasons:
Up to 2017, leukemia was the #1 disease killer of children under 20 (it is now #3).
Since the 1960s, the survival rates for many blood cancer patients have doubled, tripled and even quadrupled
As a resident of Michigan, a great deal of the research dollars raised goes to the University of Michigan for research.  LLS has funded over $20 million in research at the University of Michigan alone throughout the years.
Blood cancer isn't publicized in the media and I know that sounds odd, but you hear a lot of other types of cancer, like skin cancer, not talked about a whole lot. As you noted, people should know more about it. Is that right?
Yes – The Leukemia & Lymphoma Society (LLS) is the world's largest voluntary health organization dedicated to funding blood cancer research, education and patient services.
LLS helped advance 48 of the 55 blood cancer treatment options approved by the US Food and Drug Administration since 2017.
What really stands out for me and what people need to know is that LLS research extends beyond blood cancers.  Many of the therapies they have helped develop are now being used for a variety of other cancers and other diseases.
For example, FDA-approved blood cancer therapies are currently in clinical trials to treat the following forms of cancer and other diseases:
Brain Cancer
Breast Cancer
Kidney Cancer
Liver Cancer
Lung Cancer
Lupus Nephritis
Melanoma
Multiple Sclerosis
Ovarian Cancer
Pancreatic Cancer
Prostate Cancer
What are your goals and what would you love to accomplish?  
To live in a world without cancer!
What would you say to a loved one who's family member was just diagnosed with Leukemia & Lymphoma ? Where would they turn for support?
There is never a good time to be diagnosed with cancer but patients should have hope. New therapies are being approved at a rapid pace and the options for treatment have grown significantly. The LLS makes it a priority to support patients and families who need support through a cancer diagnosis. From information and education to peer support and financial aid, the LLS is here to help.   LLS has local chapters throughout the United States and Canada.
To be connected with support services, please call their Information Resource Center at 1-800-955-4572  or go to www.lls.org.
5. How close are we to any cures?
From everything I have learned during my years of involvement with LLS  we are making great strides and advancement in the treatment of blood cancers but we still have a long way to go in the cancer world. It is an exciting time at LLS and we are thankful to continue watching the survivorship numbers grow!
For donations, please go to https://pages.lls.org/mwoy/mi/detroit20/LeadershipTeam