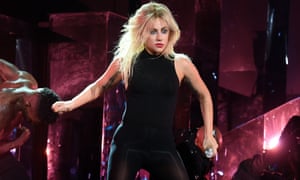 Filling a slot that was once set to be occupied by Beyoncé is at best difficult and at worst utterly terrifying, her position at the very top of the industry uncontested. So when she had to drop out of headlining Coachella because of her pregnancy, organisers were stuck with the unenviable process of finding another performer to satisfy a disappointed crowd.
More divisive than Queen Bey but with an equally fervent fanbase, Lady Gagaseemed like a smart choice. As the poppier option of the festival, her music still integrates other genres, such as her recent move into country, and she's even got Beyoncé's stamp of approval with two collaborations under her belt. She also followed in her footsteps by taking on this year's halftime show at the Super Bowl, delivering an energetic performance even if it lacked some of her trademark experimentation.
From the opening of her Coachella debut, that was most certainly not the case. An ambitiously mounted set kicks off with a fast cut of images, including Gaga with a snake coming out of her mouth before she emerges in a leather ensemble, complete with Madonna-esque spiked breasts and a light shining from her stomach. The crowd, which appeared a bit ambivalent about last night's headliner Radiohead, welcomed her with rabid enthusiasm and as her many hits unfurled, they danced with a collective glee.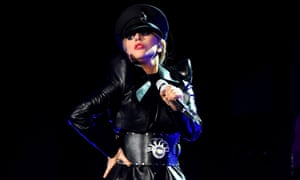 As one would expect from Gaga, there's still an unflappable desire to entertain and confound and she orchestrates wildly different settings for each of her performances throughout the set. For an act brought in late as a replacement, she made it feel as if this was a stop on her tour, the care and detail difficult to fault. The set list had a slight feeling of "one for them and one for me" as she alternated between hits and newer country-skewed tracks. Just Dance, Telephone and Love Game were all met with a crowd well-versed with the lyrics and eager to show their familiarity with the choreography, but there was a surprising disinterest in her more recent successes.
Her last album Joanne was a strong seller, but as soon as she started interspersing these songs, it became a slightly tougher sell. Even A-Yo, which received a hefty amount of US airplay at the end of 2016 left the crowd cold.
Her newer output doesn't have quite the same impact and interest started to wander when she returned to pushing the country agenda. Gaga seemed aware of the chilly reaction and used the festival to premiere a new song that returns to the solid 80s-themed pop that's worked for her before. Think Edge of Glory meets Born This Way. It's not automatically memorable, but it's closer to what the fans appear to want.
Her interactions with the audience are a curious mix of sexually suggestive teasing and rather inane teenage Dear Diary entries – "Does anyone else feel like they're from somewhere else?" – but she's as respectably indebted to her fans as ever. She even runs into the audience to interact with them at one point. There's an edge to the proceedings – at one point she tells a dancer to "get the fuck" out of her way when he appears to stumble – and her shifts between rock, trance, country and pop suggest that she's trying to appeal to a Coachella audience that might have pigeonholed her. She even tries turning her recent ballad A Million Reasons into an EDM banger. But the naysayers appeared to be in the minority as the majority of the millennial crowd hung on her every word, both spoken and sung.
What she manages, ultimately, is to create a set that's difficult to fault. Yes, some of the newer songs don't always land, but she's a consistently electrifying performer and in less than two hours, offers fans a whistlestop tour that reminds them why she's worthy of a Coachella headline spot. Sloppy seconds she most certainly wasn't.