Michel Jordi's latest book  "IGNITE THAT SPARK"  is the "10 Commandments of Entrepreneurship". A very inspiring must-have book for every growing entrepreneur who wants to take the leap into freedom and turn his passion into his profession.
1) How did "IGNITE THAT SPARK" happen? What was the inspiration behind the book?
After publishing my autobiography in November 2017, I just had this urge to write this guidebook to inspire aspiring entrepreneurs to break free. Thanks to our highly digitalized world, you don't need a big infrastructure to start your own business. A laptop and a smartphone will do. Your only investment is time and commitment. So instead of waiting to get fired in a world of uncertainty, why wouldn't people start their own business? "Ignite that spark" is their guide to do just that.
2) Today there are number of motivational and self-help books in the market. So how is "IGNITE THAT SPARK" different from the crowd? What would be your best pitch forward?
This is not just another book. It's a message and a whole new feeling. An awareness and a movement. The story of a rollercoaster career and life of a serial disrupter who encourages people how to break free, live their passion and make their dreams come true through concrete examples coming from my five business ventures. It also goes way beyond the simple black and white text so often found in business books and teaches through clear and practical imagery and motivates through a song and its storytelling video clip. Ignite That Spark seeks to ignite not just that spark inside of you, but a positive movement throughout the world to make a difference. Further, recognizing that time being such a precious commodity, I deliberately adopted a straight-to-the-point approach. Fast readers can read through the book within 48 hours and I assure a great take-home value.
3) How can one stay motivated on one's goals in today's tiring environment where someone/ something or the other is always trying to pull you down?
Michel: To have faith in your ability to achieve your goals, to persevere, to stay focused and to understand that giving up is no option. And last but not least, to surround yourself with a dedicated team to back you up.
Kim: Take it one step at a time. At the end of the day, if you manage to do even just one thing every day taking you towards your goals, that's 30 things a month and 365 things at the end of the year. Perseverance, commitment and consistency are key and more important and productive than one big burst of work once in a blue moon.
4) What was the experience in getting the book published?
Michel: It was an amazing experience and very comforting to know that my family always stood right by my side. Especially my daughter Kim who in the final weeks helped me to polish up and finish the book through night sessions as this was the only way to meet the deadline we had fixed ourselves.
Kim: Thrilling! Exhilarating! So much fun! A journey in and of itself. A beautiful father-daughter adventure.
5) On a personal note, what keeps you motivated? Whom do you draw inspiration from?
Michel: I draw my inspiration from above, from that invisible spirit that is guiding me daily. From the strength which I draw from nature, sports and my relentless trust in the power of positive thinking. Yes, I can! and understanding that I am the one who sets my own limits. "Don't believe in what your eyes are telling you, all they show is limitation!"  Quote from Jonathan Livingston Seagull".
Kim: For sure my parents and my brother but also simply myself. Always wanting more, knowing I can achieve more, that I am capable of more, not settling. Also being very often inspired and motivated by athletes and the sports approach. Tom Brady's #neverstopbelieving Through life, seeing what my body can do I've realized that the real power does come from our mind. Finally, as Simon Sinek says, know your "WHY." Why you do it all. What is your goal? What are you trying to achieve? Where are you trying to go?
6) Any advice to your readers out there?
Michel: Believe in your ability to move mountains and that giving up is no option! Rise early, stay focused and work and work and work almost to the point of obsession. This is what it takes! Don't settle for compromises and don't take NO for an answer.
Kim: Never stop believing. In yourself, in the world, in the fact that you can achieve anything you want. Almost everything is truly possible. The Universe is the limit and it will help you in unexpected ways. Believe in the invisible net. I've experienced it many times. Don't let other people's fears stop you. Often they are not your own but just projections of other people's. However, if you are not careful, they can become your own. You know best what is best for you. Trust yourself. And often times, it's not the people you seek comfort and support from who will be able to give it to you but rather new unexpected persons. So be positive, stay curious and be open to even the most unbelievable possibilities. This is where opportunities will rise.
Get started. Projects take time to evolve and they will change. Don't focus on a specific fixed idea. It will hold you back. Be open to the unknown. It will reveal many things. Finally don't be afraid to just ask. The worst that can happen is that people will say no but at least you will know and can move on to the next question.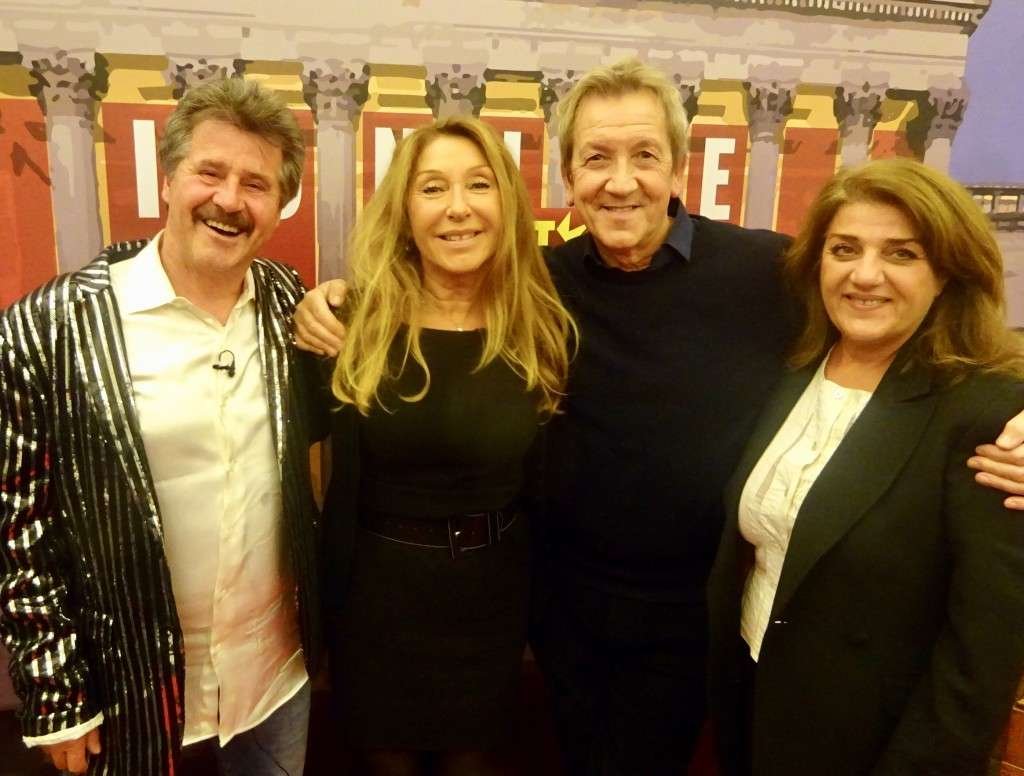 7) We listen to The song "IGNITE THAT SPARK", and this song really helps you get pumped up, inspired and ready for anything !! what was your songwriting process like?
Franceska: I was initially inspired by Michel's book and that same inspiration led me to want to write a song for the book! I began by putting down the lyrics and then contacted my colleague, Chris Eaton. I sent him Michel's website to see if he agreed. He was also totally taken by the project. He agreed that a song was needed to reflect the energy of the book, and so came the creation of our song, Ignite That Spark! We've been co-writing with Chris for 24 years so the process of writing a song that we know each of us will love comes naturally. Chris is extremely talented not only as a writer and producer, but also as an artist. And we were equally lucky to have the amazing and beautiful voice of his wife Abby Eaton on the song also! We needed to capture the uplifting and positive spirit of the book and I believe Chris, Abby and I did just That!
Music Video : "Ignite That Spark" Video Production : View Studio Greece – Video Direction: George Gavalos
Songwriters: Franceska Aeschlimann / Franamusic Suisa, Chris Eaton / Clouseau Music, SGO Music Publishing Ltd
Singers: Abby and Chris Eaton
To be an entrepreneur is to break free and to live your passion
Disrupting the traditional way we look at business through imagery and music is the purpose of this captivating and unique handbook. This has been my inspiration to approach life, freedom, work and the making of the business plan.
"Swiss Ethno Pope" Michel Jordi has been known since the 1990s for his Swiss Ethno Fever products, which brought him international fame and recognition. In November 2017, he published his autobiography "GUTS– Giving Up is No Option" in German. On November 19th, 2018, he launched his new book "Ignite That Spark – 10 Commandments of Entrepreneurship" at University College London (UCL). True to his reputation as a serial disrupter, he has opted to follow that path by linking the book with a pop song. However, it is not "just another song," but instead a strong and encouraging message for up-and-coming generations. The lyrics reflect Michel Jordi's life and were written by Franceska Aeschlimann. The music was composed by British singer-songwriter Chris Eaton who performs it in a duet with Abby Eaton. Jordi's time is now dedicated to inspire and advise aspiring entrepreneurs to realize their own dreams.
Author: Michel Jordi
More information is available on our webpage www.ignitethatspark.com
Professional pictures credit: Judy Totton www.judytottonphotography.com