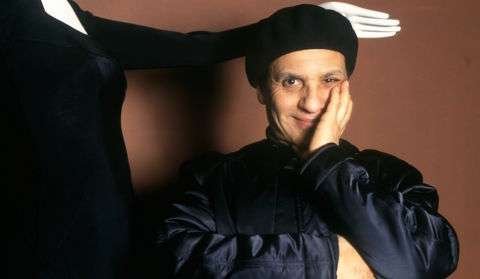 "I love (clothes), uncomplicated by details, ornamentation or color that remain beautiful and are timeless," the late Azzedine Alaia once declared. "I love those clothes which are simple but yet, the most difficult to make." "Je Suis Couturier,"pays homage to the greatest Tunisian fashion designer of our times. Situated under the vaulted glass ceiling of what was once Alaia's atelier/boutique (18, rue des Verrieres in the Marais) is a display of 38 iconic dresses, each one literally melting over the contours of the "invisible" dress forms underneath. There are no accessories, no superfluous details, no videos or other visuals to distract the eye from the pure genius of a man who spent his entire career trying to create…..the perfect dress. 
Azzedine Alaia left his homeland of Tunisia in the 1950s and arrived in Paris to study at the Ecole des Beaux Arts, a noted fine arts higher learning institution in the French capital. In able to pay for his room and board, he worked as a dressmaker. He did short stints the ateliers of Dior (one week) and Guy Laroche (two seasons). (It is rumored that he even worked awhile for Thierry Mugler and was responsible for Mugler's hourglass silhouettes!) Eventually Alais started working  for himself, making the acquaintance of socialites who adored his work.  By the 1980's word of mouth resulted in an impressive roster of private clients.  Celebrities, Tina Turner, Naomi Campbell, Grace Jones and even Greta Garbo bought and wore so many of this clothes, they literally became walking advertisements of his work.
"My obsession is to make women beautiful," Alaia admitted. "When you create with that in mind, things can't go out of fashion!"  Instead of following fashion trends and bending to the insatiable demands of an industry demanding change every six months, Alaia worked hard at perfecting his original designs. In the spirit of couture, he personally made each garment by hand,  its silhouette handled like sculpture. The garment was literally "carved" out of black or white fabric—jersey and leather being his favorite materials. 
Je Suis Couturier provides a brief but complete resume of Alaia's fashion legacy. The monochromatic setting of the venue with its back lit stalls provides the perfect backdrop for the pure lines of this collection. The journey into the creative vision of the master begins with his famous leather sarong skirts draped sensually around the hips and tied to one side.  Hovering nearby—a series of slinky jersey dresses  with metallic zippers that snake around the body's curves. Some cover the head with a loosely draped hood, a signature look with deep cultural roots. But this exhibition is not a simple ode to 1980 fashion trends. There are also more recent looks from the collection Alaia was preparing for last January's  Couture week before he suddenly passed away. Those dresses are part of a collection revealing a softer nature. Some float over the body in a veil of gathered tulle drawn in at the waist or settle on the feminine form in a flutter of mini ruffles.
Though the current exhibition in Paris is scheduled to close soon (June 10), anyone with plans to visit Europe will still be able to see the work of this master. Starting October 7, 2018, the exhibition moves over to The Design Museum in London (corner of Earl's Court road and Kensington High Street at the entrance of Holland Park).  In the meantime back in Paris, it is reported that  designer's former collaborators have formed an Azzedine Alaia Foundation in an effort to keep Alaia's legacy alive. According to vogue.com, Alaia  maintained excellent archives which included 60 years of patterns as well as the works of his favorite icons: Madame Vionnet, Madame Gres, Balenciaga and others. This Foundation has plans to transform the current premises  into a veritable museum with many more exhibitions on the horizon.  "Azzedine Alaia: Je Suis Couturier," is an lovely way to remember a giant in the history of modern fashion.
Written By Carol Mongo