A native of Greensboro, NC, Dakota "Kayo" Bracey could always be found freestyling at the dinner table or making tackles on the football field. After locking down receivers at his cornerback position for four seasons at Morgan State and receiving a Bachelor's Degree in Marketing, Kayo returned to his grass roots in North Carolina. Bracey rededicated his life to Christ and embarked on a huge journey. Kayo's 1st kingdom album "Starvation" was released in 2013 on itunes. His new single "Rebirth: Hardest Man Alive" has graced the radio air ways in several different markets. As a Christian Hip hop artist, Kayo is focused on not only becoming a mainstay in the Gospel industry, but also glorifying God in the process. Through it all, Kayo has remained humble. "Without God, I am nothing. Absolutely nothing. If no one remembers my name, I am completely OK with it. It's more important that they know who my Father in Heaven is and develop a relationship with him." Kayo Bracey is releasing his album "Small Victories" available on all major digital download platforms.
Which did you discover first – your faith or hiphop?
Kayo Bracey: Good question. I would say my faith. I was raised in the church, so I had a relationship with God way before I had one with a mic.
How have you conciliated the two?
Kayo Bracey: I honestly just knew it was time for me to make a change. I was originally a secular artist, but as I grew more, eventually the things I was rapping about weren't lining up with my lifestyle anymore. I wanted to make music that was dope enough to vibe to, but powerful enough to get you through tough times.
Do you feel your university studies will be of benefit to your musical career?
Kayo Bracey: A little. I have a marketing degree, so I guess you could say so. However, the majority of things that I've learned career wise, even with marketing weren't taught out of a text book. You honestly learn as you go; which tactics work the best, what music engages a certain target market, etc.
What are your thoughts on the current state of the hip-hop industry?
Kayo Bracey: I think it's really diverse right now. You have artists that make "mumble rap" that have catchy songs that the younger generation likes, but you still have a few really dope lyrically based artists that are holding the fort down as well.
How do you separate yourself from other hip-hop artists striving for success?
Kayo Bracey: I'm just me. Honestly, there aren't many artists out there that can put a fun spin on life's struggles. On my record "I Ain't Got It" I speak on how my fridge was empty, but I was making the best of it. I just think my lane/angle is a little different.
Who more than any other influenced your style and love for hip-hop?
Kayo Bracey: I don't sound like him whatsoever, but I was a huge Busta Rhymes fan. I loved his energy and how much fun went into his records.
If any, which artists do you identify yourself with or look up to as positive examples today?
Kayo Bracey: I'm a big Lecrae fan. He actually was the first Gospel Rap artist I heard that I liked. I felt that a lot of the other cats that were doing it sounded kinda corny. Like, If you record a whack song, but put God's name in it, does not erase the fact that it's not a good song. But I like Lecrae's creativity.
What do you consider a really successful or high point in your career so far?
Kayo Bracey: Last year I was named as NC's Rap Artist of the year by Featured Highlights. It was a pretty dope experience. For the longest, locally I've felt like I've been flying under the radar. It's good to be recognized.
How is the music and lyrics in your songs developed? For example, do you work with external Producers, and which usually comes first – the lyrics or the beats?
Kayo Bracey: I have a team of in house producers. The beats always come first. But I'm constantly writing. Sometimes not even to beats, but just to write. Sometimes previous verses fit on new beats.
What do you feel your listeners should get out of your music?
Kayo Bracey: Positive vibes baby. It'll put a smile on your face, because it's relatable. I literally have a song where I'm arguing with my debit card. We can all relate to only having a few dollars on your card, and holding your breath while making a purchase.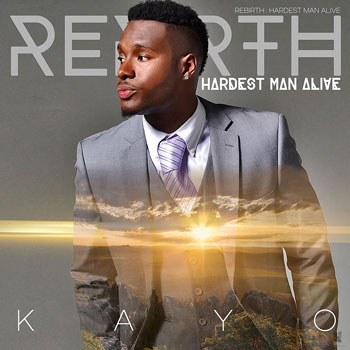 What has been the most difficult thing you've had to endure in your life or music so far?
Kayo Bracey: My father was killed a few years ago on Christmas Eve. It just made me realize that every day is a gift, and that you can't take anything for granted. Tomorrow's not promised to anyone.
If you had the opportunity to change one thing about the music business, what would that be?
Kayo Bracey: Talent still matters. Rappers used to win freestyle contests on the blocks or do concerts, become discovered and get signed (whether they had a buzz or not). Now, you have to have a certain following, or so many views before you get noticed. That alone eliminates a lot of artists who have potential, just not a huge following yet.
Do you feel successful artists have any kind of moral obligation to address socio-political and cultural issues that afflict their communities?
Kayo Bracey: Not at all. Every celebrity isn't a role model. They shouldn't be forced into it.
What does your family think of your artistic aspirations and performances?
Kayo Bracey: My mom's my biggest fan. She loves my new stuff. She came to my album release party and was one of the last people to leave.
If someone has never heard your music, which keywords would you personally use to describe your overall sound and style?
Kayo Bracey: Pure, authentic, fun, relatable, & energetic.
Do you consider Internet and all the social media websites as fundamental in building a career in music today, and what is your personal relationship with the new technology at hand?
Kayo Bracey:  You can't get around it. You have to be present on social media. That's the quickest way to connect with your fan base.
What is the title of your latest release and where and when can fans find it?
Kayo Bracey:  "Small Victories"  released on May 1st, 2017. WOW! That's only a few days away! You can find it everywhere! ITunes, Google Play, Spotify, Spinrilla, and all major digital outlets.
On which one of your songs do you feel you gave your best performance from both a technical and emotional viewpoint, so far?
Kayo Bracey: "Rebirth: Hardest Man Alive". It tells the story of Jesus' being crucified, and rising. The song was produced by Tip Beats, and the track is just amazing. The hook is easy to remember, and whenever I perform the record live, the crowd really gets behind it.
Could you explain the '30 videos in 30 days' project?
Kayo Bracey: So I came up with this crazy idea that I was going to drop 30 videos in 30 days, and on the 31st day my album would drop. I started on April 1st. There are about 10 music videos in there; several radio interviews, a few random snapchat compilations, and a few family videos in there. At the time of this interview, I have two videos left. And lord knows I am happy that the finish line is near!
What is the next step for Kayo Bracey, in an ever changing industry?
Kayo Bracey: My plan is just to continue the momentum that's been gained off of this project and begin doing a little more touring. We are currently piecing together a "Small Victories" tour and have some concerts lined in Atlanta, New York and California so far. Hopefully we can add a lot more dates and cities to it. To stay in contact with me, visit www.kayobracey.com.