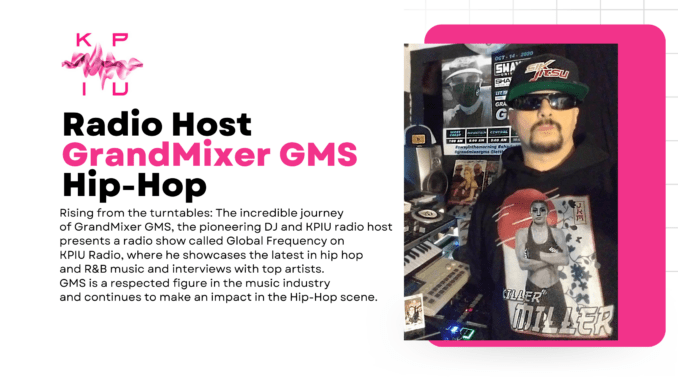 GrandMixer GMS is a renowned DJ who began his career as a breakdancer at the young age of 11. He taught himself how to mix music to enhance his performances, and by the age of 14, he made history by becoming the first DJ to mix for commercial radio in Spokane, Washington.
GMS quickly established himself as a talented turntablist, winning the 1993 Inland Northwest Battle of the DJ's. He went on to work with Tobin Costen on Spokane's only all-rap show and later with Nasty-Nes on Seattle's KCMU Rap Attack. He retired from the music industry in the mid-90s, but returned in 2020 to reunite with Nasty-Nes for KFOX Nightbeat.
In 2020, GMS made history again by becoming the first Spokane DJ to mix on Sway In The Morning, the world's #1 Hip-Hop radio show. He has consistently achieved success with his mixes, often ranking in the top 3 on Mixcloud's Global charts and hitting #1 on multiple charts. He has also collaborated with former Eazy E artist Tairrie B, becoming her DJ/Remixer, and received recognition as "DJ of the Week" by The Urban Influencer and Radio Airplay Experts. In 2021, he launched Global Frequency, a #1 radio mixshow that is syndicated worldwide on multiple platforms. GMS is a respected figure in the music industry and continues to make a lasting impact in the Hip-Hop scene.
In addition to his work as a DJ and turntablist, GrandMixer GMS is also a radio host on KPIU Radio – The West Coast Wave, PUMP IT UP MAGAZINE OFFICIAL RADIO STATION. He presents the Global Frequency show, a popular hip hop show that is heard around the world from 5pm to 6pm every day. The show features the latest in hip hop and R&B music, interviews with top artists, and exclusive mixes from GMS himself. With his extensive knowledge and passion for the genre, GMS has become a respected and beloved figure in the hip hop community and continues to bring fresh and exciting content to his listeners on a daily basis.
LISTEN TO THE GLOBAL FREQUENCY SHOW AT 5PM(PST) EVERYDAY ON KPIU RADIO