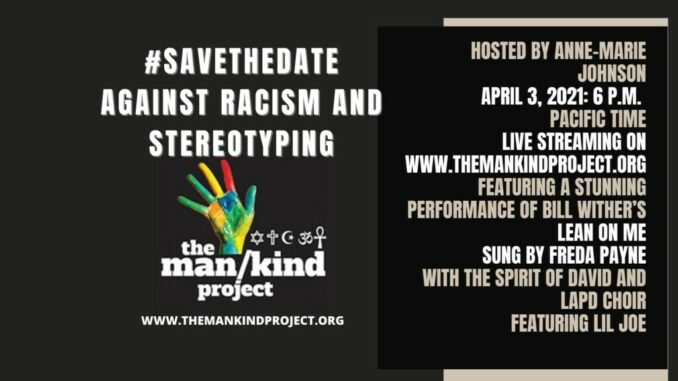 COUNTDOWN TO DEFUNDING THE FEAR: 4.3.21
NON-PROFIT GROUP THE MAN/KIND PROJECT LAUNCHES VIRTUAL ONLINE DISCUSSION SERIES ADDRESSING RACISM AND STEREOTYPING
Featuring LAPD Chief MICHEL MOORE, civil rights activist and community organizer NAJEE ALI, retired LAPD sergeant, author, and commentator CHERYL DORSEY, and hosted by actor/activist ANNE-MARIE JOHNSON in a live streaming event on April 3 at 6 p.m. Pacific Time.  
The Man/Kind Project, Inc, a non-profit corporation whose mission is to fight racism and intolerance by uniting cultures through awareness, tolerance and empathy, will present the online event TEARS: The Event Against Racism and Stereotyping, premiering April 3.  The Man/Kind Project will conduct a 'virtual dialog' where community activists and law enforcement critics will go up against the Los Angeles Police Department and respond to crucial questioning. The purpose is to explore the possibility of finding common ground in a fascinating,
no-holds-barred session. This free six part virtual series will be premiering on Saturday, April 3 at 6 p.m. Pacific Time at www.themankindproject.org.
Special Performance:
TEARS will feature an inspiring rendition of Bill Withers' "Lean on Me," featuring the legendary Freda Payne and rapper Lil Joe, and bringing together the LAPD and inner city gospel Spirit of David choirs.  The unification of multi-racial performers, along with the LAPD choir, will provide an unforgettable alliance that defines the spirit of tolerance and empathy – and most importantly defines the meaning of  'commUNITY' that will inspire both adult and child.
This free event will stream live on www.themankindproject.org  at 6 p.m., Pacific Time on April 3, 2021.  
For more information, please call or write:
Richard Stellar
info@themankindproject.org