First, a confession: I came to this concert not with trepidation, exactly, but with low expectations. For me, Canadian singer/pianist Diana Krall​ has always been much more appealing and engaging in concert than on CD. But this particular tour didn't seem to hold much promise. Named after her latest album, Wallflower (which abandons jazz entirely for mellow covers of pop songs), the tour features Krall with quintet and orchestra, so I was expecting a night of pleasant but insipid middle-aged nostalgia.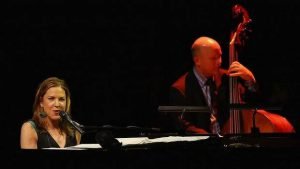 Diana Krall performs during her Australian tour. Photo: Don Arnold
Happily, I was wrong. From the opening number – an exuberantly swinging 'Deed I Do – Krall showed us that she's still a jazz artist at heart, however broadly she ranges with her stylistic choices. Even on the soft-rock covers, her subtle melodic variations and supple phrasing exposed her natural jazz instincts. She performed just three songs from Wallflower, and one of them – Bob Dylan's title track – turned out to be one of the evening's highlights: a gorgeously tender country waltz, its charm accentuated by Stuart Duncan's marvellous fiddle playing.
The orchestral parts (played by the MSO, under the direction of Chris Walden) were tastefully understated, with only one or two tunes veering towards bland, easy-listening mode. But the show's most memorable moments came during the solo and small-group numbers, where Krall could pull back to a hushed whisper (on More Than You Know) or plunge into unexpectedly gritty terrain (Temptation), her earthy vocals and blues-soaked piano joined by wailing electric guitar and amplified violin to evoke a deliciously dark cabaret.