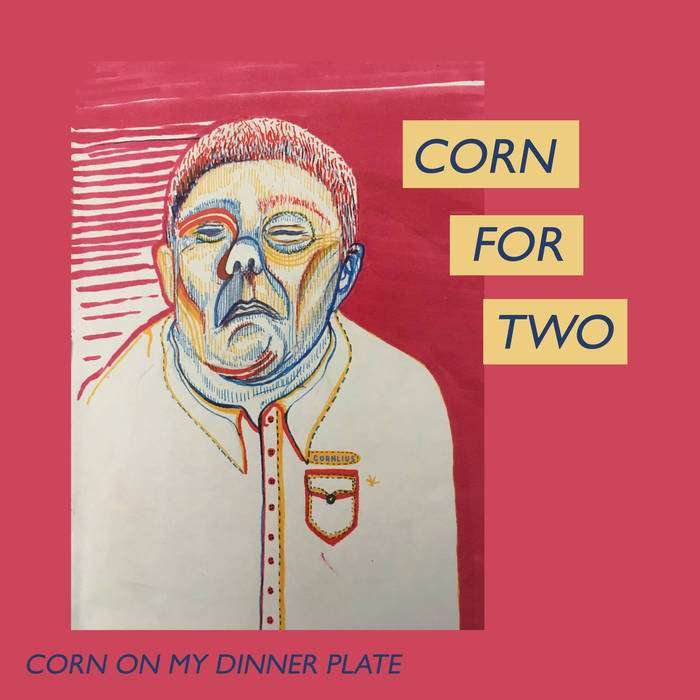 I could kick myself for having never seen Corn On My Dinner Plate live considering they're here in Chicago and they've been making the rounds at small venues. The band has been together since they were sophomores in high school and dropped their first EP when they were seniors. Now they're releasing their latest album Corn For Two. The group has nurtured a feel good sound composed of funk, indie rock and jazzy pop. The album coming out now is perfect timing as the weather, eventually, should be getting warmer. The six tracks are the perfect soundtrack for good times on the beach at Lake Michigan.
The band put a focus on cohesion by playing with a limited palette of harmonies but adjusting tempos and moods. This is ideal for the amount of tracks and really gives the group a signature sound I could pick out of a crowd. They keep things very relaxed and groovy, but there's enough movement in the music that it's never sleepy. They use their drums to their benefit to keep my head bobbing and my feet tapping. I also love when the vocalists hang back and let their amazing guitar skills do the talking. There is no shortage of utterly awesome mellow guitar solos to untie all the knots in your muscles and make you feel completely copacetic.
On top of all that the good musical talent is supported by nice lyrics that are dreamy and aloof. The words all seem to come from far away with the way in which they are delivered by the vocalists. I appreciate the treatment the vocals got, but part of me longed to hear the voices get a little closer and more intimate at times. I think a little bit more diversity in what the vocals could have been would have been a good thing. However this was all part of their cohesive plan with that limited palette, which overall worked like a charm.
The production for Corn For Two was a mixture of two different studios, and that's something i would not have guessed. Again, a huge selling point for the album is cohesion. There were two separate recording sessions. One was with Dorian Gehring of Foxhall Studio in Logan Square in Chicago. The other was with an engineer at Gravity Studios. I'd say the mixing and mastering is worthy of high marks. There were certain points where the music was a little more low-fi and I would have preferred a less distant approach, but overall, the music was treated in a way that made it light and accessible. You could tell there was a leaning to use tricks associated with pop, but they didn't limit themselves to that. There were lots of indie rock techniques applied as well.
​Corn For Two is a solid buy for me, and I know I'm not alone. This is one of those bands that I sense I'll get to say "I knew about those guys before they were cool," because let's be honest, who doesn't love saying that? I hope Corn On My Dinner Plate continue to make more albums, and I hope I can catch them live as soon as possible.
 By Rebecca Rothschild