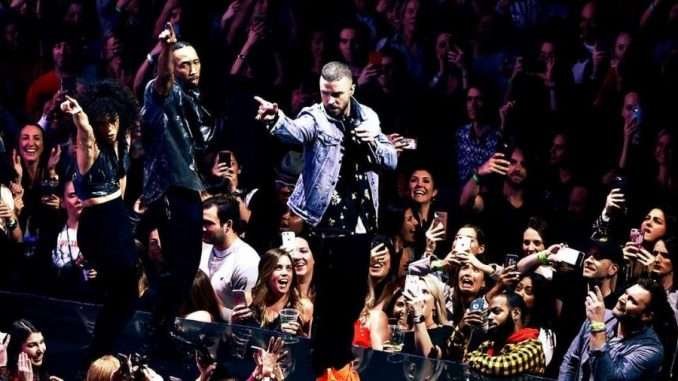 Justin Timberlake jumps to the No. 1 spot on the Pollstar Global Concert Pulse, as the "Man Of The Woods" tour gets underway with sellouts reported to Pollstar already.
Those shows include two at Air Canada Centre in Toronto, which sold 32,142 tickets and grossed more than $3.5 million March 13 and March 15, as well as Capital One Arena in Washington, D.C., March 18 (16,724, $2.8 million), Madison Square Garden Arena March 22 (17,288 $2.86 million), and March 25 at Prudential Center in New Jersey, which sold out 15,462 tickets and grossed just shy of $2.4 million on the Live Nation tour.
Timberlake is grossing an average $3.3 million per show report, and is apparently seeing no resistance on a ticket price averaging $143 per seat. JT made a splash at this year's Super Bowl Halftime show at the new U.S. Bank Stadium in Minneapolis, which is often used as a springboard to announce a major tour.
Pollstar spoke with Ricky Kirshner, who's executive produced the Big Game's halftime show since 2007, who said ahead of the event, "Justin's the perfect act for this because we honestly could just put the camera on him for 12 minutes and no one would care," Kirshner told Pollstar. "But you know, it's the Super Bowl so we feel like we have to make it a little bigger."
The Big Game also came just days after Timberlake released his new Man Of The Woods LP. The former *Nsync heartthrob has dates clear into January 2019, with a lengthy European leg (nine dates in Germany alone) sandwiched between two North America arena runs. Joining on support are The Shadowboxers, which along with JT are represented by WME and Keith Sarkisian.
Scott Legato / Getty ImagesKid RockKid Rock sets an attendance record of 86,893 tickets sold over six shows Sept. 12-20 when he opens Little Caesars Arena in Detroit.
Also new on the Concert Pulse this week, which ranks tours by average gross over the past three months, is Kid Rock, at No. 10 with an average gross of $889,672 and 9,929 tickets sold. While Kid Rock's tour made some headlines for having to change its name from "The Greatest Show On Earth" when Ringling Bros. complained about trademark infringement, the tour has many impressive reports including the kickoff Jan. 19 at Bridgestone Arena in Nashville, which sold out 15,943 tickets and grossed more than $1.3 million.
Others include 14,266 tickets sold to KFC Yum! Center in Louisville Jan. 20 ($1.2 million) and Feb. 16 at Air Canada Centre in Toronto, which also sold out at 12,328 tickets and grossed $1.1 million. Average ticket price over the last three months was $89.60. Kid Rock is repped by Rick Roskin at CAA.
Jim Jefferies made waves on last week's chart when he entered at No. 30 with an average gross of $196,898 off 3,212 tickets per market appearance. Those same numbers have him at No. 34 this week, with an average ticket price of nearly $54.
"Coming off of his sold-out theatre tour in the US, Jim continues to gain momentum and is now doing multiples," Jefferies' comedy touring agent, Nick Nuciforo of UTA told Pollstar. "This has been a monumental year for Jim in the UK and Europe especially. He played three debut shows at London's Eventim Apollo with 10,000 tickets sold, along with arena performances in Amsterdam and Dublin.
"Canada has also proven to be a healthy market for him. He sold out four shows at Sony Center in Toronto, doing 12,000 tickets on the same weekend that a major comedy headliner played the arena down the street."
These big numbers are all setting the Australian comic up for an arena tour in 2019, Nuciforo said, and he still has North America dates booked into May and a pair of Vegas plays in August. Two of those remaining dates are in Canada, at London, Ontario's Centennial Hall May 18 and Hamilton, Ontario's FirstOntario Concert Hall May 19.
More new artists on the chart this week are Imagine Dragons at No. 12, who are on a European leg with K.Flay (avg. $828,979), Stereophonics at No. 17 playing UK/Europe ($550,141) and Christian band MercyMe, which is No. 33 and averaging 5,134 tickets sold per report and grossing $200,000.
Brody HarperMercyMeMercyMe plays to a packed house at the Ryman Auditorium in Nashville March 4.
Formed in Texas and fronted by Bart Millard, highlights from the MercyMe tour include a sold-out H-E-B Center At Cedar Park in Texas Feb. 25 (5,386, $208,186), Feb. 17 at Schottenstein Center in Columbus, Ohio (6,255, $230,673) and a curtained configuration at the Prudential Center in Newark, N.J, which sold 5,853 tickets and grossed $249,414 March 11.
The band, managed by Scott Brickell at BrickHouse Entertainment, has some festival and fair appearances this summer, followed by more headlining in the fall.
"MercyMe has always been a great touring act and puts on an amazing live show," Brickell told Pollstar. "However, there seems to be a resurgence since the release of their most recent album, Lifer, and the newly released motion picture, 'I Can Only Imagine' (Lionsgate, Roadside Attractions), based on the story behind the mega hit song of the same name." Brickell added that The "MercyMe LIVE" Tour sold out 16 markets including St. Louis, Minneapolis, and Nashville's world-renowned Ryman Auditorium.
"We are thoroughly enjoying the ride and are excited about what's to come in the future. MercyMe will reprise the line-up with longtime friends Tenth Avenue North for 'The Imagine Nation Tour' this fall with 20+ markets on the docket."