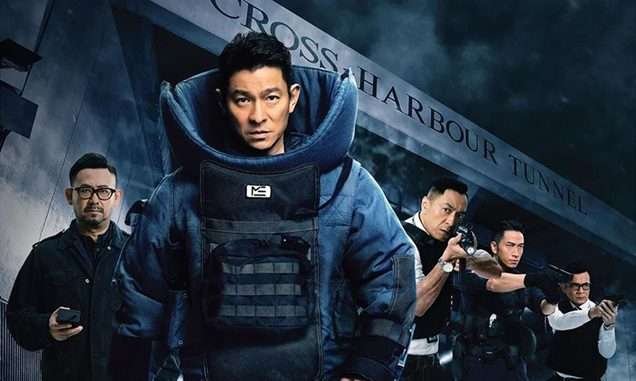 Hong Kong action thriller starring Andy Lau takes top spot over Labour Day weekend.
It was a close battle between defending champion The Fate Of The Furious and four new Chinese-language films over the May 1 Labour Day weekend, with Shock Wave (pictured) emerging as the winner, taking $24.50m over its first three days.
The Hong Kong action thriller, directed by Herman Yau and starring Andy Lau as a bomb disposal expert, opened top on Friday and Saturday before Furious 8 reclaimed the top spot on Sunday.
With the opening of the new Chinese films which also include Battle Of Memories, Love Off The Cuff and This Is Not What I Expected, Furious 8 was pushed to the fourth place on Friday. But it was able to bounce back to the second and the top spot on Saturday and Sunday respectively.
While Universal's blockbuster franchise settled for second place on $22.31m for the weekend, it was still the overall winner and grossed $42.60m in the week of April 24-30, making it a hat trick for the three-time weekly champion.
Standing at $362.75m after 17 days, it is now the highest grossing non-Chinese film and the second highest overall after The Mermaid. Its Chinese box office has almost doubled that of North America.
In third place, Battle Of Memories debuted with $21.87m from its first three days. The sci-fi crime thriller reteams Taiwan director Leste Chen with his 20 Once Again actress Yang Zishan. Top comedian Huang Bo co-stars.
This Is Not What I Expected came in fourth with $16.96m from its first four days. Produced by Peter Chan, the romance comedy marks the directorial debut of Hong Kong editor Derek Hui and stars Takeshi Kaneshiro and Zhou Dongyu.
Pang Ho Cheung's highly anticipated romantic comedy Love Off The Cuff, which reunites Miriam Yeung and Shawn Yue, opened in fifth with $13.43m from its first three days.
The rest of the weekly chart was mostly holdovers: Sony animation Smurfs: The Lost Village on $6.60m for $17.83m after 10 days; local romantic comedy Mr Pride vs Miss Prejudice on $6.51m for $16.52m after 11 days; the re-release of A Chinese Odyssey Part 2: Cinderella, on $1.66m for $25.80m after 18 days; local adventure drama The Blood Hound on $1.18m for $3.05m after 10 days; and Russian animation Savva: A Warrior's Tail on $0.76m from its first two days.
source : screendaily