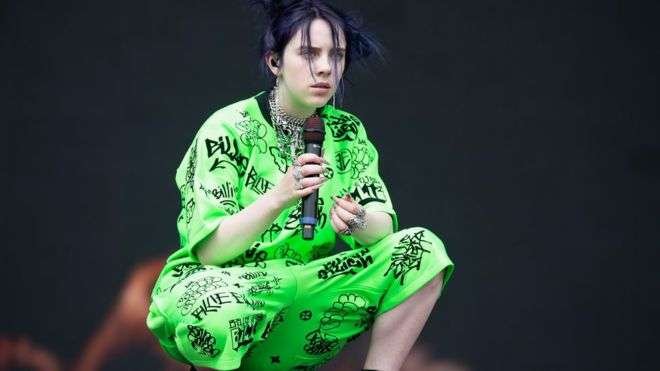 Some of these songs might make you shed a tear, while others will have you running to the dance floor and busting your favorite move. There's a little mix of everything. To get you prepped for all of the summer concerts you're bound to go on, these are some of the biggest songs taking over 2019…
Billie Eilish – "bad guy"
Billie Eilish has been living on cloud nine lately. She finally met her life-long celebrity crush Justin Bieber in person and everyone's been raving about her set at Coachella. Not only that, but her music is also topping charts. In the song, Billie's taunting the guy she's with, calling herself the "bad guy."
GET BILLIE EILISH TICKETS
Jonas Brothers – "Sucker"
"Sucker" is the Jonas Brothers's hit comeback single. It's a pop song about how far they would go for the girls they're attracted to. In the music video, those girls are their real-life partners, Priyanka Chopra, Sophie Turner and Danielle Jonas. They're literally living out every girl's dream. For the rest of us, at least we have this song to dance to.
Meek Mill Ft. Drake – "Going Bad"
Anything that Drake touches really turns to gold, even this song where's he's rapping alongside his old rival, Nicki Minaj'x ex Meek Mill. In the song, Drake and Meek Mill flaunt their wealth, while rapping about how they're "going bad" on their haters.
Lil Nas X – "Old Town Road"
The song might have gotten kicked off Billboard's Top Country Songs chart, but the song is still a bop. Even Miley Cyrus's dad, Billy Ray Cyrus got in on it. The song is simply about a boy and his horse, but Lil Nas X said the song's deeper meaning is about working with what you have until you meet your goals.
Cardi B & Bruno Mars – "Please Me"
Cardi B and Bruno Mars are a magic duo. After "Finesse" came out they knew we needed more and blessed us with another collaboration. The lyrics of the track feature the two flirting with each other. Bruno is begging for Cardi's attention as he sings, "Please me, baby/ Turn around and just tease me, baby/ You know what I want and what I need, baby."
Ozuna – "Baila Baila Baila"
You might know Ozuna from the song "Taki, Taki" featuring Selena Gomez and Cardi B, but his solo hits will definitely get you moving, too. The name of this song translates to "Dance, Dance, Dance" and its music video already has almost 120 million views on YouTube. The song is about a girl just dancing and having a good time to get over a bad breakup.
Mabel – "Don't Call Me Up"
If you like Dua Lipa's "New Rules," you'll probably like this song, too. The song is about getting over your ex and literally telling them not to call you up. It also has a catchy hook that you'll probably be singing over and over.
Benny blanco, Tainy, Selena Gomez & J Balvin – "I Can't Get Enough"
The song was specifically written with Selena in mind. It's about a girl who's completely infatuated with her lover. The music video features the group playing on a huge, huge bed, while messing around and having fun.
The Chainsmokers Ft. 5 Seconds of Summer – "Who Do You Love"
"Who Do You Love" is supposed to be reminiscent of their 2016 hit, "Don't Let Me Down," said The Chainsmokers in an Instagram post before the song's release. The song is about a guy questioning whether his partner is cheating on him. While asking someone if they're cheating might not make you dance, this song definitely will.
Ariana Grande – "Needy"
She might've dropped a new single and an entire album at the same time, but there was one track that had everyone talking about how good it was. "Needy" is Ari at her best, with lyrics that speak about everyone's feeling of falling in love and vocals for days. She talks about her broken relationships and her anxiety, while also opening up about being something we all are: a needy human being.
H.E.R. – "Hard Place"
There's a reason H.E.R won Grammys against the likes of Toni Braxton and even The Carters. Her latest single, "Hard Place" is a triumph filled with lyrics about love and possibly heartbreak that are sing-along worthy. While her Grammys performance is filled with high-powered instrumentals and a guitar solo that would make Prince proud, the soft guitar and vocals in the studio version are still so incredible that you'll be playing it on repeat over and over again.
Sam Smith and Normani – "Dancing With a Stranger"
Sam Smith and Normani seem like an unlikely pair that would take out a duet together, but "Dancing With a Stranger" proves everyone wrong. Sam continues to be the hitmaker that he is and Normani sets herself as the star she was always meant to be. These two are match made in heaven in this beat-thumping track that will certainly remain on the charts for a long time.
Marina – "Handmade Heaven"
Marina and the Diamonds might have changed her name, but her latest track, "Handmade Heaven," feels like the perfect mix of her past eras and this new one she is ushering in after a multi-year hiatus. The lyrics seem like her most personal ones yet, especially after taking on so many personas over the years. Fans new and old should definitely get excited for what she has coming out next.
Kehlani ft. Ty Dolla $ign – "Nights Like This"
Dropping the first highly-anticipated single of the year isn't a task that most are willing to do, but Kehlani delivers in the first track from her upcoming album. The R&B hitmaker proves herself once again in a heartbreaking song about watching your lover move on with someone else. Ty Dolla $ign continues to set himself apart with his verses and together they are a match made in music heaven
Logic – "Keanu Reeves"
2017 was a big year for Logic thanks to his hit record, Everybody, and his multi-platinum selling anthem "1-800." Since then, he hasn't slowed down, releasing 2 EPs since then and on track to release his first novel later this year. In his new track, "Keanu Reeves," Logic pokes fun at his fame and continues to prove himself as a hitmaker in the rap world, thanks his lyrics and production with longtime collaborator 6ix. He never stops evolving and that's what keeps him toe-to-toe with those on top.
Lauren Jauregui – "More Than This"
Her second solo track since leaving Fifth Harmony, Lauren Jauregui finally puts herself on center stage with this tongue-in-cheek track about flirting with someone even while being in a relationship with another. Her sultry vocals stand out more than ever and she proves that she is able to stand out in the highly competitive R&B scene.
Florence + The Machine – "Moderation"
Ever since they first performed the track in early January 2019, fans have been waiting for a studio version and it certainly does not disappoint. Along with it's b-side, "Haunted House," the song is two sides of the same coin, showing both the high-spirited and dark side of the band. Whether a new album is on the way still remains to be seen, but any new song by Florence + The Machine is always a great one.
Kacey Musgraves – "Rainbow"
The final track on her Grammy Award for Album of the Year-winning album, Golden Hour, Kacey proves to be an incredible singer-songwriter in "Rainbow." In the song about hope in a dark place, she keeps it simple with just her voice and a piano that gives the listener a rush of emotions just from the first listen. There's a reason why she's so highly regarded in so many communities and now it's time for the world to finally give her the love and recognition she so rightfully deserves.
Kelly Rowland – "Crown"
In the first girl-power track of the year, Kelly Rowland gives women a reason to be proud of their hair, no matter who they are and how they wish to wear it. The infectious beat and fun lyrics make this a straight up enjoyable anthem for anyone who has felt judged for their hair.
Ben Platt – "Bad Habit"
The Pitch Perfect star shot to stardom thanks to his Tony-award winning role in Dear Evan Hansen. In his first single off his debut album, Ben proves to be more than just a good actor who got the role of a lifetime. His powerhouse voice shines more than ever in this beautiful ballad. The world has known him as Benji and Evan, but it feels great to meet the real Ben for the first time.