Image by Pete Linforth from Pixabay
Are you a French for beginners looking for an easy way to learn the language? If so, you're in luck! Learning French can be a fun and rewarding experience, and with the right strategies, it can be much easier than you might think. In this blog post, we'll share five fun and easy ways to learn French, so you can start speaking like a pro in no time.
1) Listen to French music
One of the most enjoyable ways to learn French for beginners is to listen to French music. Music has the unique ability to help you learn a language more quickly, as it combines melody and repetition to help the language stick.
Listening to French music is also fun, and it can give you insight into the culture and customs of the French-speaking world.
There are a variety of ways to find French music that you enjoy. You can search online for   radio stations that plays french music or streaming services that offer French playlists. You can also listen to some classic French songs from the likes of Edith Piaf or Serge Gainsbourg.
Additionally, there are many modern French singers who have gained popularity in recent years.
You don't need to understand all the words in a song to benefit from listening to it. Simply taking the time to listen to the song over and over can help you learn some French pronunciation and pick up on some basic phrases.
While listening, pay attention to how certain words and phrases sound and begin to imitate them. Soon enough, you'll be able to understand a few words here and there, and you may even find yourself singing along!
https://open.spotify.com/playlist/2HhLvxT8hVDLdcsrHCOmXI
 2) WATCH FRENCH MOVIES
If you want to start learning French, one of the best ways is to watch French movies. Watching movies in French can be a great way to pick up on the language and familiarize yourself with it. Plus, it's a fun way to learn the language and can be done from the comfort of your own home.
There are tons of French films out there, from comedies to dramas, so you can find something that you like. For example, some popular French films include Amélie, Le Fabuleux destin d'Amélie Poulain (Amélie), La Vie en Rose, Les Intouchables, and 8 Femmes (8 Women). You can also check out Netflix and Amazon Prime for more French films.
When watching French films, try to watch them in their original version. If you can't understand all the words, don't worry – just keep listening and try to pick out familiar words. As you get more comfortable with the language, you'll be able to understand more of what is being said. Also, try to take note of any words or phrases you don't know – you can always look them up later and learn them.
Overall, watching French movies can be an enjoyable and effective way to learn the language. It's a great way to immerse yourself in the culture and gain a better understanding of the language. So why not give it a try?
3) TAKE A TRIP TO FRANCE
Visiting France is a great way to get immersed in the language and culture. It can be a bit intimidating to plan a trip to Paris, but it can also be incredibly rewarding. From visiting world-famous monuments to sampling delicious French cuisine, there are endless ways to enjoy your time in Paris.
If you're looking for a unique way to learn French, why not take a trip to Paris? Not only will you get to explore one of the most beautiful cities in the world, but you'll also get the chance to practice speaking the language with native speakers. You may even want to join a language exchange group or take classes at a local school while you're there.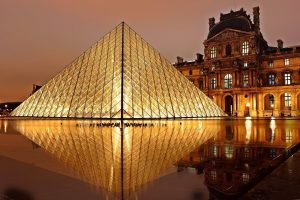 You could also take a tour of some of Paris's most famous landmarks, such as the Eiffel Tower and the Louvre Museum. You'll get to soak in the culture and experience life as the locals do. And don't forget the food! Sample delectable dishes like croissants, macarons, and crepes from some of the best boulangeries and patisseries in the city.
Visiting France is an amazing way to learn French and make memories that will last a lifetime. Whether you're planning a weekend getaway or a full vacation, planning a trip to Paris is sure to be an experience you'll never forget!
4) FIND A TUTOR
With the help of a tutor, you can learn French quickly and easily and start having conversations in no time!
Finding a tutor is one of the best ways to learn French for beginners. With the help of a tutor, you can learn French at your own pace and receive personalized guidance that can help you get past any roadblocks you might encounter.
Tutors can provide you with the guidance you need to have easy French conversations. They can give you tips and advice about how to pronounce words correctly and how to form sentences in a way that conveys the meaning you intend. Tutors can also give you feedback on your pronunciation and grammar so that you can become more confident in your conversations.
You can find tutors online, in-person, or through a language school. With an online tutor, you can enjoy the convenience of learning French from the comfort of your home. In-person tutoring offers the advantage of being able to practice speaking in real-time with someone who speaks the language fluently. If you decide to take language classes, you will benefit from being able to practice with other students and receive feedback from the teacher.
5) BILINGUAL BOOKS
Another great way to learn French as a beginner is by using bilingual books. Bilingual books are books written in both English and French, making them perfect for learning basic vocabulary and sentence structure. These books can often be found at local bookstores, but there are also many available online.
Not only are these books great for learning new vocabulary but they are also great for practicing reading comprehension. Many bilingual books come with audio recordings of native speakers reading the text aloud, allowing you to hear the correct pronunciation of words.
With bilingual books, you can pick up new vocabulary while honing your listening skills!
Bilingual books make it easy to practice both reading and listening comprehension, helping you make progress towards mastering French conversation.